Jim Brunzell's Sundance 2018 Wrap-Up…Part One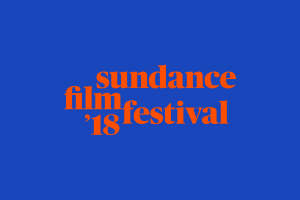 Having completed the Herculean effort of witnessing, withstanding and the emotional whiplash of watching 39 films, unfold over the course of ten days, the 2018 Sundance Film Festival officially wrapped on Sunday, January 28 with its award ceremony giving away…38 different awards! (This includes short films, which held a separate awards shows a few days earlier.) The two biggest awards were two of the biggest surprises as the U.S. Grand Jury prizes went to director Derek Doneen's documentary, Kailash, on Nobel Prize winner Kailash Satyarthi and his efforts to save children from child labor and slavery, and co-writer/director Desiree Akhavan's coming-of-age gay conversion dramedy adaptation, The Miseducation of Cameron Post, starring Chloe Grace Moretz, Sasha Lane, John Gallagher Jr. and Jennifer Ehle.
However, the bigger surprise of the festival came within 24 hours of Sundance Awards show ending as Director of Programming Trevor Groth announced he was leaving the organization, which he had been with for 25 years, and an organization he starting out as a volunteer while attending the University of Utah. He said he would, be joining the financial company 30West, in a somewhat vague description of what he will actually be doing, although, other sources said, he would advising and helping with investments for the newly minted 30West. This position seems to make sense given Groth's strength on seeking and helping new talent and projects over the years at Sundance. The announcement had the feel and a whiff of "changing of the guard" and a decision who will replace Groth, we imagine will have to happen within the next few weeks. While speculation will continue until a successor is found, may we suggest any of the long term senior programmers Caroline Libresco, Shari Frilot, Mike Plante, or David Courier all whom have impeccable taste, and any of them, would be great candidates to fill Groth's enormous boots.
Besides one of the more notable faces in American film festivals leaving his post, there was plenty of Sundance fodder to follow on the ground and on social media, besides jury award announcements, celebrity sightings, and secret parties during the snowy days, the countless shuttles rides, but a few conversations that definitely stand out were the endless conversations I had on what the hell each film was about given there were five one-word all female named titles including Mandy, Lizzie, Colette, Nancy, Ophelia not to mention another repeating title Madeline's Madeline. Another one which could fall in this category Blaze was not about a woman but an excellent feature on Texan musician Blaze Foley, but still a woman's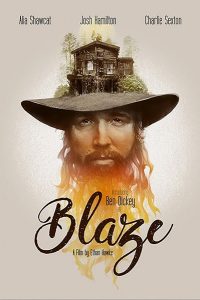 name might be the first thought you think of. There was even another with initials RBG (based on Supreme Court Justice, Ruth Bader Ginsburg), could have easily been called simply Ruth, was a topic of damn-near every conversation I had with someone about what I had seen or had not seen. Even at the point, when I asked a woman sitting next to me on the bus who was talking about the Daisy Ridley period piece Ophelia, "What is Ophelia about?" she replied, "it's a costume drama with the girl from Star Wars." Sigh, and in my mind I asked, "what the hell is Ophelia about?" The point is even though, the festival has now been over for a week and has some 200+ films screening, its still hard to recognize which film is which and what each of them's about, unless you look up every film in the catalog, especially, if all you were given was only the title of each film.
Worth exploring or perhaps pointless in any commentary or not, there were some great films in this bunch of female lead titles with the most explosive, eye-opening film of the festival came from an unlikely candidate, writer/director Panos Cosmatos' (Beyond the Black Rainbow) second feature, the midnight selection Mandy. Throwing all conventional wisdom out the fucking door with the biggest on-screen rager in the business, Nicolas Cage, who has a field day with his tortured soul and unexpected narrative threads going through a complete onslaught of destruction. It was as exhilarating, mind-blowing, chaotic, hilarious and bonkers as you have heard and also a film I am completely all on-board seeing a second, third, even a fourth time if I have the chance to witness it's truly magical, maniacal glory on the big screen ever again. Cage's Red Miller, a lumberjack, is as committed to Andrea Riseborough's Mandy as any couple I saw on-screen and the film could have easily gone in a whole different direction, as a psychodelia romance on its own without the pandemonium. But, where is the fun in that.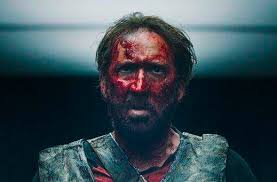 Once Mandy turns into a fever dream nightmare as a Jesus Christ/Iggy Pop lookalike named Jeremiah (a totally unhinged Linus Roache) commands his band of merry misfits, troublemakers and crazy cult figures to kidnap Mandy in order for her to be part of his mysterious cult, nothing goes as planned. This also happens to be the first 45 minutes of the film saturated in dark gloomy spectrums, strobe lights, animation sequences, part Giallo film, part Evil Dead and part grindhouse theatrics, until Cage's Miller unleashes the fury in the final hour of Mandy, seeking justice and retribution without a care and going further and further into the notion of "anything and everything is possible" syndrome. Purposeful, and not withouts its faults, Mandy is by no means a perfect film, even at times self-indulgent, but a truly original film that should be seen on the big screen at all costs. We should also be thankful Mandy exists in a film world cluttered by unoriginal storytelling, meaningless plot-devices and predictable outcomes.
Not to be outdone, another unexpected surprise came in the Midnight category too via first time writer/director Ari Aster's Hereditary which has unearthed a new talent and menacing force featuring patient storytelling, a balanced atmospheric haze, tightly wound characters and a diabolical treat waiting in the wings for anyone feeling a bit "white knuckle" about the whole experience. Yes, it was the most talked about film at Sundance which many took for granted as another "haunted house/ghost story" but one with a polished look and sound. Others will view Hereditary as a striking resemblance to some of the more celebrated psychological horror films in the past 50 years (Rosemary's Baby, The Exorcist, The Sixth Sense, The VVitch, lest not forget, The Blair Witch Project) and could easily land in these conversations within a few years. Even from the get-go, the midnight screening at the Egyptian I attended came with cheers, screams, hands clutched in front of faces and more nervous energy in a packed auditorium than any I can remember in my 11 years attending. Hereditary also proved to be a very special and difficult juggernaut.
Without revealing the nature of its true intentions, Hereditary slowly unwinds with the death of grandmother Ellen Graham with her artist daughter Annie (Toni Collette, in an Oscar worthy performance) and the rest of her family left picking up the pieces of what are the next steps of Ellen's legacy. Unsure where to begin, Ellen's husband Steve (Gabriel Byrne), son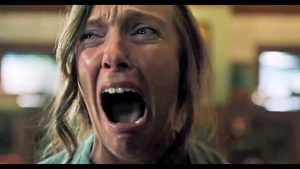 Peter, (Alex Wolff) and daughter, Charlie (Milly Shapiro, a major discovery) grieve differently, even if there are hints between grandmother and granddaughter knowing something unsettling within the confines of the home (not a spoiler, I promise). But it is Annie who seems most knocked off-kilter by her death and by the end of the first act, Hereditary ratchets the tension to unnerving levels. The next thing you know, the rabbit hole has gotten darker and deeper dealing with grief, despair, and loneliness. The uncharacteristic aesthetics surrounding Hereditary are familiar and all the while, completely flipped on its head as if watching a silent, destructive force of a film take hold of your throat and leaving you unprepared for the sheer minimalist approach to the psychological horror genre. (When will Sundance finally give one of its 38 awards out to an actual horror film or an award to something in the Midnight Category?) The film is solid due to Aster's slow-burn direction, DP Pawel Pogorzelski's stunning movements and ebb and flow of extreme close-ups to suffocating interiors including the dollhouse within the house aspect. Dual editors Jennifer Lame and Lucian Johnston exquisite precision crafting increased suspense from scene to scene working up to the thundering heart-pounding moments. American distributor A24 has hit another home run, taking a chance on a small film with big ideas and terrifying dreams that will terrify audiences this summer.
 Jim Brunzell III is the Program Director of the All Genders, Lifestyles and Identities Film Festival (aGLIFF) based in Austin, TX and director of Sound Unseen Music/Film/Art Festival in the Twin Cities, MN. He has been covering the Sundance Film Festival for 11 years. He currently resides in Austin, Texas. He is on Twitter @JimBrunzell_3