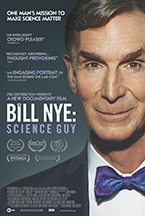 (New documentary Bill Nye: Science Guy by directors David Alvarado and Jason Sussberg begins a slow rollout in theaters this week.)
"Bill! Bill! Bill! Bill Nye, the Science Guy!" This phrase has been the immortal war cry for students stuck in science class for 24 years. With the help of the Bill Nye, the Science Guy show, topics like gravity, tectonic plates, and tornadoes suddenly became wildly fascinating and science class was fun once again. For kids of the 1990s and early 2000s, Bill Nye was seen as a childhood icon—more a god than a man to put it simply. In the 2017 documentary Bill Nye: Science Guy, directors David Alvarado and Jason Sussberg yank away the heavy veil of nostalgia and present the beloved science ambassador as no one else but Bill Nye, the flawed man with a spiffy bowtie trying to preserve the sanctity of science in the 21st century.
24 years after the success of his science show, we tag along with Nye as he travels from seminar to seminar, debate after debate, and research facility to research facility, promoting the crucial place of science in today's society. Nye meets every player from all sides of today's fiercely discussed topics such as human-caused climate change and evolution. The few moments when Bill Nye shakes off his shining armor and steps off the world stage, he shares glimpses into his private life. A life filled with regrettable mistakes, several aspirations gone awry, and a family he supports day in and day out.
With an iconic status as large as Bill Nye's, Alvarado and Sussberg take the high road and inject this documentary with honest to god substance. The film doesn't take any shortcuts and place Nye on an everlasting pedestal too high for mere criticisms. The first half of the film drops Nye's most regrettable decisions to the forefront. These regrettable decisions aren't laid out and forgotten but are used to help us fully understand Nye's desire to make his mark in the world.
After a poignant chat with friend and astrophysicist Neil deGrasse Tyson, Nye realizes the corner his kids' show forced him into despite his earnest intentions. This epiphany is the launching point for the real story of the documentary: Bill Nye finds redemption. For better or for worse, Nye takes on every dare from every misinformed creationist and bodybuilding meteorologist.
The argument can be made for the unfair portrayal of the deniers of climate change and evolution as blatant in every sense of the word. Nye visits creationist Ken Ham's infamous Ark Park. A literal recreation of Noah's ark as if it were ripped straight from the Bible. To Bill Nye, the inside of the ark looks like a terrifying house of horrors. Understandable if some critics see this sequence as a hypocritical turn for the film's message of opposing views plus civil debates equals real change. I only ask those critics to watch Bill Nye handle the situation with absolute class. Nye gives these deniers a platform to stand on and lets their flimsy cases against evolution and global warming naturally dwindle down into hearsay.
David Alvarado and Jason Sussberg have offered fans the most respectful and sincere tribute to Bill Nye we'll see for the next 10 years. The glimpses into his private life and his tireless dream to change the world makes us appreciate all that Nye has done for the science community and plans to do in the near future. You'll walk out of the film, wanting to give Bill Nye the biggest hug scientifically possible and quietly mutter to yourself, "Bill!
– Patrick Howard (@PatHoward1972)