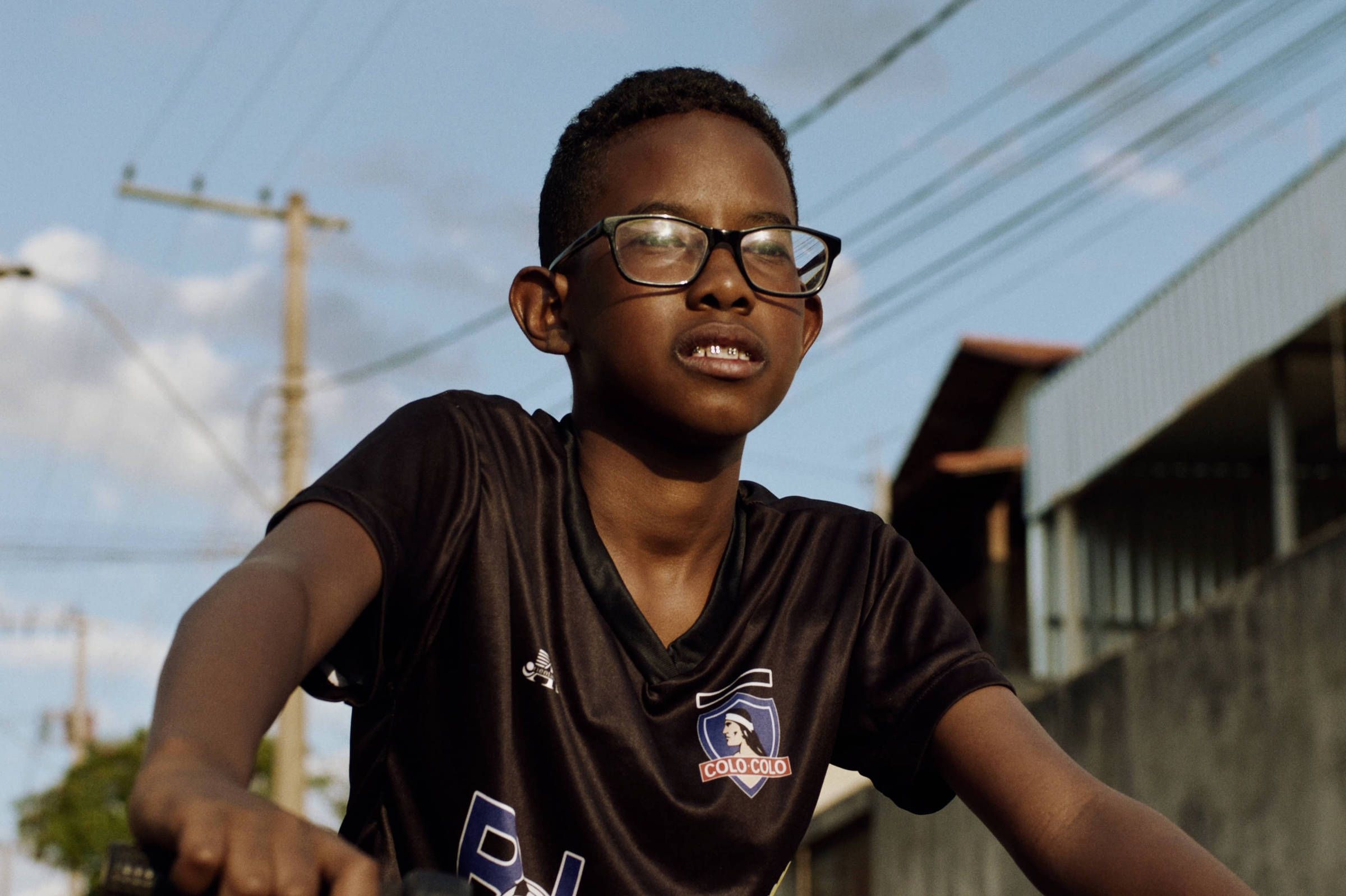 (The 2022 Sundance Film Festival runs January 20-30 all virtually. Check out M.J. O'Toole's movie review of Marte Um (Mars One). Like what you see here on Hammer to Nail? Why not pay just $1.00 per month via Patreon to help keep us going?)
When Gabriel Martins first shot Marte Um (Mars One) about four years ago in his home country of Brazil, it was in 2018 during the aftermath of Jair Bolsonaro's election as its 38th President, a devastating outcome for many Brazilians given his far-right values and policies. His film, which Martins also pens, opens with a young Black boy staring up into the stars on the eve of the election with fireworks and chants sounding off in the distance. Is the boy staring into a black void, or is it really something brighter he yearns to reach for? What follows culminates in an endearing, heartfelt, and human depiction of a loving working-class family that widens the scope of Black Brazilian culture. 
Set in the city of Contagem, the family of four at the center is led by middle-aged Wellington (Carlos Francisco) and Tércia (Rejane Faria), who have a typical marriage that consists of both affection and the occasional squabble. Wellington, a recovering alcoholic, makes ends meet as a superintendent in an apartment complex. He takes pride in his work and his four-year sobriety. He works alongside enthusiastic, but intense leftist Flávio (Russo Apr) who tries to convince him to rebel with him against the upper-class tenants and management, since they are continually overworked and underpaid. A devoted soccer fan, he tries to push his teenage son Deivinho (newcomer Cícero Lucas) towards a future in the sport. He is amazed enough at his son's skills on the field to convince a soccer player he is acquainted with at his job (Argentinian player Juan Pablo Sorín in a cameo) to land Deivinho a tryout as a young Cruzeiro recruit.
Deivinho, however, has different hopes for his future. A lover of science and fan of Neil deGrasse Tyson, he aspires to become an astrophysicist and one day take part in the real-life Mars One mission, where human civilization would be permanently established on the planet. Martins uses Deivinho's fascination with the red planet as a metaphor for the possibility of something bigger, out of this world that transcends these characters' social constructs and settings. Out of fear of disapproval from his father though, he chooses to keep his dream under wraps, despite his declining enthusiasm for soccer. His headstrong older sister Eunice, or Nina (Camilla Damião) on the other hand is a law student who enters a romance with Joana (​​Ana Hilãrio), who comes from a more well-off black family. As their relationship starts to blossom, the young couple plan on moving in together; except Nina still hasn't come out to her parents. However, she has no problem coming out to Deivinho who is casually accepting. Both siblings get each other and support one another's goals and dreams, even though they're uneasy with opening up to their parents, who come from a different generation.
As for the sassy wife and mother Tércia, things on her end seem to be going steady enough. She is a cleaning lady who is devoted to her family and is usually the first one to diffuse tension within the household. Her world starts to get rocked when she finds herself in a faux terrorist attack that just happens to be a cruel TV prank in a scene chilling enough to be reminiscent of Michael Haneke or Michel Franco. Not even Impractical Jokers would pull off something so callous and distressing. This incident traumatizes Tércia enough that she suffers from physiological effects and easily gets triggered at the sound of a "bang." Her family provides little support or empathy as they laugh off the situation as a menial prank once she tells them over dinner. Rejane Faria's forceful performance mostly relies on her fleshed-out facial expressions to convey Tércia's inner state, whether she's working through something deep or just putting on a brave face for the sake of those around her.
Using a manner of everyday realism, Martins creates the necessary space for his main cast of four to give genuine performances while also interacting in a way that makes their characters' familial bond pure and authentic. But despite their affection for one another, each member struggles with their own burden. Deivinho is longing to attend a lecture given by Neil deGrasse Tyson, though he soon learns it is happening on the same day as the potential life-changing soccer team tryout his dad is pressuring him to attend. Tércia's trauma builds to a point where she believes she's been cursed. But despite whatever problems they have, this family will always be each other's support system and pull one another back up, for better or worse.
Gabriel Martins examines the lives of working-class Brazilians and their struggles, creating an environment of diversity and familial unity reminiscent of the great humanist filmmaker Ken Loach. Even though Mars One is set during a period of national turmoil, it avoids socio-political propaganda. The story is contained within the family narrative, in a way much similar to Edward Yang's 2000 masterpiece Yi Yi, although the stakes are a bit higher for these characters. Martins tells a story that is framed with compassionate clarity, thanks in part to Leonardo Feliciano's warm-toned and smooth cinematography. Instead of delivering a gut punch, the drama unfolds in a warm embrace that makes one hope for a better future. This terrifically acted ensemble piece reminds us to search for common ground and look deep into the stars.
– M.J. O'Toole (@mj_otoole93)
2022 Sundance Film Festival; Gabriel Martins; Marte Um (Mars One) film review