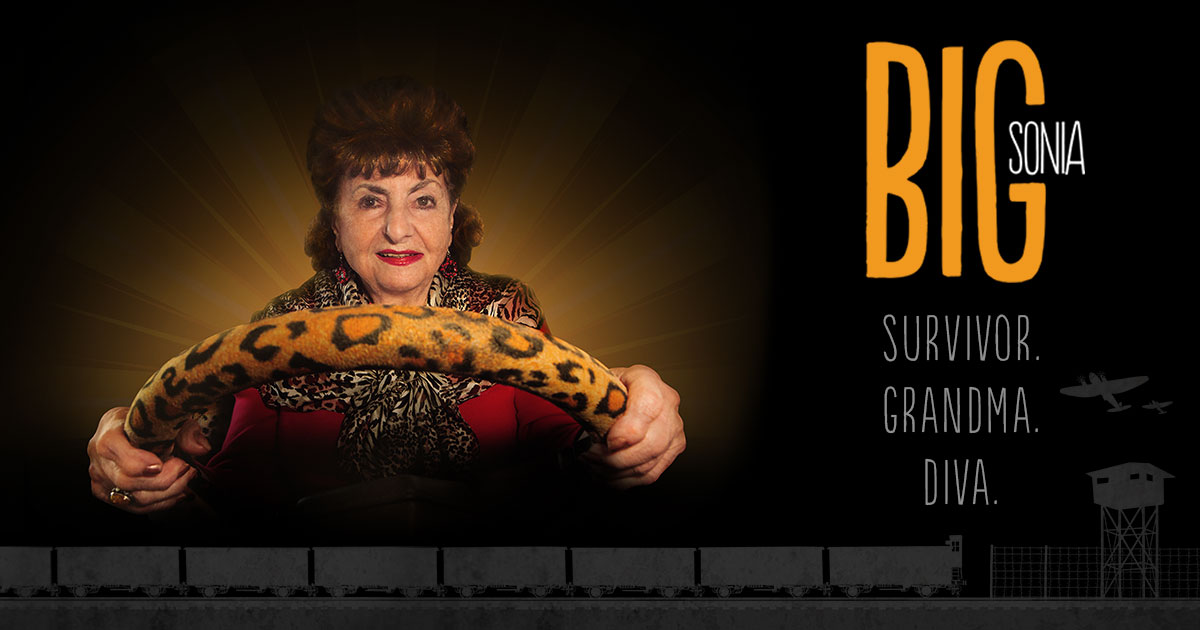 (After racking up numerous awards across the 2017 film festival circuit, Todd Soliday and Leah Warshawski's Big Sonia makes an awards season push by opening in L.A. Friday, December 8.)
I sometimes wonder how many stories can be told about major moments in history before they cease to be interesting. When I have these thoughts about Holocaust movies, I simultaneously question my value as a compassionate human being. How, after all, is it possible to be so heartless in regard to one of the great cataclysms of the 20th century? Every tale is worth telling! Well, since I am, indeed, as human as the next person, I am prone to narrative fatigue when exposed – or over-exposed – to the same subject, no matter its importance.
Still, good artists always find innovative, fascinating perspectives on the familiar. In the past decade, we've seen such brilliant efforts, on the fiction-filmmaking side of things, as The Counterfeiters (Stefan Ruzowitzky, 2008) and Son of Saul (László Nemes, 2015), and on the documentary side with A Film Unfinished (Yael Hersonski, 2010) and Orchestra of Exiles (Josh Aronson, 2012), to name but some of the many. And now we have a new film to add to the list: Big Sonia, from husband-and-wife duo Leah Warshawski (Finding Hillywood) and Todd Soliday (Platinum: The Legendary Banked Slalom 20 Years and Beyond). Forget fatigue. Sonia's story is heartbreaking and heartwarming, both, and well worth watching.
Sonia Warshawski – Leah's grandmother – was born in Poland in 1926, and watched in horror as the Germans marched into her hometown of Międzyrzec Podlaski in 1939. They shot those who resisted and deported the rest, sending Sonia and her mother to one camp, and her father and brother – whom she never saw again – to another. Now, almost 80 years later, Sonia is a vibrant nonagenarian in Kansas City, still running her deceased husband's tailor shop and lecturing at local schools to keep the memory of Nazi atrocities alive. Beloved by those who know her, she is a testament to the strength and resilience of the human spirit.
The directors mix archival photos and film/video footage with artful animations (in lieu of re-enactments), along with an evocative sound design (underneath those animations) that, by the end, leave us fully immersed in the world of their subject. We follow her as she bids a devastating adieu to her mother in the minutes before her walk to the gas chamber; we watch as she recounts moments like this to rapt young audiences; and we enjoy the sweet moments with her customers, who visit her in her shop – the last open one in an otherwise abandoned mall – loyal to the end.
If every person is unique in this world, so is their story. It is not just the fact that Sonia suffered, survived and lived that makes her a compelling subject. Rather, it's those details plus the delightfully ordinary quality of who she is today that makes her trajectory so extraordinary. Her sweet normalcy, traumatic wounds and all, is the greatest triumph over evil one could hope for. "Big Sonia" is the title she, and this wonderful movie, fully deserve.