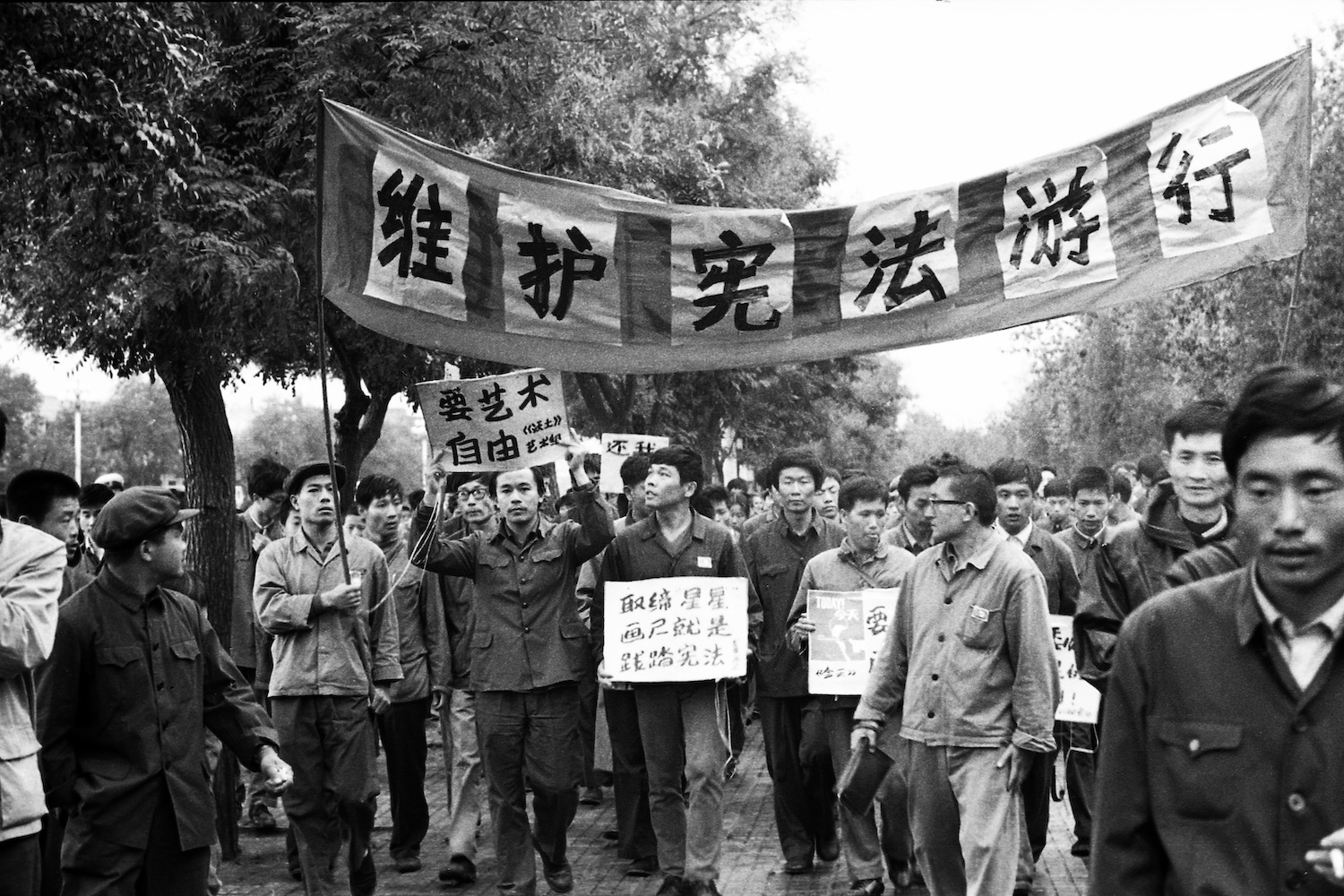 (Andy Cohen and Gaylen Ross' new documentary Beijing Spring opens December 10 in Theaters in New York and Los Angeles. Here's Chris Reed's movie review of Beijing Spring. Like what you see here on Hammer to Nail? Why not give just $1.00 per month via Patreon to help keep us going?)
Authoritarian regimes often serve as breeding grounds for serious artistic movements, creative souls inspired by imposed restrictions to rise above them, risk be damned. In Andy Cohen and Gaylen Ross' new documentary Beijing Spring, the directors examine China in the year 1979, as new leader Deng Xiaoping appeared to be on the verge of opening up the country to a semblance of democracy. As an opening onscreen quote from the great 19th-century philosopher Alexis de Tocqueville reads, "The most perilous moment for a repressive government is when it seeks reform." Perhaps, but what we witness ends up being more dangerous for the artists, themselves. Whatever Chairman Deng's original intentions, he was not about to allow actual dissent to last for long.
We meet a great number of the surviving artists of that era, many of whom left China in the 1980s after the ensuing crackdowns, some of them first imprisoned for the efforts. Today, they are a cheerful, if ruminative, bunch, reminiscing about their youthful actions and how they once hoped they might lead to substantive change. And for a time, it seemed like they might, because even though the late Mao Zedong had railed against art for art's sake, forcing adherence to socialist-realist principles, he was no longer calling the shots, having died in 1976. 
Before we get to 1979, Cohen and Ross (Ximei) lay the historical groundwork to help us understand the context of the period, beginning with the 1960s Cultural Revolution and its devastating toll on millions of Chinese. Our protagonists came of age in the thick of it, suffering and/or watching their families suffer. Academic studies were halted so young people could be re-educated in the countryside among peasant farmers, the better to leave behind their ostensible reactionary bourgeois ideas. But a funny thing always seems to happen on the way to uniformity: enough people emerge with their individuality intact to spoil the plan.
Among those interviewed are folks like Huang Rui, Qu Leilei, Bao Kun, Ma Desheng, Shao Fei, Wang Keping, Wei Jingsheng, and Li Shuang, whom we also see as their younger selves in archival film footage and photos. Many were part of the Stars Art Group, a loose collective that staged a series of exhibits of dissident art in 1979. Though initially sanctioned by certain officials in the Communist Party, their work quickly fell out of favor as it grew in ambition. The ensuing reprisals proved ugly and decisive. The once-again totalitarian China of today flowed from the then-rejection of free thinking.
As engaging as much of the narrative may be, the film is not without its awkward delivery of ideas, sometimes assuming we know more than we do. The interstitial title cards, accompanied by the same ominous sound effect each time, don't help much, either. But the raw truth of what is otherwise represented ultimately triumphs over occasionally clunky mise-en-scène, showcasing these brave men and women who risked their lives for the sake of a better world. The Beijing Spring may have long ago given way to winter, but it's legacy lives on, and this movie does it cinematic justice.
– Christopher Llewellyn Reed (@ChrisReedFilm)
Andy Cohen and Gaylen Ross; Beijing Spring documentary film review