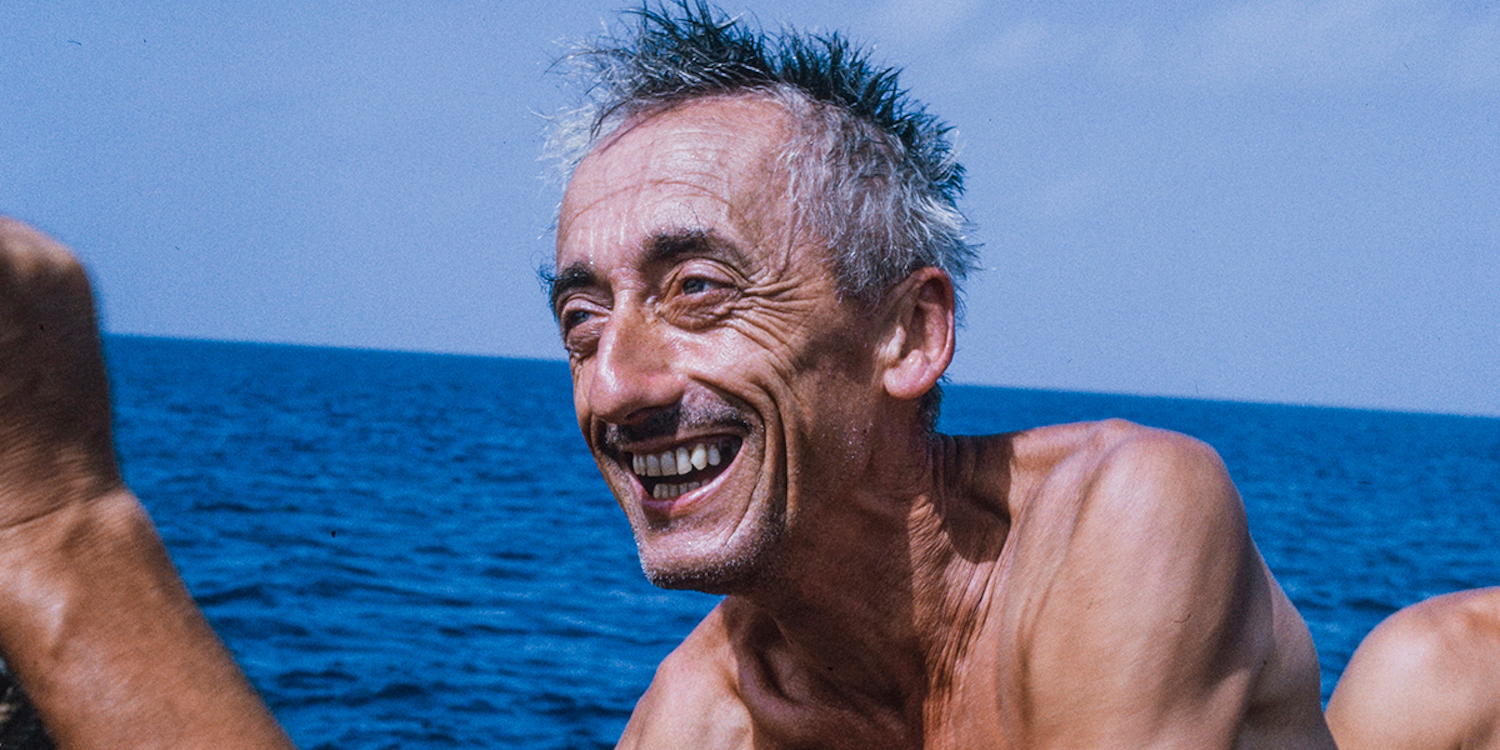 (The 2021 Toronto International Film Festival runs Sep 9-Sep 18 in Toronto, Canada. HtN has a ton of coverage from the fest so stay tuned! Like what you see here on Hammer to Nail? Why not give just $1.00 per month via Patreon to help keep us going?)
In Becoming Cousteau, Liz Garbus (What Happened, Miss Simone?) creates a portrait of the late, great French undersea explorer Jacques-Yves Cousteau (1910-1997) that takes us from his early days as a naval officer to his later-in-life fame as a television star and environmentalist. It is comprehensive in scale and rich in detail, examining the man's many achievements; one might wish it dove deeper into some aspects of his personal life, including his relationships with his sons, but there is still enough there to satisfy. To all his many fans, this documentary is sure to become a valued treasure. To everyone else, it serves as a perfect introduction to his work.
Even though I grew up watching his vast media output, I had no idea that he was both co-inventor of the Aqua-Lung (the regulated breathing apparatus that allows people to scuba dive) and creator of the first waterproof cases for film cameras. Given that Cousteau once declared, "The only field in which I feel gifted is cinema," that latter invention makes perfect sense. Indeed, thanks to his films and shows, he did more to transmit a love for the oceans than anyone else of his generation, though it was only later in life that he would transform himself into their protector.
Garbus starts with an older Cousteau talking to an audience of children, entertaining their questions. Wondering faces stare back at him, wanting to know what it's like below the sea surface. Smiling, he responds that it's unlike anything they could imagine, likening it to flying through the air, sans gravity. His charisma dazzles, and it's easy to see why he became such a famous figure. We then cut back to how he started. Fresh out of the naval academy, he dreamed of being a pilot, but a near-fatal car accident grounded him permanently. And so he took to the water, off the coast of the southern French city of Toulon, where in 1936, he and two friends, Philippe Taillez and Frederic Dumas, became accomplished free divers (what we would today call snorkeling). They also plundered whatever they could find in the shallows, flora and fauna alike, unconcerned about destroying the natural wonders. That would change much later. 
Garbus then walks us through the World War II years and how, once that conflict was over, Cousteau took to the water with his new Aqua-Lung. Needing money in the ensuing years, he and his crew of mostly volunteers would engage in research for oil companies, destroying seabeds as they went. With those ill-gotten proceeds, they would buy equipment for more benign projects. At some point, a grant from an Englishman allowed Cousteau to buy the vessel that would feature in all his movies: the Calypso.
In 1956, collaborating with a young filmmaker named Louis Malle, Cousteau would co-direct that year's Palme d'Or-winner at Cannes, entitled The Silent World, launching a new phase in his career that would lead to his celebrated series The Undersea World of Jacques Cousteau and more. Along the way, he would develop a conscience over the cost to the planet of his and others' past adventures, using his voice to argue for conservation measures and founding the Cousteau Society in 1973 to recruit others to do the same. He had finally become the Cousteau we know today.
This is no saint's life, as Cousteau was a complicated soul who did not always do right by his wife, Simone, or sons Jean-Michel and Philippe, though he still involved them in everything he did. Tragically, his favored child, Philippe, died in a plane accident in 1979. Cousteau's late-in-life affair with the woman who would become his second wife after Simone died provided him with two more children, to whom he seems to have been a more present father. All of this is laid out as background, allowing us to decide what we make of it.
Garbus mixes and matches copious archival material, past interviews with Cousteau and others, present-day recollections and more to embroider a fascinating cinematic tapestry that showcases not just one man's journey, but the odyssey of all critically thinking humans who evolve over time. Vincent Cassel (The Emperor of Paris) provides the voice of her subject's diaries, though Cousteau is himself heard directly through the older footage. Compelling throughout, Becoming Cousteau will make you want to strap on some flippers, grab a mask and plunge into an ocean near you. Hurry up, before it all vanishes for good…
– Christopher Llewellyn Reed (@ChrisReedFilm)