BE NATURAL: THE UNTOLD STORY OF ALICE GUY-BLACHÉ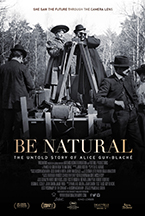 (After a massively successful film festival tour, director Pamela B. Green's Be Natural: The Untold Story of Alice Guy-Blaché is in select theaters now via Zeitgeist Films. Like what you see here on Hammer to Nail? Why not share just $1.00 per month via Patreon to help keep us going?)
An important excavation of a long-lost filmmaker, director Pamela B. Green's Be Natural: The Untold Story of Alice Guy-Blaché presents the life and work of its titular subject in all its deserved cinematic glory. Alice Guy-Blaché (1873-1968) became, while still only in her twenties, one of the pioneers of the nascent 19th-Century moving-image industry, working for French engineer, inventor and film producer Léon Gaumont as he adopted the cinématographe technology developed by Auguste and Louis Lumière and began making films for wide distribution (today, Gaumont remains a major French studio). Guy-Blaché – at this point, simply "Guy" – jumped right in, and since no one initially took the movies seriously, there was no objection to a woman making them. Only later, in the 1920s, when major money became involved, would film become the near-exclusive domain of men. For many years, however, Guy-Blaché worked at the top of her field, celebrated around the world. Why, then, do so few people now know her name? That, indeed, is the question.
With copious biographical details, a plethora of interviews and a multitude of beautifully designed on-screen animated illustrations (Green's background is in title design and motion graphics), the director walks us through Guy-Blaché's accomplishments, revealing the many ways in which she advanced the art and craft of filmmaking. At one point, after she moved to the United States with husband Herbert Blaché, she co-founded (with him) a vibrant production company, Solax, in Fort Lee, NJ, where many of the other studios that would soon move out to California were also located. Sadly, in the post-World War One era, their company foundered, and as Herbert made his home in Hollywood, as well, philandering all the way, so did their marriage. Guy-Blaché subsequently moved back to France with daughter Simone, only to find that her earlier work had largely been forgotten. Even worse, as the years wore on, much of it would be attributed to others, particularly men. It would only be towards the end of her life that scholars and filmmakers would begin to rediscover her, though even today her name elicits little initial response from the directors and actors whom Green queries.
Fortunately, both for the official record and for Guy-Blaché's legacy, we now have this marvelous chronicle of actual events. If the film has a (minor) flaw, it is its near-manic pace and almost-exhausting barrage of overwhelming detail, sometimes cut so rapidly that it can be hard to keep up. Green also relies a little too heavily on scored music to advance each section, and since many sequences are quite short, the effect is one of sudden, jarring audio shifts from piece to piece. Still, these are but small quibbles in a documentary that leaves one feeling amazed not only by what Guy-Blaché achieved in her time, but at the efforts – intentional or not – to erase her from the narrative. The title, "Be Natural," comes from one of the cards Guy-Blaché hung on the Solax walls, reminding actors that less was more. She was one of the greats and, perhaps even more importantly, one of the first. Her historical neglect is a travesty. Indeed, this film raises the all-important notion of who, in fact, gets to write our collective history. Good thing that, in this case, it is Green and therefore, by proxy, Alice Guy-Blaché.
– Christopher Llewellyn Reed (@ChrisReedFilm)
Like what you see here on Hammer to Nail? Why not pay just $1.00 per month via Patreon to help keep us going?