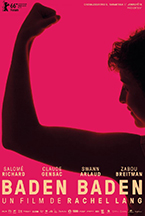 (French director Rachel Lang's debut feature Baden Baden is a look at a woman navigating a quarter life crisis. It's available now through the fine folks at Mubi.)
As French director Rachel Lang's debut feature, Baden Baden, begins, we stare, in close profile, at a young woman driving a car. We hear other voices, probably from someone in the back seat, but see only her. She frowns, perplexed. Is she lost? Her phone rings, and she reassures the caller that she's but a minute away. Sure enough, after a few turns, they arrive. The camera never leaves her face as her passenger – a film actress – disembarks. The Assistant Director is livid, and proceeds to scream at her in a way that no self-respecting individual could, or should, endure. As horrible as this moment is for her, however, the man's behavior is so over-the-top that its absurdity approaches the realm of comedy. It's the perfect opening for this quirky and insightful dramedy about Ana, the woman in question, that follows her as she navigates a mid-twenties crisis of faith and motivation. Whence her malaise, and where does she go from here?
Before long, Ana has ditched the movie set (but not the car – a Porsche – with which she absconds) and headed back to her native Strasbourg, located in Alsace, a part of the world that historically has shifted back and forth between two countries, France and Germany. There, she cares for her ailing grandmother while reconnecting with other family and friends from whom she has grown estranged while living and working abroad (London, Brussels, etc.). She is adrift, both literally and metaphorically, interacting with the people around her in a seeming fog. There's an ex-boyfriend with whom no one wants her to start up again (she does), another (male) best friend with whom she occasionally has sex, as well, and a lovesick worker at an IKEA-like store who signs on to help her renovate grandma's bathroom. Confused though she may be, she's still pretty much game for anything that comes, her depression leavened by a persistent vivacity that won't quite desert her.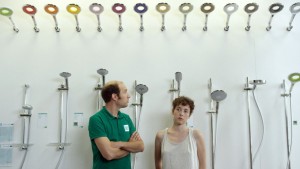 Much of the strength of the movie comes from the riveting central performance by Salomé Richard, who twice before has served as Lang's muse in the short films Pour toi je ferai bataille and Les navets blancs empêchent de dormir. Fidgety and unformed though her Ana may be, she is also fiercely intelligent and curious about the world. She just hasn't found her way yet. Like Strasbourg, she is neither here nor there. Lang uses her like a living canvas, lingering in close-up for sometimes uncomfortably long moments. When, at the end, Ana sits in a field looking up at a new building with a new man beside her, Lang bathes her in golden light. She still doesn't know where she's going, but maybe she'll get there, regardless.
The title of the movie refers to a spa town in Germany that Ana and her grandmother once discuss as a possible vacation spot; the longed-for destination to which they aspire, but never go. Everyone but Ana acts on their ideas. Perhaps the conclusion, where she gazes in wonder at Amar, an immigrant off to join the French Foreign Legion, indicates that the time has come for her to realize her own ambitions, whatever they may be. She smiles, ready for change, the frown gone. Salomé's face glows, and we respond, happy to have followed her thus far.
– Christopher Llewellyn Reed (@ChrisReedFilm)