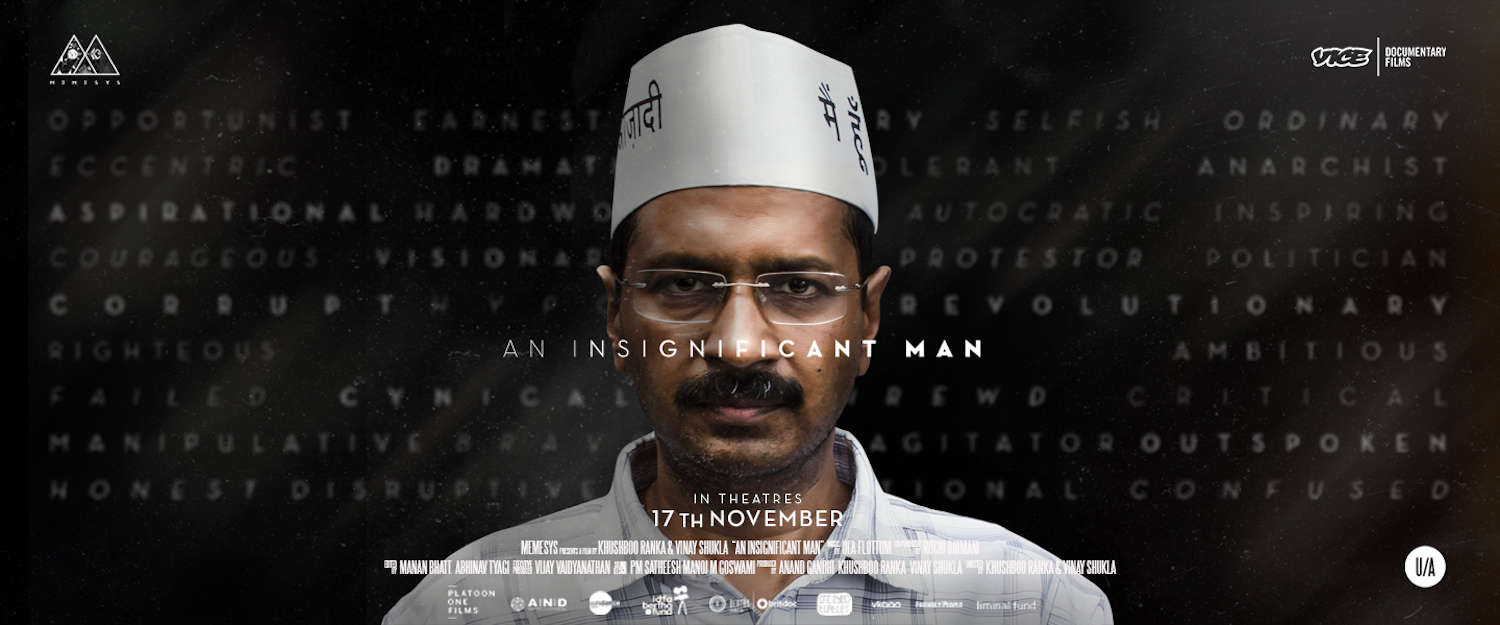 (The 2017 AFI Docs ran June 14-18 in Washington D.C. Lead critic Chris Reed brings us these reviews fresh from the fest.)
In An Insignificant Man we start in 2013, in northern India, in the capital of New Delhi, as Arvind Kejriwal, a local anti-corruption activist, slowly gathers followers around him to challenge the country's entrenched political class. A man of slight build, with glasses, a well-trimmed mustache and a penchant for nondescript button-downs, Kejriwal looks like a tax accountant. That's in fact what he was before his ire at the way the government neglects the problems of the poor got the better of him. We learn from an early title card that for most of India's years of post-British rule, one party – the Indian National Congress – has dominated its system, with only one other party, the Bharatiya Janata Party (BJP, or Indian People's Party), in opposition. As Kejriwal leads public protests against the leaders of New Delhi, he starts a new party of his own – the Aam Aadmi Party (AAP, or Common Man Party) – and mulls a political candidacy of his own. The stage is set for a powerful real-life drama, with the camera right there to document it all.
Directors Khushboo Ranka and Vinay Shukla, whose first feature this is, have the great virtue of enjoying what appears to be unfettered access to their subject. In the grand tradition of the great cinéma vérité filmmakers of yore – their film recalls Robert Drew's profile of John F. Kennedy's 1960 primary campaign, entitled simply Primary – they follow Kejriwal as he builds support among the disaffected and disenfranchised populace of New Delhi, angry at the price of electricity and water. Though clearly a man of deep principals, Kejriwal nevertheless flirts with the seductive power of populist rhetoric. He is aided in his quest for power by the utter cluelessness of those already at the top, embodied by the Chief Minister of Delhi, herself, Sheila Diksit, whose arrogant dismissal of complaints illustrates why Congress is soon to get its comeuppance (Narendra Modi, current Indian Prime Minister, and his BJP, took over in 2014). The film asks whether he can remain true to his ideals as he fights to win, or succumb to the very corruption against which he rails.
An Insignificant Man – the title comes from Kejriwal's own self-deprecating term for himself – is a truly exciting work of direct cinema, profiling a mass protest movement that may not end in quite the result its followers hoped for, but still has a major impact on the future of India. Though Kejriwal – diffident and quiet – initially seems an unlikely screen hero, he quickly changes before our eyes, morphing into a dynamic and savvy politician. And unlike our own home-grown brand of populists, his motivations seem genuine, whatever compromises he is forced to make. By the end, he, like the movie about him, is anything but insignificant.
In English and Hindi, with English subtitles.
– Christopher Llewellyn Reed (@ChrisReedFilm)