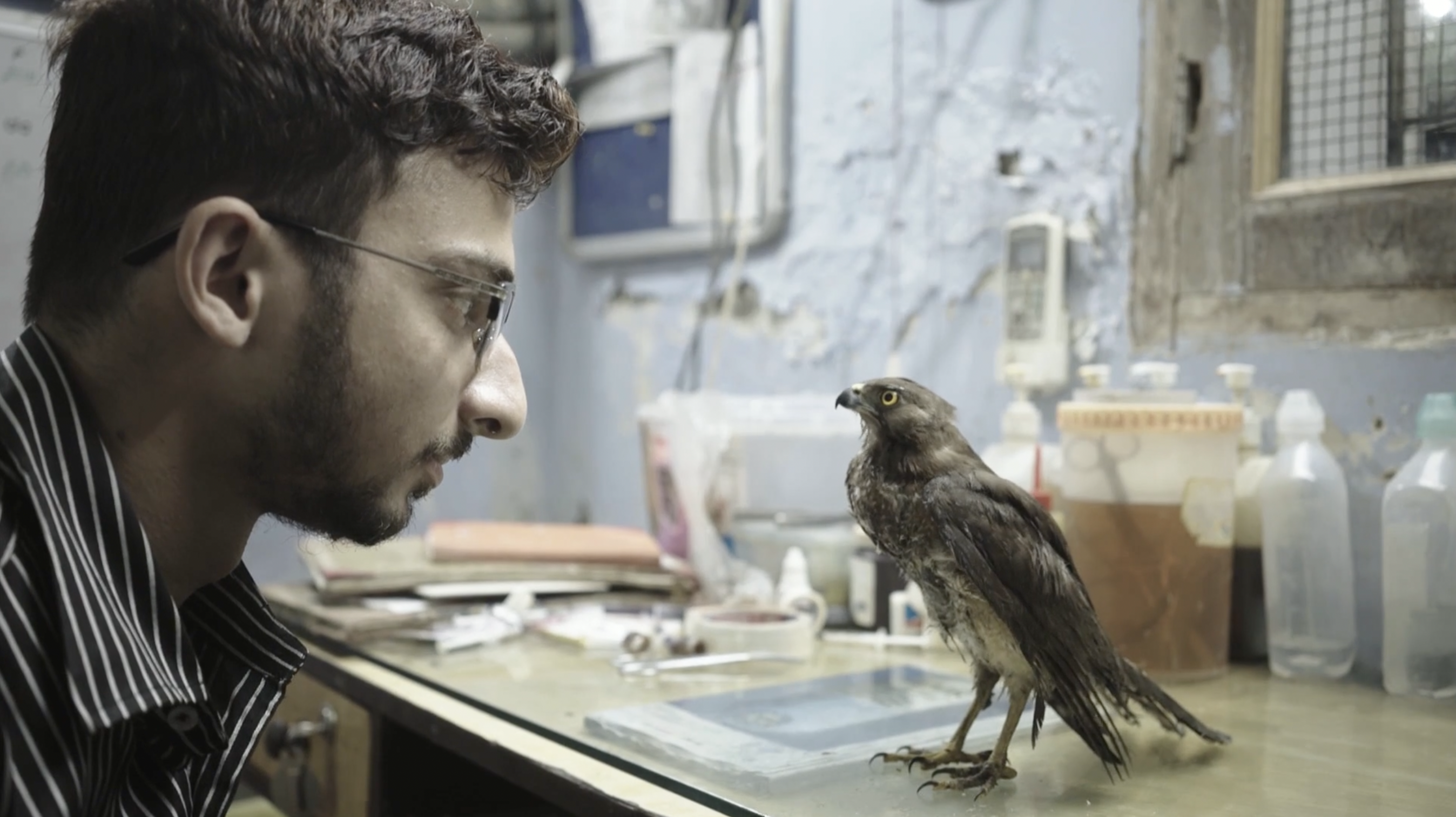 (The 2022 Sundance Film Festival runs January 20-30 all virtually. Check out Matt Delman's movie review of All That Breathes. Like what you see here on Hammer to Nail? Why not pay just $1.00 per month via Patreon to help keep us going?)
Director Shaunak Sen's second feature documentary All That Breathes showcases an evolving India that is desperately coping with overpopulation and climate change. Mother Earth has a funny way of fighting back. The 'black kite' is a bird that looks a lot like a Northern American red-tailed hawk. These birds descend on the New Delhi garbage dumps in droves, collectively eating over 15 tons of waste per month. The analogy used in the film is that they act 'like the gut's microbiome.' The story follows three men, known as "the Kite Brothers," who have devoted their lives to rescuing and rehabilitating these majestic birds that have been injured or sickened by the toxins in our trash. Shot with an artful eye by D.P. Benjamin Bernhard, the compositions are reminiscent of The Truffle Hunters, another recent Sundance doc standout. Whether audiences embrace All That Breathes may be a question of if you're a dog person or a bird person, but either way this is an undeniably beautiful piece of art and activism.
Nadeem and Mohammad are middle-aged brothers who run a bird rehab out of their basement. Some of these birds fall out of the sky simply because the air pollution in Delhi is so bad—12 times worse than Beijing. Others have evolved to carry around cigarette butts in their gullet to ward off parasites. That too has its negative side effects. The brothers worry about funding, exhaustion and the violent protests that escalate on their city's streets. Though there is some interpersonal conflict, which works to humanize them, overall the three men (a volunteer named Salik being the third) are extremely resourceful and thoughtful. Moreover, they seem to have a spiritual understanding of the sacredness of these birds and the ecology of their homeland.
On a technical level, the cinematography really stands out. However, it should be noted that this is not your average wildlife photography. Sen and Bernhard capture a certain poetry and humanity in strange ways. One shot shows the men playing cricket in their office on security camera, and then slowly pans to the right to see the same scene from the real world, before panning back to the television screen. The audio of their conversation continues throughout, which makes for a really neat effect. Some of the more bravura shots and long takes reminded me of Gianfranco Rosi's Notturno.
Sen weaves in scenes depicting India's increasing Islamophobia. It's unclear how this connects to the birds, but it's a potent way of ratcheting up the tension and unease. The kite brothers are Muslim, but the film doesn't go out of its way to make them look like good guys, they just are. They would be great neighbors, if you don't mind the bird droppings. Perhaps the point of this film is to love thy neighbor, no matter their race, religion or how closely smushed in you are together. And to equally love our animal neighbors, because they often protect our world in ways unseen to the average person. Watching All That Breathes provides new perspective on the need to live in harmony with all manner of creature that surround us.
– Matthew Delman (@ItsTheRealDel)
2022 Sundance Film Festival; Shaunak Sen; All That Breathes movie review