RUBBERBAND IS AN UNLIKELY INSTRUMENT, A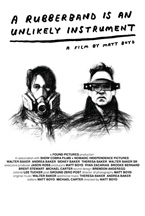 (A Rubberband Is An Unlikely Instrument was picked up for distribution by Factory 25 and is now available on VOD and at iTunes. It opened theatrically in New York City at the reRun Gastropub on Friday, February 8, 2013. Visit the film's official website to learn more.)
Walter Baker, the primary subject of Matt Boyd's A Rubberband Is An Unlikely Instrument, is a decade or so older than I am. He's also a thrice-married parent. Yet those details didn't keep me from feeling excruciating, uncomfortable pangs of personal recognition when watching Boyd's observational, lived-in documentary portrait of this health-insurance-less, struggling-to-make-ends-meet Brooklyn musician. Undoubtedly, a large portion of viewers will recoil from this film's 135-minute run time and from Baker himself, using his ceaselessly self-absorbed behavior as a way to distance themselves from any dot-connecting between his life and their own. But a painful truth persists. Walter Baker is indeed a rare specimen, an increasingly maddening presence with an unwaveringly self-satisfied, self-absorbed worldview, yet Boyd's film is ultimately about much more than this one man's trials and tribulations. It is, in fact, a universal cautionary tale, a sobering critique of the modern, urban, over-educated-yet-underwhelmingly-employed artist type that, let's face it, so many of us wish we weren't but know we are.
Baker is not without talent. Boyd clarifies this right away, as Walter "plays" a rubber band in a subway tunnel, using only his hands, teeth, and vocal cords to make a beautiful melody that one might mistake for a complex brass instrument. He also plays the guitar—or, more correctly, he plays his several guitars, a distinction that becomes a point of contention during a breakfast discussion with his poet/cellist wife Andrea. As he eats a bowl of cereal, Walter defiantly reiterates his belief that personal creativity comes before anything—familial responsibility included. He then goes on to deliver another long-winded, eloquent, heartfelt defense of what it feels like to hold these instruments in his hands and how inexpressibly important they are to him. He concludes this soliloquy by asking Andrea how she feels when she plays her cello. Her response: "I have one cello." Later, in their beat-up station wagon, Walter matter-of-factly explains why their finances are out of order: "The credit is bad because I acted on passion." I'm not sure I've ever encountered a person—on screen or in real life—who serves as both defense attorney and prosecutor. The more he defends himself, the more he incriminates himself.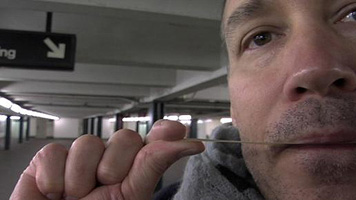 Everybody knows we are living in a world filled with talented adults whose creativity will never be recognized or rewarded—Brooklyn is ground zero for this type of wounded soul!—but Walter refuses to fully concede and take the type of full-time job that would provide his wife and 12-year-old son with the health insurance and fiscal stability they deserve. Instead, he sells objects on Ebay and performs other slapdash tasks so that his time stays "his," so that he can remain an "artist." (As someone who wasted almost his entire 20s temping at law firms so as to avoid a similarly invisible "kiss of creative death," this sequence made me cringe even more tightly; though, to be fair, 1) I was in my 20s and 2) I wasn't married with a child.)
As the film wears on, it's impossible not to become increasingly exhausted with and frustrated by this man. But what about Andrea? Early on, she challenges him and thoughtful exchanges blossom, yet as they journey to Texas for a typically awkward encounter with Walter's conservative, religious parents, and as the depressing anniversary of their deceased newborn arrives, she begins to revert to silence. Is that disbelief and disdain we begin to see in Andrea's increasingly widening eyes? Or is she simply conceding victory to this maddening man? The answer to that question emerges subtly, but devastatingly, in the film's quiet climax. No overtly concrete conclusion is reached in that moment, yet it does shortly thereafter. This crushing scene alone justifies the film's 135-minute length, and elevates it to a whole 'nother realm. It also enables me to say this without hesitation: A Rubberband Is An Unlikely Instrument is our generation's A Married Couple.
Sadly, many viewers will likely confuse Walter's self-centeredness and the film's extended run time with self-absorption on the part of Boyd. That would be an incorrect reading and a very big mistake. A Rubberband Is An Unlikely Instrument is a heavy, sobering achievement, the type of novelistic nonfiction storytelling that doesn't come around too often.
— Michael Tully