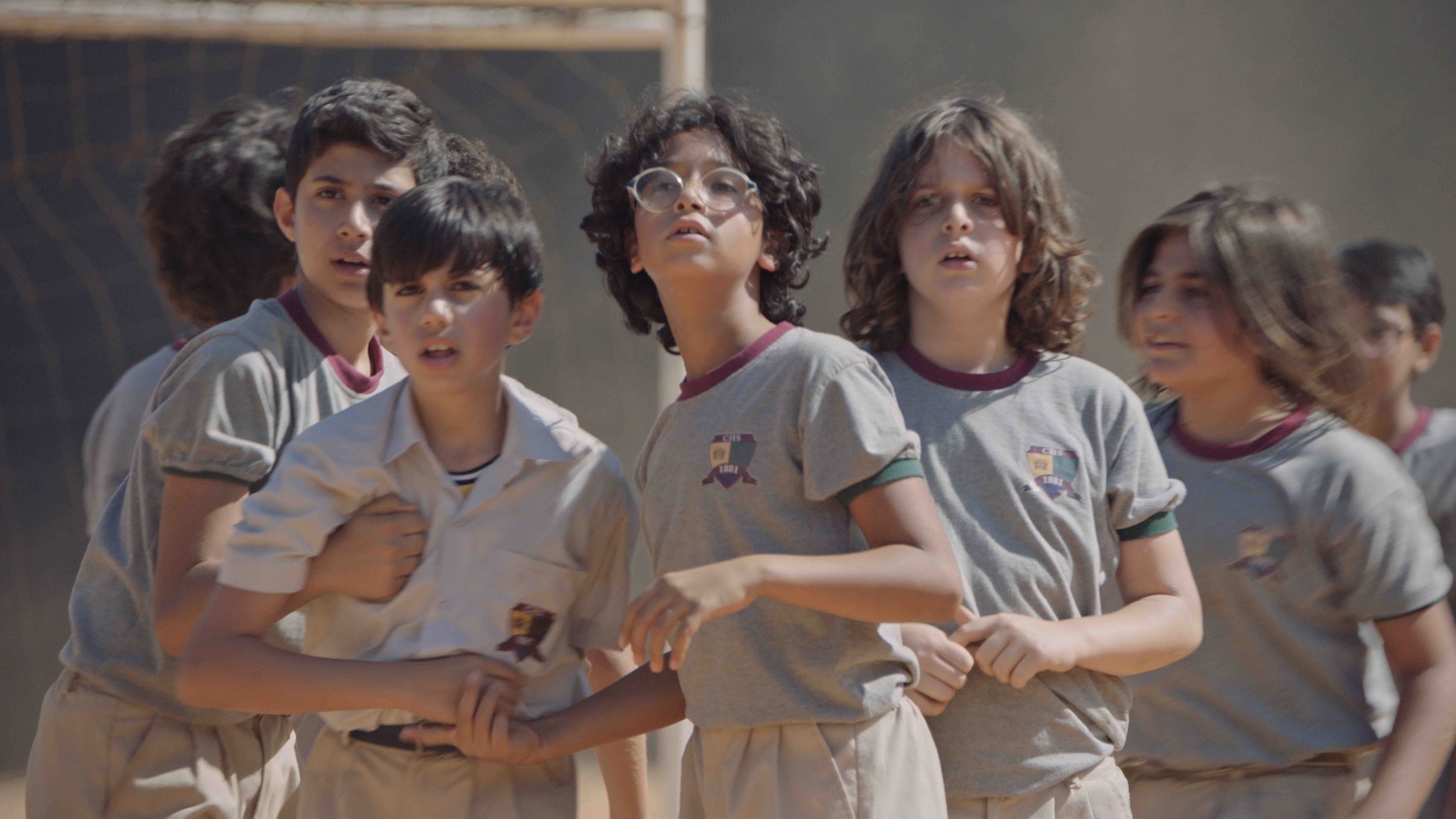 (Check out Chris Reed's movie review of 1982, in select theaters now. Seen it? Join the conversation with HtN on our Letterboxd Page.)
It is a truism of human experience that those who suffer most from cataclysmic events are the innocent, who become collateral damage in our species' ongoing hunger for conflict. Films that portray war and violence through the eyes of children are therefore often the most harrowing. In his feature debut, 1982, Lebanese writer/director Oualid Mouaness portrays the outbreak of hostilities in Beirut at the start of the titular year's multi-party struggle as lived by students and their teachers at a school in the hills above the city. They watch, dumbfounded and fearful, as bombs and missiles fall, planes duke it out in airborne dogfights, and military convoys drive by. Though the day started out with a focus on exams, it ends with everyone focused on very different concerns.
It's a powerful shift, made more so by the usual problems of people young and old, including love, friendship, and more. 11-year-old Wissam (Mohamad Dalli) is determined to express his feelings for classmate Joanna (Gia Madi) but can't quite bring himself to admit that he sent her a love letter. His best friend Majid (Ghassan Maalouf) and he face a crisis over the matter, which doesn't help. Their 5th-grade teacher, Yasmine (Nadine Labaki, Capernaum), has troubles of her own, among them the fact that her brother Georges is determined to join the fight, leaving their sick father alone with mom. She and her lover (a fellow teacher) disagree politically, to boot. It's a mess, reflective of the real-life divisions in Lebanon at the time.
But at school all is supposed to be peaceful, sectarian strife left behind, Christians and Muslims joined in scholarly pursuits. Unfortunately, such ideals cannot protect the children from the chaos ahead, though there are hints that Wissam's fantasy life, born of the comics he assiduously draws, may provide a refuge of sorts. If only that were enough to protect everyone.
Mouaness takes his time raising the stakes, even if we sense danger from the start. For much of the narrative, we are immersed in the quotidian details of childhood, rivalries and gossip familiar from our own youth. This makes the transition to confrontation all the more effective. Innocence is, indeed, lost.
This potentially bleak tale is buoyed by strong performances, from the veteran Labaki down to the school-age actors. This is their history and some of them lived through the real-life versions of these dramatizations. 1982 may have proved disastrous for Lebanon, but 1982, cinematically speaking, is an unqualified success.
– Christopher Llewellyn Reed (@ChrisReedFilm)
Oualid Mouaness; 1982 movie review