THE PAINTER AND THE THIEF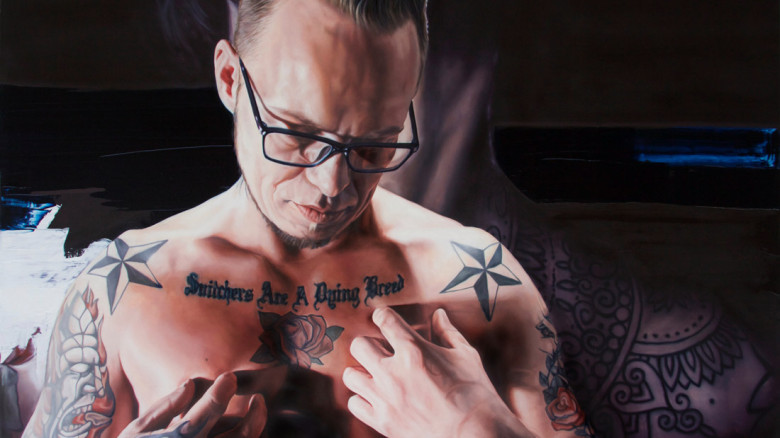 (The 2020 Sundance Film Festival runs January 23-February 2 in and around Park City Utah. Hammer to Nail has boots on the ground at the fest and guarantee more coverage thank any other site out there. Like what you see here on Hammer to Nail? Why not give just $1.00 per month via Patreon to help keep us going?)
In 2015, two paintings by a Czech artist, Barbora Kysilkova, living in Oslo, Norway, were stolen from an exhibit of her work. By the end of that year, one of the thieves, Karl-Bertil Nordland, had been arrested and found himself in court, where Kysilkova approached him to ask why he committed the crime. He claimed he couldn't remember any of the details, such as what he did with the one painting he took, as he was in a drug-induced haze, but knew that he had been transported by the art, itself. Kysilkova asked if she could paint him. He agreed. Soon, there blossomed between them an unlikely friendship. In his deeply intimate documentary The Painter and the Thief, director Benjamin Ree (Magnus) follows the development of that relationship through the sometimes opposing, sometimes harmonious points of view of his two subjects. It's a remarkable story and an equally remarkable film.
We begin with shots (apparently filmed by the artist) of Kysilkova painting one of the two canvases, "Swan Song," that will soon be taken. We then cut to the gallery opening, and then to security-camera footage of two men, in broad daylight, breaking into the space and leaving with the two works, each cut from its frame and rolled up. Before long, we are in court, brought into the proceedings via sketches and audio. Nordland (who goes by Bertil) is apologetic, acknowledging guilt and acquiescing to Kysilkova's request. From there, we quickly jump to their sessions together, he posing, she drawing, each telling the other about their lives.
As befits the two-part title, we begin with Kysilkova's voice walking the viewer through her impressions of Nordland and his history. He had a profoundly unhappy childhood, seemed to pull himself together in early adulthood, then descended into addiction and petty crime. They share a background of unhappiness and fascination with death, as we learn once we hear Nordland's account of Kysilkova: before meeting her Norwegian life partner, she was in a physically abusive relationship, which she has occasionally represented in her paintings. Though the two grow close, and Nordland, in particular, seems almost romantically moved by their sharing, they remain, as far as we can tell, platonic friends, though Kysilkova's otherwise compassionate spouse eventually expresses concerns about the origins and long-term consequences of his wife's attraction to Nordland.
Whatever the truth of the push-and-pull bond, the friendship is tested when Nordland relapses, landing himself in the hospital, and then in prison, after a horrific accident in a stolen vehicle. Kysilkova has her own burdens to bear, including financial problems and a rocky period in her marriage. Throughout it all, she paints, sometimes Nordland, often other subjects. Both she and her friend recover and move past their problems, at least for now, and their closeness returns. Though there are no doubt long periods of their experience left out of the narrative, we feel as if Ree's camera captures all the essential moments, simultaneously invisible and present. Watching these two injured souls find succor in the other's company is beautiful to behold. It's cinema as profound emotional catharsis. You will be moved.
– Christopher Llewellyn Reed (@ChrisReedFilm)
Like what you see here on Hammer to Nail? Why not pay just $1.00 per month via Patreon to help keep us going?