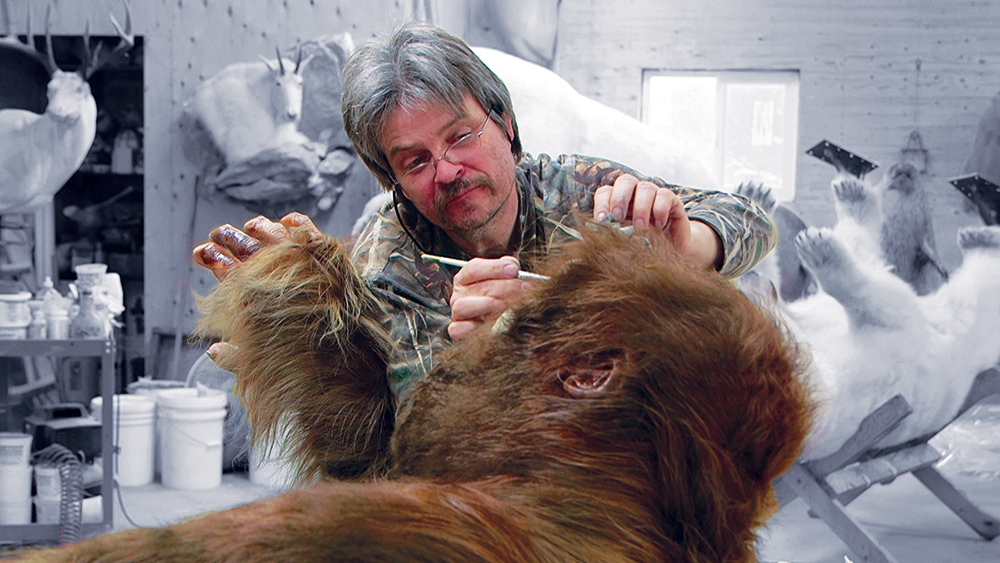 (The 2020 Slamdance Film Festival runs January 24-30 in Park City ,Utah. Hammer to Nail has boots on the ground at the fest and guarantee more coverage thank any other site out there. Like what you see here on Hammer to Nail? Why not give just $1.00 per month via Patreon to help keep us going
Sasquatch is real, make no mistake. Don't believe me? Talk to Ken Walker, champion taxidermist from Canada's Alberta province. He not only knows the truth, but has evidence to back it up, much of it in the form of scat stored in his freezer. He might just be the owner of more Bigfoot feces than any other person on earth. But let's stop and back up for a moment. Walker's Sasquatch obsession is only one of the things that makes him interesting. In Big Fur, Dan Wayne's sometimes messy but always absorbing documentary portrait of the man, the tangled strands of Walker's many story threads come together in a complex, compelling mix.
Though we early on are given hints about the depth of Walker's interest in the mysterious (most would say mythological) hairy Homo erectus of the North American continent, we stay mostly focused on his achievements in the world of taxidermy, that process of mounting an animal's hide on a mold to preserve its form after death. "Process" does not do it justice, actually, since, as we see, there can be a lot of artistry involved, the taxidermist not only recreating the shape of the animal, but also posing it and placing it in a designed environment to emphasize what s/he wants the spectator to see. There are entire competitions built around judging the work, many of which Walker has won. Not content to simply continue doing the same thing, year after year, Walker is now, as we meet him, preparing to submit a Sasquatch sculpture in the "interpretive" division at the 2015 World Championship. Even if one rejects the very notion of Bigfoot, it's fascinating to watch the man work.
Most of the structure of the animal below the fur is, much to my surprise, composed of Styrofoam and wires. I'm not sure what I expected, but not that. I wasn't even aware that one might sculpt such intricate forms in the substance, shaving off bits and pieces of polystyrene to achieve the desired effect. Walker is quite a fine hand at this, with a sensitive eye for nuances of form. As he moves from the real to the fantastical, he applies the same skills, choosing which fur and hide will work best to recreate the legendary Sasquatch. For not only is there all that poop, but filmic evidence, as well, allowing Walker to base his final design on fact, rather than fiction. You laugh, perhaps, but then you have yet to see this documentary.
Beyond the work and competition, there is the personal life, which adds to the narrative, for better and for worse, contributing interesting details but also scattering the focus. Walker finds love, loses love, and readjusts. Joining the conversation are his wife, daughter, protégée and lover, among others. It's a film both procedural, in its approach to the art, and intimate, in its approach to the private intimacies on display, the two halves not always perfectly joined, but never boring. We may question the truth of Sasquatch, but never the intriguing specificity of Walker and his world.
– Christopher Llewellyn Reed (@ChrisReedFilm)
Like what you see here on Hammer to Nail? Why not pay just $1.00 per month via Patreon to help keep us going?