A Conversation with Shirley Abraham and Amit Madheshiya (THE CINEMA TRAVELLERS)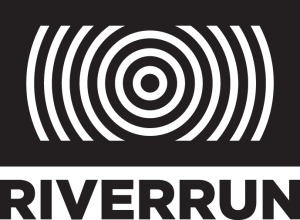 One of the standout films I caught at this year's The 19th RiverRun International Film Festival
(March 30-April 9)
was Shirley Abraham and Amit Madheshiya's The Cinema Travellers, at once a love letter to movie-going and a gorgeous portrait of a dying art (not to mention a 2016 Cannes award-winner). The duo follow three men – a showman, an exhibitor and a projector technician – as they struggle to continue the 70-year tradition of bringing cinema caravans to rural India. Satellite TVs be damned! Or as the gentle and wise projector fixer puts it, "Life is not just a game of machines, but a game of the imagination."
Coincidentally, I'd been in touch with the co-directors just a couple weeks before. I'd been scheduled to moderate their Q&A at this year's phenomenal CPH:DOX, where the film had its Danish premiere, but had to bow out due to a schedule conflict. Thus, I was thrilled to finally be able to catch their beautiful film back on the RiverRun shores – and to reach out once again to conduct my own personal Q&A.
Hammer to Nail
: So, first things first – why this story? And how did you get access to these fascinating characters?
Shirley Abraham and Amit Madheshiya:
Back in 2006, when we graduated college, many single-screen theaters were shutting down in the cities in India, giving way to malls and multiplexes. Decades-old theaters were razed. This saddened us, and also stoked our curiosity. Is there a resonance of this moment in the villages? And how are people watching movies in the villages? How is their big-screen experience affected by this change? So we set out on a journey, travelling the breadth of India. It was an instructive experience, not only about the modes of exhibition, but also about the bond people share with their cinemas.
An elderly man was showing pieces of film on a hand-cranked projector under a tree in West Bengal. A small group of entrepreneurs was carrying shiny new portable digital projectors in remote villages in Uttar Pradesh. Elsewhere, college students were taking Charlie Chaplin and Satyajit Ray to the farmers. Closer to home, in the state of Maharashtra, was the most fascinating and heartwarming sight of all. About ten bulbous tents were hitched to the back of gigantic trucks. In the belly of the trucks, age-old cinema projectors whirred away. Thousands sat crouched by the beam, drinking in the magic. We stood there gasping, as if transported back in time. Traveling cinemas are believed to have become a part of the mythology of cinema, and we took in this sight with a mix of disbelief and wonder.
We embarked upon an extensive research project in 2008, researching and photographing the cinemas for nearly three years, before starting work on the film. During this period, we met our potential characters. Mohammed, Bapu and Prakash stood out for the unique value systems they would bring to the film. For Mohammed, the cinemas had the immediacy of livelihood. Bapu sought the glory of the past. And Prakash, a man of his imagination, could occupy a time before us, and a time after us. We had long conversations about the value of their work, and the place of travelling cinemas in the world today, as custodians of communal watching of cinema. They were ready to let us into their world and their stories, and we couldn't be happier.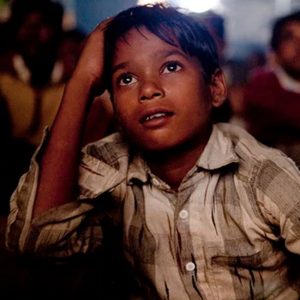 HtN
: I just read in Amit's bio that he's an award-winning photographer – which didn't surprise me in the least. The still images of audience members looking up at the screen that frame the beginning and end of the film actually struck me as something I'd seen at a World Press Photo exhibit years back in Amsterdam. And I also noticed you have ties to IDFA and its Bertha Fund. This is a highly cinematic portrayal – complete with magical music – of a cinematic subject. Could you talk a bit about designing the look, and feel, of the film?
SA and AM: Through the eight years of making this film, we have often felt a burden, admittedly a beautiful one, of the grand narrative of cinema that we were to create. We wanted our film to reflect upon the language of cinema. And cinema, in its most distilled form, is images. Conscious of this, we wanted to create images that would not just index an idea of India, but evolve a language organic to the cinema culture we were telling the story of. The celluloid-centered ecosystem of the travelling cinemas had remained largely unchanged over seven decades, and seemed set in a well-oiled time warp. We knew instinctively that this has to be told through the lens of myth. And the strokes would be magic realist. These thoughts guided us as we planned the look and feel of the film.
HtN
: Shirley's bio, on the other hand, notes that she feared movies as a child – that they were nearly sacrilegious to her. Yet religion, ritual and superstition play a big part in these cinema travellers' lives. You even include multiple scenes of the men blessing their projection equipment! Can you discuss the role of religion in the film?
SA and AM: Around seven decades ago, farmers, small time traders and school teachers from villages in Maharashtra were enamored as they gazed at moving images in the city of Bombay. They carted back second-hand cinema technology, and films sold by the kilo, to start showing films in religious fairs, as there was a ready audience base there. For all these decades the cinemas have built a symbiotic relationship with the religious fairs.
Our intention behind including the rituals around equipment was to show how a culture wraps itself around technology. Culture, in essence, is a way of doing things. While the showmen subject projectors to a tough love to make them run, they also inscribe them with a certain value, where they are treated as objects of faith.
HtN
: Speaking of religion, you premiered (and won) at Cannes, where cinema is certainly a religious experience for those audiences. But you've also played regional and niche fests here in the States, like the RiverRun International Film Festival and the Indian Film Festival LA. So how does the reaction from the Euro cine-elites differ from that of, say, a primarily South Asian audience?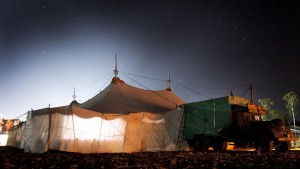 SA and AM: In our discussions around the world, one of the differences is in how audiences respond to technology. In Europe and the west, technology is often considered worthy while it lasts, and then discarded. Audiences in the region have often expressed surprise at how cinema technology has found many lives in the travelling talkies economy in India, through constant refurbishing. An army truck can be retrofitted with projectors to live on as a mobile projection cabin. This is a testimony to the ingenuity and inventiveness of the showmen, but also tells us about how cultures respond to technology.
HtN
: Finally, I'm quite curious to know if Shirley's presence filming in this all-male world affected production. Did you have any specific challenges or issues with any of your subjects?
SA: I was always conscious of my position as a woman in this all-male world. Over the years, my relationship with our showmen, and theirs with me, eased out from curiosity into camaraderie.
However, the fairs were sometimes difficult. In the early days, I was once advised to stay away from the burgeoning crowds in the big fairs. The showmen said, someone might take you away, and we wouldn't even be able to bring you back, because who knows where they might take you. It sounded alarming, but I understood where it was coming from. We were in jungles that only came to life with the fair, and even the showmen were visitors. I was an outsider from a city, and a woman at that. But seeing many women in the fair around me was a bit of a consolation. In any case, there was only one way to find out – by sticking around. Nothing of the sort happened.
Eventually, I also became a repeat visitor to the fairs, almost a pilgrim myself. I don't know if the dangers were real, or if they subsided, but my perception of them did.
– Lauren Wissot