A Conversation with Ninna Pálmadóttir (SOLITUDE)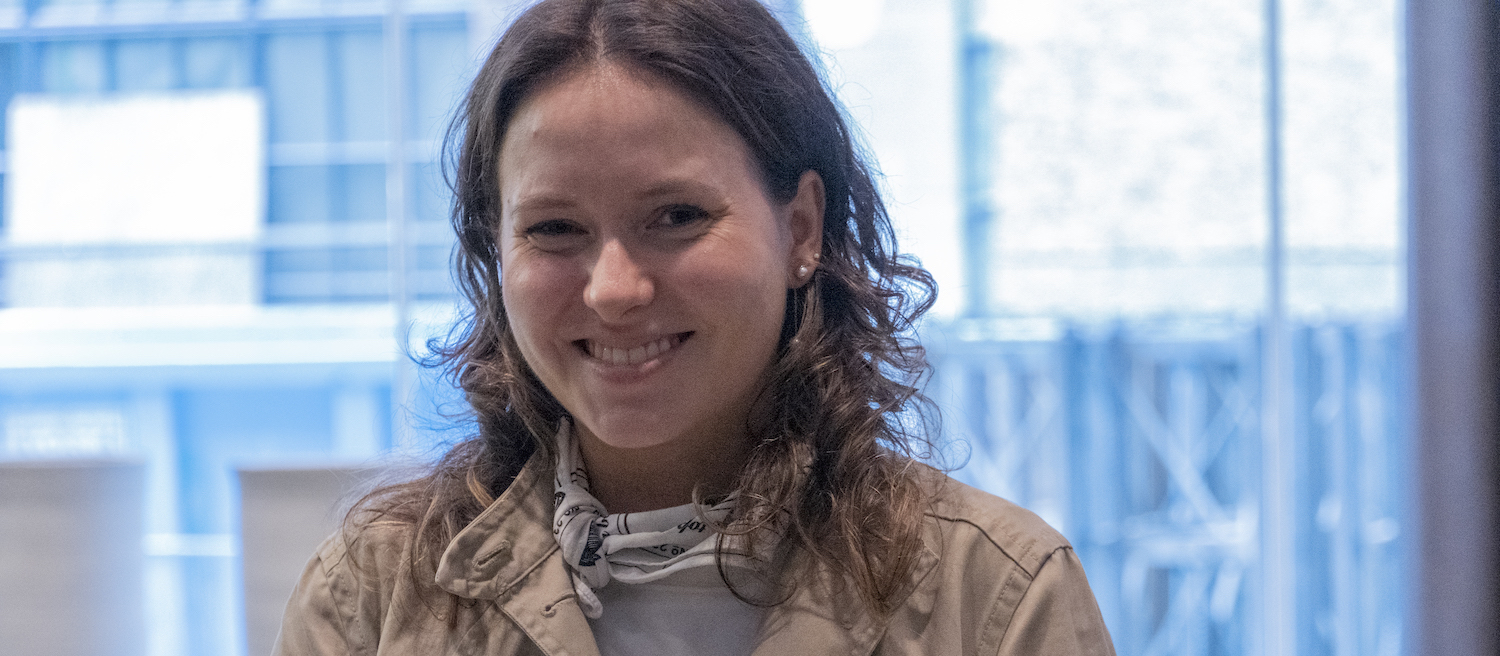 In Solitude, Icelandic director Ninna Pálmadóttir's feature debut, curmudgeonly Gunnar develops an at-first-unwilling friendship with the much younger Ari, who can't seem to leave him alone. Bereft after being forced to leave his family farm to make way for a new dam, Gunnar is now adrift in the city of Reykjavík. The new home he bought is just a randomly chosen domicile, nothing more. But slowly, thanks to Ari, the local paperboy, he begins to come out of his shell. Until, that is, Ari's parents become suspicious about Gunnar's motives. Actors Þröstur Leó Gunnarsson and Hermann Samúelsson do great work as the two leads. The movie premiered at the 2023 Toronto International Film Festival (TIFF), where I reviewed it. I also had a chance to chat with Pálmadóttir at the fest, and now here is that interview, edited for length and clarity. Pálmadóttir's English is excellent (she studied at NYU), but I have still very occasionally adjusted her expressions to better fit certain American idioms.
 Hammer to Nail: What was the genesis of this idea?
 Ninna Pálmadóttir: So, this is a script written by Rúnar Rúnarsson, and in a funny coincidence, I had previously made short films, one about a paperboy and the other about a loner who lives in the countryside. (laughs) Rúnar saw the one about the paperboy and had this script that he wanted to pass on to a director and reached out to Lilja [Ósk Snorradóttir], the producer, about it. And when I read it, it was just written in the stars that I should do it, I guess.
 HtN: Do you know what Rúnar's inspiration for the story was?
 NP: (laughs) He's not the most talkative man. We didn't really get into that. I think I may have asked him, but when we met, we had a good chat about the script and I told him what I thought was the heart of the script and what was drawing me in, which was the friendship and my interest in these kinds of relationships between strangers, when people leave a big mark on your life. That's what I found to be the most powerful aspect of the script and what I wanted to focus on.
HtN: I'm always impressed with Icelandic cinema, because you're a small country but you have a lot of strong filmmakers. One of the things I like is the use of your beautiful landscapes. Here, however, you may start in the scenery but then quickly forget about it, for the most part, and end up in the city. I'm curious about your location scouting. How did you choose that housing complex where Gunnar ends up? It's nice, but not the nicest. It does a lot of your storytelling work for you.
 NP: Finding the right neighborhood and apartment, for me, was about finding something timeless. There are different areas of Reykjavík that are older, but I wanted to try to aim for something that could be from the early 2000s, could be from the current time, or something else. I wanted to keep it open as to what time period it was. So that's kind of the starting point for our scouting. And then it was also about finding a place from which he could be a kind of observer, looking out at the street and the neighborhood from his kitchen window. That was a big factor.
But it's actually a really lovely, cozy neighborhood. It feels very gray, maybe, in comparison to the countryside, but I never wanted to paint Reykjavík as this gray, scary place. I wanted him to have this experience—kind of like a child-like experience—of his world growing bigger and opening up and being vibrant. So I hope that came across. (laughs)
HtN: And how about the location of his farm? When he returns to the farm and it's flooded, was there a location like that or was that created in post-production?
 NP: That was definitely some movie magic. It's hard because with an Icelandic audience, they'll know if something doesn't make sense. If you're here and then suddenly you cut to someplace else, they'll say, "No, this is actually on the north coast!" (laughs) So it was hard. We wanted to find an area that had a body of water, for sure, and then it was just a matter of trying to find something that would match OK with the other location that was the lake that we used for the car scene, and then we VFXed the house in.
HtN: Well, very good use of VFX.
NP: Shout out to our VFX guy!
HtN: But I wish you'd really flooded the farm. That would have been even better. (laughs)
 NP: I mean…yes. (laughs) That would have been fun! But we did have a built-in set in a pool. So that was fun.
HtN: For when he's walking through the house and it's flooded?
NP: Yes.
HtN: Was it already in the script, or did you add the parallel story of the refugee crisis?
NP: That element was already present in the script, yes. And for me, that was just so telling of his character, how he sees the world around him. Even if he's of an older generation, he is still so empathetic about the world around him. And that energy matches with Ari's character. So it was already there. At the end of the day, it's a story about finding your place in the world.
HtN: Also, from what I understand, the amount of money that he's been given for his farm is so far beyond what he could possibly use that giving 50 million Icelandic króna…is that right?
 NP: Yes. I don't know the calculation in dollars, but it's a lot of money. So, he's been given 150 million for the land, and for a man like him, he doesn't care. He just buys a humble place and still takes the bottles to recycling and he doesn't care. And I've heard stories about people like that who've had people in suits knocking on their door to buy their land and offering them these ridiculous sums of money, and they're like, "What for? What will I do with this?"
HtN: What about casting? How did you find your actors to play Gunnar and Ari?
NP: So, with Þröstur Leó, who plays Gunnar…
HtN: Sorry, may I ask, what do you call that first letter in his first name?
NP: It's "th." So, it's "Thröstur."
HtN: Thank you. Please go on.
 NP: No worries. It's a weird language! (laughs) So I'd admired Þröstur for a long time. I saw him on stage when I was a kid, and he's been in the industry, both in theater and in films, for a long time. He has this presence that's both really warm and kind, but also very rugged and there's some kind of darkness about him, as well. When I started to think about this character, he just popped instantly into my mind. That sounds like a cliché, that I always knew who was going to play that part, but it just came so naturally. And then we met a couple of times, just to get to know each other, and that was it. I just asked him, "Should we do this thing?" And he said, "Yeah." (laughs) And he was a wonderful actor to work with.
And for Hermann … it's always a process when you're scouting, because you're scouting for the right chemistry and you're trying to find a young actor who is able to be present in the moment. I find that so special. When we had our first audition with Hermann, I had this little camera and I didn't want to keep it in place, so I started to observe him and see how he reacted and he was just so in the moment. There's something about his face that's just so sincere and innocent. And he has this great red hair and all these freckles. And once we tried them together, it was so clear. They just had the right chemistry.
HtN: How common is red hair in Iceland?
 NP: That's a really good question. We actually have a contest in Iceland called "The Most Red-Headed Icelander of the Year." (laughs)
HtN: So there must be a fair number of redheads if you have that contest.
 NP: I guess so! (laughs)
HtN: (laughs) I'm only asking because red hair runs in my family. Not me, but in others. So I was just curious. But…more importantly than the people, how did you cast the horses? You have that gorgeous white horse, Gunnar's favorite.
NP: I don't know if it's only in Iceland, but I learned that people who know horses call white horses "gray horses." I don't know if that's only in Icelandic, but your never call a horse that's white "white." It's gray.
HtN: Do you know why?
 NP: I have no idea. But I was told that and so I wanted to get it right. It's a gray horse. But, in any case, that horse was already an element in the script. And there's something angelic about that horse. It feels like his guardian angel, in a way. And I think, when it comes to animals, you cast the wrangler. Her name was Coda, and it was not her first rodeo, in film, with horses. She was amazing.
HtN: Did Þröstur and the horse have to learn how to interact first before their scenes together? Because it seems very natural.
 NP: I'm glad to hear that. He did not have a lot of experience with horses. And they did spend time. He had some lessons. And he just has this energy about him that I think all animals will know that he has this sort of kindness and feel good around him. So, no problems there.
HtN: How old was Hermann when you were making the film?
 NP: I think his birthday is late in the year, so he was 11 turning 12.
HtN: That seems like a good age to work with, old enough to understand the emotions of the character. So, chess is the way the two bond. Did they already know how to play?
 NP: We did some research because we knew that he needed to win this game or that. Hermann knew chess. Both of them knew basic chess. But we just had to make sure that what was happening on the board made sense. I think chess just creates this space and silence that's interesting. It's like an old game.
HtN: I think the way you handle Hermann's parents—and I know you didn't write the script—is interesting, because they are, in a way, the antagonists, but we can understand why they do what they do. How did you work with those actors to bring out the nuances in their performances?
 NP: I'm glad to hear you say that, because I never wanted to villainize them or anything like that. It's just life going on and they're probably doing their very best. And I connected to a time when it wasn't that big of a deal to hang out with your neighbors, before this kind of skepticism about that. I used to visit my stranger neighbors all the time, but things have definitely changed since then.
In terms of working with the parents, it was just about spending time together, seeing where they were coming from, understanding their sides, creating little details about their relationship that are not in the text but it's present. Honestly, God is in the details. It's a look, or a lingering moment, and we were trying to do those things and capture those things without being too literal with the situation.
HtN: So, your film has a kind of non-resolution resolution. What do you think happens after we fade to black?
NP: I have hope. I think he, Gunnar, is hopeful, and I hope the audience feels hopeful. Life goes on. It's very scary to leave an ending like that because you know, as a filmmaker, that people are going to read differently into it, but I really love that about filmmaking, when people have that breathing space to sit with something and figure out how they feel about what will happen or has happened. But I will say that, to me, the ending is hopeful. He's moved on from certain things. He has more courage than before and walks out of the frame and leaves us there.
HtN: Thank you very much, Ninna, for talking to me.
 NP: Thank you so much!
– Christopher Llewellyn Reed (@ChrisReedFilm)
2023 Toronto International Film Festival; Ninna Pálmadóttir, Rachel Ramsay; Solitude movie review