A Conversation with Jason Kohn (LOVE MEANS ZERO)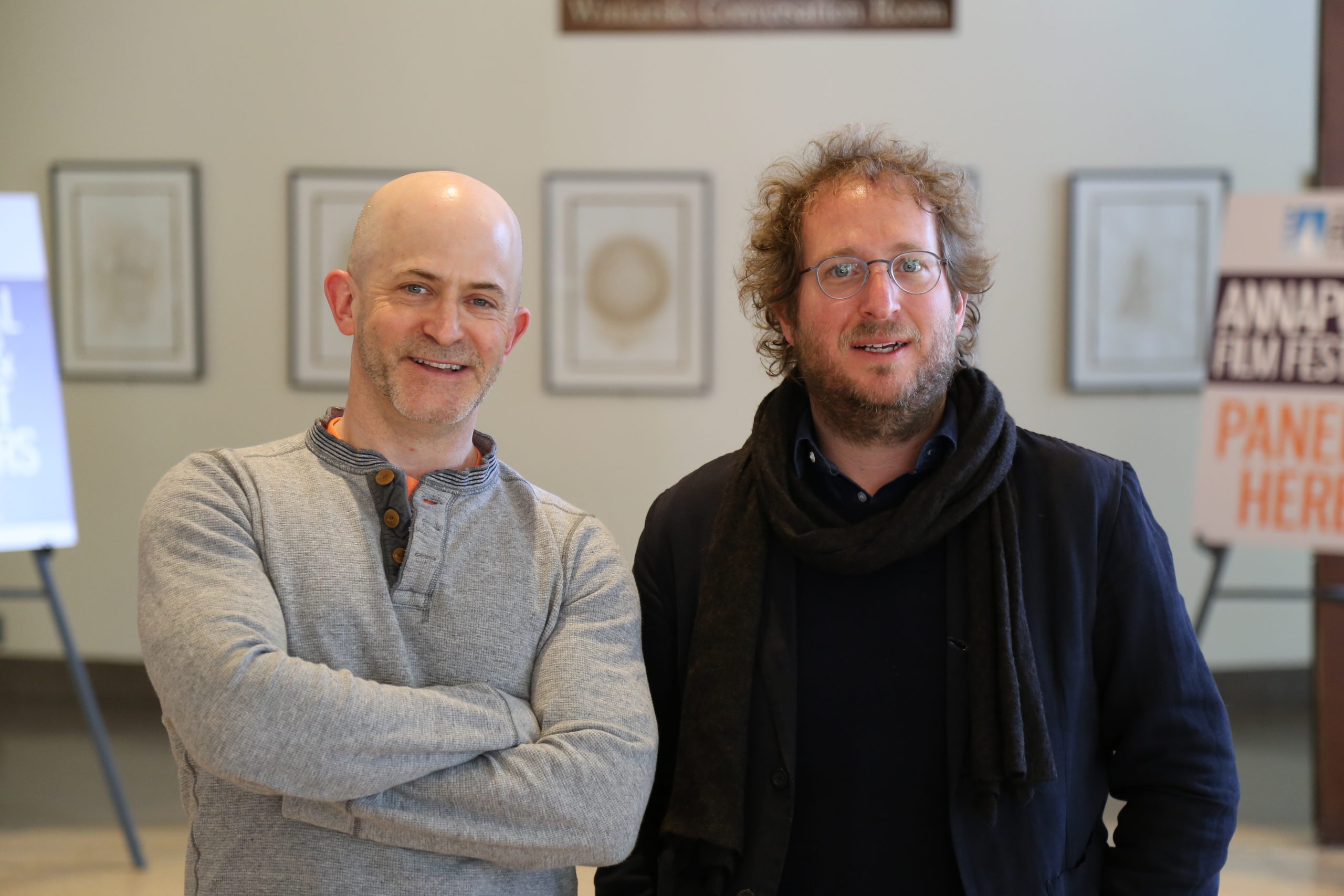 I met with director Jason Kohn on Saturday, March 24, at the 2018 Annapolis Film Festival, where he screened his documentary Love Means Zero (which I had previously seen, and reviewed, at DOC NYC 2017), the recipient of the festival's "Best Documentary" jury award. The film profiles the once-renowned tennis guru Nick Bolletieri, who, at his Florida tennis academy, coached Andre Agassi (with whom he had a terrible falling out), Jim Courier, Boris Becker, Venus and Serena Williams, and more. Kohn delivers a fascinating examination of success, hubris and subsequent slow decline, much of it as told by Bolletieri, himself, whose brash nature does not preclude meaningful introspection. Here is a condensed digest of our conversation, edited for length and clarity.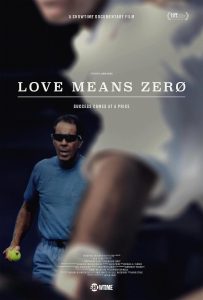 Hammer to Nail: So, I really liked your film when I saw it at DOC NYC. I actually started laughing in the opening credits, though, because you used a song that I had once used in one of my NYU grad-student shorts, "Memories Are Made of This," sung by Dean Martin. What made you choose that song?
Jason Kohn: So, the movie was originally conceived of as having one band responsible for the soundtrack, a British rock band called Spiritualized, which is my favorite band. I would say that often, I start with music first, and there were three sequences that were eventually scored to Spiritualized. "Memories Are Made of This" came from Jack Price, the editor. We had shot some footage of the Colony Beach and Tennis Resort, which was the site of Bolletieri's original academy, and that wasn't supposed to be the opening title sequence.
When Jack came on – and he was the second editor – it was kind of a new experience for me. I'm used to being in the room, all the time, and with the first editor, Michael Flores, we worked together, hand in hand, doing a lot of the scene work. But then Jack kind of went off on his own, a lot, and it was one these experiences where I wasn't comfortable, at first, with that kind of process, since I had just always assumed that I had to be in the room all the time. And Jack would send scenes, like at the end of the week, and I kept on thinking, "All right, if he sends a shitty scene, then I'll start working with him," but he just kept on making scenes, on his own, that were beautiful, and that I couldn't take credit for, that didn't come from me.
There were two, in particular. One was the opening credits, that he did on his own. He came up with the music, and it totally worked, even if it was way out of anything I had thought of for that sequence. And the other was Wimbledon '92, which was a sequence I really, really struggled with, and I was going to go back down to Florida to shoot more footage just for that sequence. But then Jack created the whole Wimbledon '92 scene out of archival, and made it work. So, I never told Jack, "Hey, we need to start working together now," because he just kept on doing amazing work, on his own. Eventually, we started working together a lot more closely, but only because we were coming up against deadlines. It was a remarkable experience working with Jack.
HtN: So, that song comes completely from him.
JK: Completely.
HtN: I'll have to meet him one day, then.
JK: I believe he was Spotify-searching for song titles with the word "memory" in them, and that song came up. That's what I think happened.
HtN: Interesting. So, what made you want to make a film about Nick Bolletieri?
JK: (laughs) Desperation. I had made one movie, 10 years ago, and after I made that movie, I was pretty sure I was never going to make another documentary again. It was called Manda Bala (Send a Bullet). It was the single most important experience of my life, but it was five years of killing myself to make a movie. For a first film – I was very young – it was successful in a lot of ways, but I never saw it, at the time, as a reasonable means of supporting myself. (laughs)
I never had faith in the documentary genre to provide the kind of budgets on which you can actually live. So, I started doing TV commercials after that, which I hated. Properly hated. And ultimately, what happened was I needed to get out of commercials. So I quit, and moved to Los Angeles, just to write and do fiction work.
HtN: So, you had been doing commercials in New York?
JK: Yes. And I just needed to have a clean break. So I moved to Los Angeles, and at some point, I ran out of my commercial money. (laughs) After two years, I needed a job. And most of my colleagues had figured out how to make films on a semi-regular basis. And by this point, in 2015 or 2016, documentary budgets were changing. There was an increased demand for nonfiction content.
HtN: Especially with the rise of the subscription VOD services.
JK: Like Netflix. Of course! And so, I had a list of about 13 or 14 story ideas for ESPN's "30 for 30," and this story was one of them.
HtN: Why ESPN?
JK: 'Cos I knew that they were producing a lot, and I figured that if I did a "30 for 30," I could do a 60-minute TV documentary and get back to work and make a living for a year. And ESPN was interested in the story because, I believe, they had wanted to get Andre Agassi involved in "30 for 30," and he had said no in the past. So, I think they thought this was a backdoor way of getting Andre. When we went out to Andre to ask if he was going to participate, which was a long process of over 6 months back-and-forth, he finally said no. His manager at the time told me that it was actually just too painful for him to go back there.
And I thought this was amazing, because it meant the wounds had not yet fully healed. ESPN didn't see it that way, and they cancelled the project. But I had just met a producer at Showtime, named Vinnie Malhotra, and he had been really excited when I'd told him what I was working on. So, I called him and said: "Here's the deal: Andre Agassi's not going to be in this movie, but I think this is a far better story now, because it's not just in the past tense. There's this present tense element. Their breakup has reverberations through to this day. It's cooler!" And Vinnie immediately agreed and picked it up, and turned it from a 60-minute TV doc into a 90-minute feature.
So, that's kind of how it happened. And I grew up playing tennis. Poorly. I'm a bad tennis player…
HtN: Yeah, I'm a pretty bad tennis player, too, but I love the sport.
JK: I love it. I try to play it three times a week.
HtN: Well, you're a lot better than I am, then.
JK: And I play with someone who is a lot better than I am. She's awesome, because she puts up with me, who's not very good. And so, I've always loved tennis, and Nick Bolletieri was this legend when I was a kid. And so much of the fun of making documentaries is that you get to indulge in any curiosity you've ever had.
HtN: And you get to meet your heroes, or people who have always fascinated you.
JK: Exactly! So, the idea of pursuing this was really cool! Because I'm not even a big sports person. Just tennis.
HtN: So it starts out with this idea of Andre, who is then not at all in the film.
JK: But it became about that!
HtN: It did! Which leads me to my next question. Did you have any difficulties getting access to any of the other people in your film, like Courier, or Becker? And let me just add that I loved Becker in this movie. I hadn't seen the guy for 20 years or so, and wow, was he personable, and charming, and so self-deprecating, particularly in the sections where he talks about Andre beating him. I just loved that interview. So, any trouble getting him, or Courier, in the film?
JK: No, and that was because one of our producers was also an ex-professional tennis player. Her name is Anne White, and she was kind of the liaison between production and talent. She had all the relationships with the tennis players, and she had been one of Nick's earliest students. But I remember…I'm not susceptible to being star-struck…but…when Boris Becker came into the room – somebody I absolutely idolized as a child, as definitely my favorite tennis player when I cared the most about tennis – I was definitely, for a moment, really in awe. And then, when you see someone who is so secure with their ego, where they can be so vulnerable, and honest…my favorite line is when he talks about how Andre was "stealing his light." There's something so raw about that sentiment. The level of security to be able to admit something like that so frankly was, I thought, impressive.
HtN: Indeed. He seems very self-aware. He has a healthy ego, but is very self-aware.JK: But a healthy ego, in the sense that it is properly healthy. Euphemistically, we say that someone has a "healthy ego," meaning that they have a big ego, but I think his ego is actually appropriate to his stature. I mean, the guy's been so famous since he was 17 years old. One of the most famous Germans, ever.
HtN: Well, Steffi Graf might argue that.
JK: Well, here's something I didn't know: he grew up very, very close to Steffi, and they used to play in the same tennis club, as children.
HtN: Did they ever date?
JK: I don't think so, no.
HtN: 'Cos that would be interesting, given what we hear Becker say about his purposeful on-court flirting with Agassi's first wife, Brooke Shields, as a way to destabilize Agassi's game.
JK: Well, Andre and Boris were rivals on the tennis court, in terms of competition, but more than anything, they really disliked each other. Like, personally. I mean, Boris Becker's greatest tennis rival, at the time, was really Stefan Edberg…
HtN: I remember well!
JK: …and Agassi's greatest tennis rival was really Pete Sampras. But I think that Andre and Pete actually had a really healthy relationship, and I don't know about Stefan Edberg's and Boris' interpersonal relationship, but what I do know is that, in terms of interpersonal relationships, Boris and Andre couldn't stand each other. So, when Boris was a child – very young, under 10 – he and Steffi used to play at the same tennis center, and when Boris wasn't playing well, his punishment was to play with the younger girls, of which one was Steffi Graf. She ends up marrying the person he hated the most. The person Boris has known the longest in the world…
HtN: (laughs)…and she marries Andre.
JK: Yeah!
HtN: So, speaking of tennis stars, early in the film, you talk about Bolletieri's longevity, and how his career went to include the Williams sisters. Did you try to include them in the film, or did you decide that would just be too much story?
 JK: No. The things is, the story was very specific from the very beginning. I knew what I wanted the story to be, which was really this 10-year period, essentially from 1985 to 1995. That was the meat of the story, and it was going to be three tennis matches: '89 French Open, '92 Wimbledon and then '95 Wimbledon. So, it was really from the moment Andre started at the academy to that match between Boris and Andre. I really knew what the story was, or I knew what I wanted the story to be. And, as attractive as it would have been to include other superstars, I always that though the Williams sisters would have been great for the trailer, they wouldn't have been good for the picture. They had nothing to do with our central story.
I was in talks with Monica Seles, because she had a tangential part to play in that first '89 French Open match, when Nick sits in Andre's box. There's one other story beat there, which is that Monica Seles was on the smaller court, also in a third-round match, and one our characters, Fritz, says, "It should have been the best day of the academy, ever: we had Monica Seles, Jim Courier and Andre – all academy students – playing in a Grand Slam, all together. It was a first for the academy." And Monica's father was upset because Nick was on the other court; Jim was upset, because Nick was sitting in Andre's box; and Andre was upset, because he was losing. So, this should have been this amazing day, but it was horrible for everybody.
So, I was going to include Monica in that story, but when we reached out to talk about doing an interview, she agreed to do an interview only if all the questions were given to her beforehand, and I couldn't ask follow-up questions. And I didn't think that that was really interesting. If it wasn't going to be a real conversation…for such a small story beat, to have a canned answer…it didn't seem worth it, to me.
HtN: For the record, I have not shown you my questions before this interview.
(JK laughs)
HtN: And speaking of questions, here is my final one: before we started this interview, you told me about your movie's surprising connection to a film that one would not necessarily associate with it. So, Love Means Zero meets Ingrid Goes West …discuss!
JK: (laughs) Well, the real story is that Ingrid Goes West was like the sister film to Love Means Zero, because I was invited to an early friends-and-family cut screening of it. One of the producers of Ingrid Goes West is Jared Goldman, who is one of my best friends, and also one of my producers on Manda Bala, and I went in, and I was impressed. I was kind of blown away by the level of polish on a cut that was only 5 weeks in, and I met the editor…it's actually really helpful, in documentaries, to have two editors, so that when you're done doing all the scene work, constructing the scenes, it's really healthy to be able to step back, with completely fresh eyes..so, when I was looking for a second editor, I thought of Jack Price, 'cos I was so impressed with his work on Ingrid. And then we ended up using the same composer, the same visual-effects supervisor, and there was just this kind of camaraderie, because I was rooting so hard for that movie, and working with so many of the same people, and Matt Spicer – the director of Ingrid – came in and watched rough cuts of Love Means Zero, so it really felt like there was this weird bond between these two films.
HtN: It does explain why I kept flashing, in my mind, inexplicably to actress Aubrey Plaza while looking at Nick Bolletieri. Maybe Jack Price cut in some frames of her into your film…
JK: (laughs) Maybe…
HtN: Well, anyway…I really enjoyed your film. Congratulations!
JK: Thanks!
– Christopher Llewellyn Reed (@ChrisReedFilm)
Love Means Zero debuts Saturday, June 23 on Showtime.