A Conversation with Irene Lusztig (RICHLAND)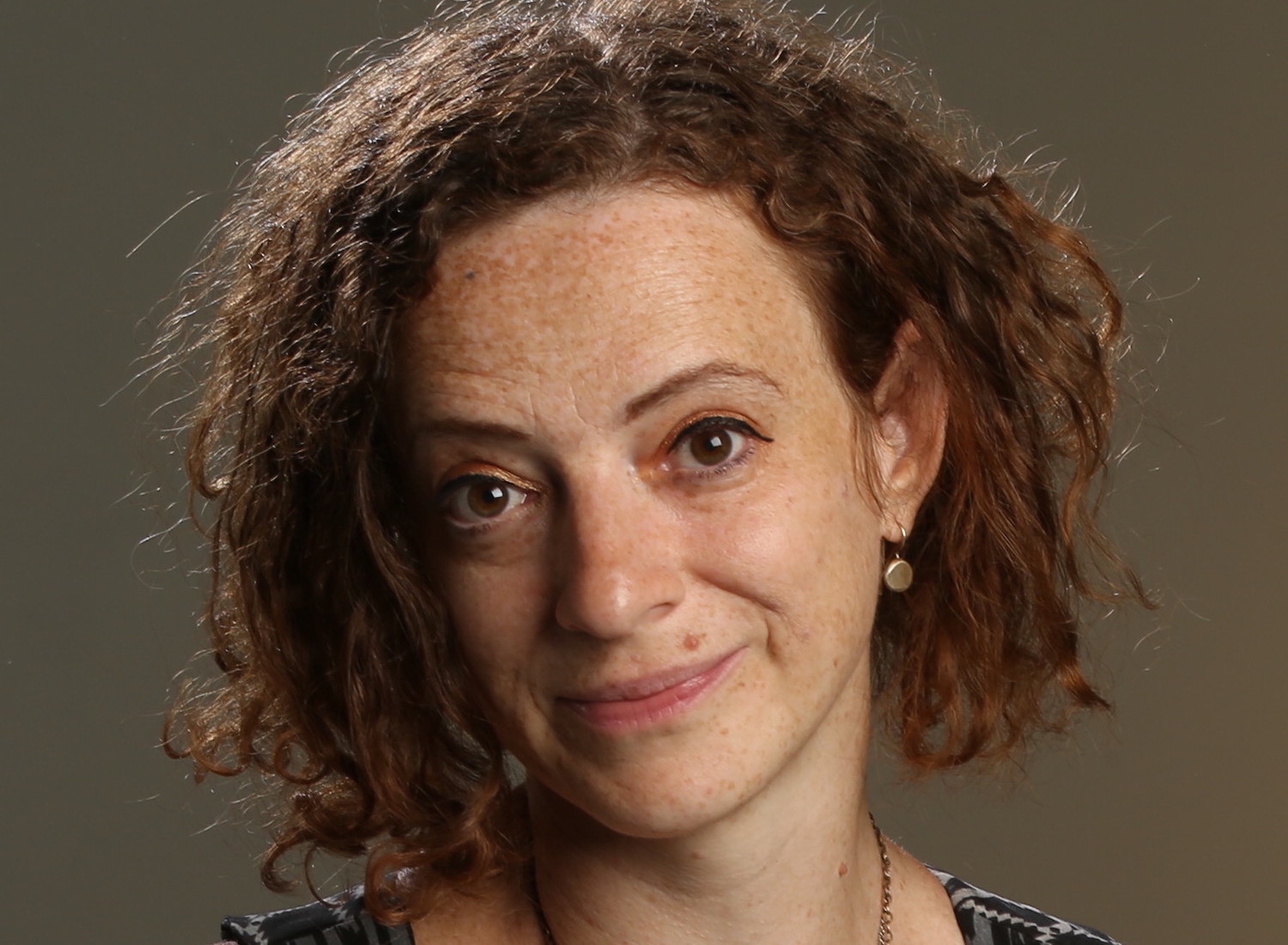 Documentary director Irene Lusztig made one of my favorite films of 2018, Yours in Sisterhood, and she is now back with a new work that is quite different, but equally as worthy, entitled Richland, which just premiered at the 2023 Tribeca Film Festival (where I reviewed it). In the movie, Lusztig takes a close look at the town of Richland, Washington, located just south of the Hanford Nuclear Site, where plutonium used to build the bomb dropped on Nagasaki during World War II was created. Though many present-day residents are proud of that heritage (and the local high school features a mushroom cloud as their mascot/logo), the history of the area is quite complex, involving dispossession of the indigenous population, among other things. Lusztig and I chatted at Tribeca, and now here is that interview, edited for length and clarity.
 Hammer to Nail: So, why is your production company called Komsomol Films?
 Irene Lusztig: That is from all the way back when I was making my first film, Reconstruction, which was a film about my mother's family, which is Romanian. That film was also my first encounter with archives. I was working a lot with propaganda material from the Romanian National Archives. I also took Russian in high school. Maybe this new film is a return to Cold War thinking. But yeah, my mom was a young Pioneer in Romania and the Komsomol was the Young Communist League in Soviet-Bloc nations.
 HtN: In the press notes, you describe how you started this project out of the last one, Yours in Sisterhood. Can you explain how you came to this subject?
 IL: Yours in Sisterhood was a road-trip movie that was made through a series of nine road trips, where I was moving across the U.S. and spending short amounts of time in lots and lots of different communities all over the country and meeting people in those communities and inviting them to be in this performative documentary project that I was making. That film brought me to Richland in 2015. I basically just spent one day in Richland; it was a pretty short visit. But even in that one day, I saw that the nuclear culture is extremely visible. There's Atomic Bowl bowling alley, Atomic Brewery, everything is nuclear-themed. The towing company is called Rad Towing, and has an atom symbol. It's very immediately visible on the surface.
And the person I met there who's in both Yours in Sisterhood and Richland is Trisha Pritikin, who is really the only activist there. She's a downwinder activist who was born and raised in Richland. And I met her just for that one day in 2015, and filmed with her for Yours in Sisterhood. But I think she could tell that I was very curious. And she ended up driving me around the town and showing me the alphabet house where she had grown up, and talking a bit about her childhood. And she also production-designed the shoot we did. She wanted to be filmed with the 40-foot giant mushroom-cloud logo that's on the back wall of the high school, so she snuck us into the back of the high school and led me to this wall. That was just my one day. But I think I immediately felt really curious about the community.
But I also describe all my work as being about the present tense of history. And I think I'm really drawn to spaces where history feels like it's on the surface, and people are still really actively negotiating or wrestling with something from the past. And that felt very palpable about Richland, even from one day. I just started to read about it and learn more about it. And the more I learned, the more interesting and complicated it became. But also, during this time was the Trump election, and this moment where I think conservative American nationalist storytelling started to become very visible. It's not new, but it felt like suddenly much more visible and much more urgent to try to really think about the structural forces that shape conservative worldviews. Richland started to feel like a space where I could also really take on bigger political questions around conservative thinking.
HtN: Can you remind me why they're called "alphabet houses," those homes in Richland?
IL: They were all built by the government. And that's the funny thing about Richland, it's this somewhat politically conservative community, but actually in the 1940s, it was basically a communist town within the U.S. It was a secret city. Everything was run by the government. All the housing was owned by the government. If you showed up to work at Hanford, if you were white and if you were a certain class of worker, you would be given housing, you would be given free childcare. There were buses, free light bulbs. It was a fully government-run community that was quite nice. It was this affluent suburban life that was accessible to working-class people.
And the alphabet houses were these cookie-cutter model-kit homes that were built by the government in the '40s that had different alphabet letters for different styles of home. And they're now really cherished by older Richlanders. People love them, and there's a real vintage nostalgia for the alphabet house. But they're pretty ordinary-looking suburban homes. And actually, Richland was built in the '40s, and was actually a model for Levittown and for the type of planned suburban building that happened on a much wider scale after World War II.
HtN: You say it was a good life…as long as you were willing to be exposed to radioactive particles.
IL: But that depends. That's also very classed. This came up in an interesting way in the screening yesterday, here at Tribeca. Kathleen Flenniken, the poet whose work is used in the film, was the daughter of PhDs and science people, and Carolyn [Fazzari], who's also in the film and reads the poem about her father's death, was her childhood best friend. But Carolyn is from a much more working-class family. And the scientists were exposed to much less, and were taking on much less risk. So, there was a kind of class difference around exposure and danger and risk.
HtN: Just like life everywhere.
IL: Yes.
HtN: Speaking of Kathleen Flenniken, how did you end up connecting with her for this film?
IL: I just reached out to her. But I found her book pretty early in my research, and I really responded to it. I was really looking for something that felt more emotional around the space of nuclear feelings. I think Hanford initially presents as very male, full of science and engineering people, who speak in a very dry, factual way about technology and nuclear science. And I felt very hungry for some kind of access to the emotional life of the community. And when I found her book, it really opened things up for me.
Her book Plume is a poetry book. It's based on a lot of archival research, but it's also both about her childhood and then about her adult reckoning with the meaning of that childhood and how to reconcile this childhood that felt idyllic and safe and nice with everything she later learned as an adult about Hanford. It's a very beautiful book that I really responded to.
I just looked Kathleen up when I was in Seattle doing research, just to chat with her about the town. It was very early. She was incredibly helpful in connecting me to people, and suggesting things that I could film. And then, over time, I just got curious about what it would feel like to invite people to read from the book, and if that would make a different space for the film. So, I asked her if that would be OK. And she was excited about it. That's how that happened. I like that kind of agency that happens when people are performing or participating in a film; it does something different that I really like, different from just pointing a camera at someone's life.
HtN: Well, you used that so effectively in Yours in Sisterhood.
IL: Exactly.
HtN: And how did you connect with that Japanese artist, Yukiyo Kawano?
IL: She is third-generation hibakusha, so third-generation atomic-bomb survivor, born and raised in Hiroshima and based in Portland. I met Yuki in a Zoom room of Hanford stakeholders. There was a moment where, actually still ongoing … there's a very complex dynamic between the Department of Energy and the National Parks, which co-manage the Hanford site and co-manage the larger Manhattan Project National Park site, which is Los Alamos, Oak Ridge, and Hanford. All the money and funding come from the Department of Energy, but the National Parks are supposed to be taking over the interpretive presentations that happen there. But because the Department of Energy funds everything, it's a complex negotiation around what kind of storytelling is sanctioned in those spaces.
Anyway, at the time the National Parks were doing these listening sessions and trying to invite a range of different kinds of Hanford stakeholders to be in Zoom rooms together, just so they could listen and gather information about what stories people felt were important, or not being told, I met Yuki in one of these sessions where I think she was the only Japanese person there, the only person of color there. She introduced herself as an artist. And I just reached out to her afterwards because I had been trying to figure out how to bring in a Japanese perspective. Similar to Kathleen, initially I just reached out to chat with her, but then actually invited her to Richland.
That was my intervention in the narrative: I brought her to the community because I had been tracking and knew that the National Parks had been planning to do, actually for the first time, a commemoration ceremony for the Nagasaki bombing. But as the event got closer, I started to understand that they hadn't actually reached out to any Japanese community members. And I had been hoping that that ceremony would be the moment where Japanese people would come and there would be a way to connect with someone. So I asked her, "Do you want to come to this ceremony with me?" And then, from there we came up with the idea to do the installation with her sculpture that's at the end of the film.
HtN: Which I really liked. So yeah, you broke the prime directive not to interfere, but it was for the good of the story.
IL: There are a lot of interventions in the film, actually. But it felt important to me. I'd already been working in the community for quite a while, and I was aware that I was definitely intervening, but at that point it felt like I had built the relationships, and I felt like I knew what I was doing, and that it would be OK to bring her.
HtN: Speaking of intervention, you actually are very careful in your interviews not to intervene and you get people to talk in a really open way that I admire. What was your approach as you were getting people to be on camera, in order to have them feel free. There's this one guy in the diner who goes off on this complete tangent. He obviously felt comfortable enough to do that.
IL: I don't say very much when I interview people. I don't tell people what I want to hear. Instead, I describe my approach to people when I invite them to participate in a project. And I think, especially in Richland, it was really important to people to hear that I make work that takes a long time, that I'm really committed to spending time in the community and learning about it, that I'm not a journalist who's showing up and going home the next day, and that I'm not doing investigative journalism work, that I'm not making an anti-nuclear film. That was important to people to just have me explain that I'm really interested in lots of different perspectives, and that I don't have an angle. So, I think even just describing a little bit how I work was helpful and made people feel more open.
HtN: Did you need an even more careful approach to members of the indigenous community who might be more wary of outsiders?
IL: Yes. That was the hardest access in the whole project, and of course took the longest. And it was different with both tribes. There were different processes with the two tribes, but I would say with both tribes, what was really important, actually, was connecting with people who were not tribal members, but had very close relationships with the tribes, who just became people who helped me navigate those introductions, and told me who to reach out to, and how, and became facilitators for those relationships. But, yeah, the Umatilla had quite a formalized process, where they wanted me to apply for a research permit. And there's a rigorous vetting and a much more organized leadership structure around how decisions are made about who can film or do research. And then, the Wanapum are really just that one family. It's much smaller. But it was about being introduced in the right way by the right person and being very patient, and it took time.
HtN: So the Wanapum are just that one family that we see, that's all that's left in the area?
IL: Yes. They've had a really interesting history. It's a tiny community. There are six tribes that used the land, or moved through the land in different seasons. But the Wanapum really lived on Hanford land. And they were, as you hear in the film, dispossessed. And their land was taken away when the government seized that land for Hanford. And then, for a long time, they had a negotiation with the government that they would be allowed back onto Hanford land to fish, which was actually quite harmful to tribal members, but really important to the tribe to have that permission. So, they would kind of be escorted with badges onto the nuclear site to do traditional hunting and fishing.
And then, the village they were moved to was flooded in the '50s when a dam was built. So, they were kind of twice dispossessed, and then they now actually live inside the dam. You have to drive through the dam and into it. And their village is basically inside the dam, and also a lot of them work for the dam. But then, the dam actually supports the tribe in a lot of ways, and built their museum, which is this incredibly beautiful cultural space. So yeah, a complicated relationship.
HtN: I really love your interview compositions. How did you work with your cinematographer, Helki Frantzen? Because she does a wonderful job.
IL: Yeah, it's so beautiful, the shooting. This was my first time not shooting my own work. Well, almost. On my very first film, I co-filmed with someone else, but I shot a lot of it. But this was my first time not being behind the camera at all. I took sound, which I loved, actually, because it made me feel very present with people when I was recording sound. Helki's just a very beautiful shooter, also really patient, amazing eye. But I think we just developed a really trusting collaboration where she, I don't know, she asked me about work that I like. She spent a lot of time watching my work, watching work that I suggested that she watch. And I think very quickly we got to the point where I wouldn't even look at what Helki was doing on shoots, because I just trusted so much that she had understood the project.
HtN: And this was her first feature, wasn't it?
IL: Yeah, it's her first feature.
HtN: Well, both she and you do a wonderful job.
IL: Thank you!
– Christopher Llewellyn Reed (@ChrisReedFilm)