HAMMERED TO NAIL PODCAST: "HOLLYWOOD STREET FAIR" W/ JOHN MARINGOUIN
I first met John Maringouin at the 2006 International Film Festival Rotterdam, where we both had features premiering in the "White Light" sidebar curated by Gertjan Zuilhof. At a dinner for "White Light" filmmakers, John introduced himself and expressed his amusement with the self-deprecating quotes attributed to me in the Daily Tiger's article about my film. Days later, I watched John's Running Stumbled, and it left me shocked-and-awed (watch it for yourself, for free, at MUBI). If you do watch it, proceed with caution, sensitive reader. For unlike just about every documentary in which the filmmaker unnecessarily inserts him/herself into the story, here is a film that demands we hear what's going on inside the director's mind. Yet Maringouin doesn't share his feelings. Instead, he remains outside the frame, leaving us to experience this harrowing environment for ourselves. The result is a film that is as disturbing as it is commendable. It has few cinematic precedents.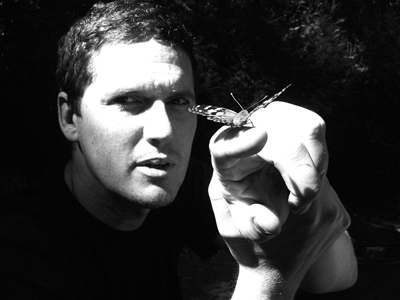 In 2009, Maringouin followed up Running Stumbled with Big River Man, an equally impressive film about endurance swimmer and environmental activist Martin Strel's quest to swim the entire Amazon. While Big River Man has a Herzogian spirit, its rapid-fire, fever-dream style is all Maringouin.
Very recently, Maringouin received some horrific news. Here is his friend Stephen Kijak, explaining the situation at the website GiveForward:
My friend, celebrated documentarian John Maringouin, thought he was suffering from chronic asthma for nearly a decade. His insurance company had recently blocked his numerous efforts to get a CAT scan and other advanced diagnostics when his condition worsened. Having recently dumped them in pursuit of better coverage, John learned that in fact, he had a tumor in his lung, which as of last week, has collapsed. He is in a fighting spirit but is in need of an operation pronto! Being uninsured, he is being forced to go out-of-pocket for the procedure for which he was just quoted a price tag of $214K. Such is the state of health care in this country. He will not even be able to book the procedure without proving a nearly $60K down-payment. Since time is of the essence, THAT is our immediate goal, to get him the money to at least book the surgery. We may come back at'cha for the remaining expenses but for now, this man needs to book an operation. Having seen our creative community rally around projects on Kickstarter, I have faith that we can rally around one of our own, one of the most gifted independent filmmakers (and father of one awesome little dude) that I know, and see to it that he gets the help he needs. Please join me and donate generously and swiftly.
***Please go here to provide whatever support you can.***
A few years back, when John was in town for the Cinema Eye Honors, we settled in my apartment for the inaugural—and perhaps wisely short-lived—HAMMEREDtoNAIL podcast, which turned into an all-night jam session that resulted in three different podcasts. While the name of the podcast explains itself, suffice to say, John and I were "altered" enough for this session to qualify as 100% legitimately HAMMEREDtoNAIL (discerning listeners will eventually discover what our altering substance of choice was). Our long night together is what inspired me to cast Maringouin in my last film Septien, in which he portrayed a… well, I'm not sure who or what he portrayed exactly; I just know he portrayed it very, very well.
As kooky as this HAMMEREDtoNAIL podcast might seem on the surface—as in, we provided our own live background music while we talked (Maringouin was on keys; I was on guitar for the subsequent two installments)—the reality is that I find John's take on Hollywood here to be absolutely brilliant. No one else would ever think to break down the industry in this manner, and it is why I love hanging out with John Maringouin. I plan to spend a lot of quality time with him for many years to come, so please join me in donating to this fund to make sure that this happens.
LISTEN
***Hollywood Street Fair (A HAMMEREDtoNAIL Podcast w/ John Maringouin)***