Viral: Antisemitism In Four Mutations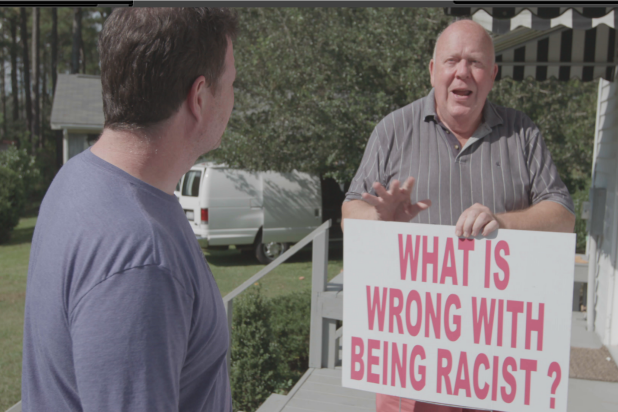 (Andrew Goldberg's latest film, Viral: Antisemitism in Four Mutations starts in theaters Friday, February 21 before rolling out across the nation this spring. Like what you see here on Hammer to Nail? Why not give just $1.00 per month via Patreon to help keep us going?)
Humans have always defined themselves as much as by who they are as by who they are not. Tribalism is the cornerstone of how our species, for so long, has moved through the world, those not like us condemned to be enemies. Whether clans have been delineated by the artificial construct of race (we are all the same race), religion, culture, ethnicity, gender, sexual identity or more, we revel in the practice of othering. Beware those who do not share our characteristics: ostracize, banish or kill them.
Despite our differences, however, over the millennia one particular group has united humankind like no other in its frequent position as universal target of loathing: the Jews. What lucky souls they are to bring us all together! I jest, of course, though it is no laughing matter to suffer the scourge of antisemitism. In Andrew Goldberg's latest film, Viral: Antisemitism in Four Mutations, the director explores – as the title indicates – four examples of present-day manifestations of the age-old prejudice against the Children of Israel. Brutal, yet vital, the movie is must-see viewing in our current age of rising global hatred against not only Jews, but ethnic minorities everywhere.
The four sections of the documentary are, in order, as follows: 1) "The Far Right" (USA); 2) "Blaming the Jew" (Hungary); 3) "The Far Left" (United Kingdom); and 4) "Islamic Radicalism" (France). Goldberg (Jerusalem: Center of the World) travels to each country, appearing on camera as he asks direct questions of his subjects, somehow avoiding their wrath even as he represents what many of them claim to despise. From the conservative politician Russ Walker, running for office on a platform of religious bigotry (and losing, albeit with 37% of the electorate supporting him), to an advisor of the not-so-latently antisemitic Prime Minister of Hungary, Viktor Orbán, and more, the director gathers data to support his thesis that hatred of Jews is alive and well.
He also delves into some of the history – the why of it – though his focus is primarily on the world of today. Much of the narrative is both frightening and moving, as when Goldberg starts with the October 27, 2018, attack on the Tree of Life synagogue in Pittsburgh, the 911 calls our primary soundtrack. Using high-profile interviews with the likes of Bill Clinton and Tony Blair, along with academics and specialists whose job it is to confront hate crimes, both in the United States and internationally, the director supplies ample support for his primary argument that things are worse now than at any time since the end of World War II, and we need to act, and quickly.
Fortunately, there are good people, some of them shown here, hard at work confronting the rising tide of an evil as destructive as it is banal. Through their efforts, perhaps we can find a cure to the virus that infects our planet. For one thing is abundantly clear, even if this particular film focuses on Jews: we are all vulnerable, whether it be our values or our lives under attack. Those who hate one group today will hate another tomorrow. Be the cure, not the disease.
– Christopher Llewellyn Reed (@ChrisReedFilm)
Like what you see here on Hammer to Nail? Why not pay just $1.00 per month via Patreon to help keep us going?