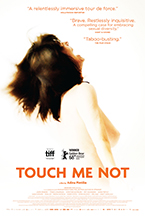 (The 2018 Toronto International Film Festival ran September 6-16 in, you guessed it, Toronto, Canada. Hammer to Nail had boots on the ground in the form of lead critic Chris Reed and Matt Delman. Stay tuned as reviews keep rolling in…)
A voyeuristic film about the human need for connection, Touch Me Not opens with a shot of a high-end digital camera's assembly, the ghostly apparition of Romanian director Adina Pintille's face slowly appearing in the video monitor below the lens as she queries, "You never asked me what this film is about." Scratch that. There's a previous scene where we track along skin and body hair, past an exposed penis, to the chest of a sleeping man, watched by someone. Then we meet our spectral maestra, before cutting to more full-frontal male nudity, this time erect and erupting, as a new woman observes from a distance. After the man leaves, she sniffs the sheets where he lay and covers herself with his scent. This particular woman is Laura Benson, actress and apparent subject in this hybrid quasi-fiction film layered with documentary elements, and it is of her that Pintille asks the question. One thing we know, by this early point, is that the film is not for the modest viewer.
But there's quite a lot within that warrants close inspection, the sex and nudity the movie's least interesting (to me) aspect. Pintille has gathered a compelling collection of actors and non-actors, throwing them together in a mix that defies genre. We follow Benson and another actor/subject, Tómas Lemarquis (Blade Runner 2049), as they wander urban streets, each engaged with demons which they try to exorcise in specific ways. Laura seeks to overcome deep insecurities and a phobia of the human touch; Tómas seeks a path beyond the oppressive normal. Both seek liberation from their current selves. Pintille, herself, joins the conversation time and again, occasionally coming out from behind the camera to allow her actors to interview her, revealing her own wants and needs. The whole is assembled in a lyrical, mostly non-narrative order, meanings emerging gradually over the film's just-over-two-hour length. It's beautiful, but exhausting, as such explorations generally are. Patience required.
My favorite parts involve Tómas' interactions with Christian, a man with a severe physical disability (he would correct me to call him "differently abled," and would be right) that has left him with a small, crooked body and an inability to move on his own. What he has, instead, are expressive blue eyes, a love of touch and connection, a sharp intellect and…wait for it…a proud penis that he puts to work, with girlfriend Grit, at home and in a BDSM club, site of one of the film's more graphic moments. Again, not for everyone. But as much as I don't think the raw nudity is necessary, in a film about the baring of one's inner soul there is method to the explicit madness. What I find far more effective, however, are the scenes of Tómas and Christian staring into each other's eyes in a yoga session designed to engender empathy. That kind of nakedness is truly profound.
For the rest, we watch Laura interact with escorts (one trans woman and one burly bearded man) whom she hires not for sex but for lessons in how to be a better her. Whatever her past trauma – real or the invention of the director or some combination of both – these scenes are as bizarre as they are intriguing (and poignant). And all the while, there's Pintille, watching, directing our own gaze to the captivating spectacle of her unclassifiable work of cinema. I've never seen anything quite like it, and though it doesn't all work for me, its central message of liberty and agency is as inspiring as it gets.
– Christopher Llewellyn Reed (@ChrisReedFilm)