(Theodore Collatos' feature Tormenting the Hen took a while to find it's way into festivals but, it's here now and we couldn't be prouder. Not only was the film a success story from our crowdfunding widget, it's also rolling out in some great fests like IFF Boston.)
Playwright Claire (Dameka Hayes) arrives in the Berkshires to bring her latest script to the stage of a rural theater company. While her intentions of exploring issues of race and masculinity seem honest and honorable, the two actors – Joel (Brian H. Brooks) and Adam (David Malinsky) – repeatedly challenge her voice and vision, questioning her perspectives on their two characters. At first, Claire tries to use the tensions to drive the rehearsals and help the actors discover their characters, but it proves to be difficult to keep the proverbial lid on top of the pressure cooker.
Claire's narrative thread is cleverly used to inform and comment on the concurrent story of Claire's fiancé Monica (Carolina Monnerat), who finds herself cooped up in a small rural cottage while Claire is at rehearsals. The biggest stress factor for Monica is the groundskeeper of sorts, Mutty (Matt Shaw). Presumably riddled with Asperger's Syndrome, Mutty's socially awkwardness and lack of boundaries teeters on the verge of serial killer creepiness – or at least that is Monica's perspective. Whether it be Mutty's perpetual mowing of the lawn surrounding their cottage or his clumsy attempts at trying to initiate conversations, he seems to really freak Monica out. From Monica's perspective, Mutty is a fox prowling outside the chicken coop.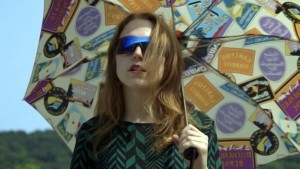 Informing both narrative threads are the tensions within Claire and Monica's relationship. Their cultural and ethnic differences, as well as their personal expectations of their relationship, play a significant role in the way they interact with each other. Not seeing eye-to-eye (especially when it comes to marriage) also impacts their stability and happiness, which consequently feeds their impatience with others.
Some viewers will probably be creeped out by Mutty and anticipate that writer-director Theodore Collatos' Tormenting the Hen might evolve into a full-on slaughter fest at any moment. (Maybe it does, maybe it doesn't…) Other viewers might take issue with Monica's treatment of Mutty; or, perhaps viewers will side with Claire over Joel and Adam, or vice versa. In a film that is drenched in judgments and assumptions within the boundaries of the screen, Collatos places the audience in a position to form their own opinions of the characters.
Whether it makes us uncomfortable or not, Collatos' cinematic world reflects what much of the Western world has turned into – a bunch of individuals who are unable to think outside of their own bubbles. The bubbles may be formed by varying combinations of economic class, gender, sexuality, ethnicity, culture, and language. We have evolved into a species that makes judgments without being informed, based solely upon our personal histories and [mis]information we've consumed. It seems like more often than not, disagreements and animosities are rooted in misunderstandings, not reality.
Tormenting the Hen is by all means an auteurist exercise, reveling in intriguing visual motifs that complement the emotions of the on-screen events. In fact, the images mean just as much as the dialogue. Thanks to its sublime cinematic nature, Collatos' film is not the typical micro-budget drama. Instead, it is meticulously crafted exercise in filmmaking, which you would never guess was shot in only six days.
– Don Simpson (@thatdonsimpson)