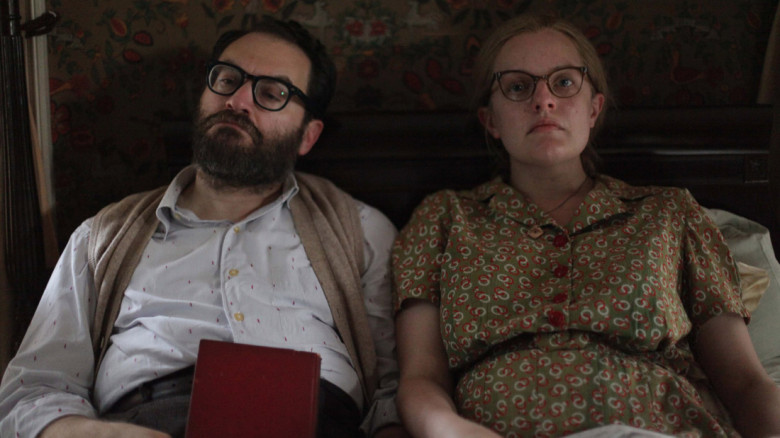 (Following a debut at Sundance, Josephine Decker's Shirley is available now to watch online via Neon. Like what you see here on Hammer to Nail? Why not give just $1.00 per month via Patreon to help keep us going?)
I almost did not see this because I thought no one could take on the likes of author Shirley Jackson and get it right. She is famous for short story The Lottery and of course The Haunting of Hill House.
And boy was I wrong.
Josephine Decker takes a complicated creative genius and intertwines her life story with the writing process. But much like her previous film Madeline's Madeline she also focuses on the dynamic between mentor and mentee. Elisabeth Moss plays Jackson and her husband Sandy Hyman is played by the always brilliant Michael Stuhlbarg. The movie is based on Shirley: A Novel by Susan Scarf Merrell about a fictional couple who moves in with them and a missing girl.
The couple Rose (Odessa Young of Assassination Nation) and Fred (Logan Lerman of Percy Jackson) are a classic 1950s couple, she gives up her career for family and he becomes one of the boys in academia. They go through a role-reversal impacted by the husband and wife as Young and Jackson take on the mystery of a missing girl. Both Moss and Stuhlbarg are at the top of their game in this film bringing out the worst in each other as a long time married couple. Her struggling with severe depression and agoraphobia and him enjoying their agreement for him to enjoy co-eds. Fred and Sandy begin a mutual work path until the power dynamic shifts whereas Rose and Shirley start off as enemies and develop a unique relationship and bond. Decker manages to nod to the same atmosphere and sense of unease that Jackson often provoked through choppy edits, strange angles and a divide between fantasy and reality.
What could have been misconstrued in someone else's hands is taken good care of in Decker's hands to create what feels like exactly a Shirley Jackson story should feel: a little disorienting, a little scary, and all together tugging at the heart of humanity.
Fans of Decker's will recognize Emily Decker (also from Madeline's Madeline) as an elusive dancer in a few scenes. The movie is still under consideration for sales at Sundance as of this report. I hope to see it in theaters soon.
Like what you see here on Hammer to Nail? Why not pay just $1.00 per month via Patreon to help keep us going?
– Melanie Addington (@MelAddington)
Guest writer, Executive Director, Oxford Film Festival