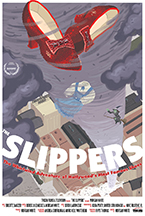 (The 2016 SXSW Film Festival kicked off March 11 and wrapped up on the 19th. We had boots on the ground and reviews are still coming in so stay tuned to HtN throughout the week!)
L. Frank Baum published The Wonderful Wizard of Oz in 1900, launching both a successful literary franchise and, eventually, a movie – in 1939 – that remains a classic example of Hollywood's Golden Age. Filmed in glorious technicolor, The Wizard of Oz made a star out of young Judy Garland and her ruby slippers. Interestingly, that famous footwear was not, in fact, made of rubies in the source text, but rather of silver. And while in The Slippers – a new feature documentary from Morgan White (The Rep) – we may not learn the full reasons for that design switch (though we can guess that red was more impressive in color), nor about the production history of the movie, we do learn an enormous amount about the journey of those slippers over the past 75 years. For this is a movie that celebrates the marvelously quirky world of memorabilia collecting, with the slippers as the starting point.
In 1970 – the very tail end of the studio era and start of the takeover by corporate entities – the once-dominant MGM sold off the bulk of its costumes and props following its purchase by Kirk Kerkorian. This famous auction sent thousands of items out into the world at large, creating a community of collectors, some of whom would later set up movie museums. These folks are the protagonists of The Slippers, as are the legions of fans who yearn to get a glimpse of this or that piece of Hollywood history. The movie opens and closes at the Smithsonian, where children and adults, alike, gaze in awe at Dorothy's shoes on display. In between those bookends, we discover that these are not the only pair, and meet a colorful cast of characters who have made and lost money in the sale and purchase of the other copies. Among them are Debbie Reynolds (Singin' in the Rain), her son, Todd Fisher, and many others. It's a fascinating story.
Unfortunately, not all of the footage is up to the task of supporting the narrative. There's a lot of archival material that is heavily pixelated, and many shots are reused a few too many times for want of additional supporting b-roll. But these limitations aside, the film is still both informative and entertaining, revealing a level of intrigue behind the collecting scene that is as disturbing as it is amusing. Whatever people's motivations, however, and whatever their attraction to the ruby slippers, it is clear that everyone involved has a deep and abiding love for the movies and their past. This is a documentary for them as much as about them. As such, it is a film, faults and all, to be celebrated by movie fans the world over.
– Christopher Llewellyn Reed (@ChrisReedFilm)