TALLGRASS FILM FEST ANNOUNCES WINNERS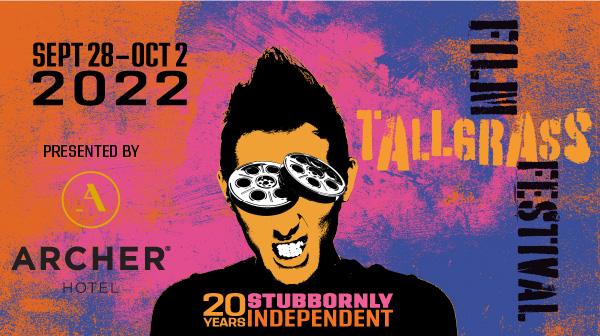 HtN contributor Melanie Addington is also the Executive Director for the Tallgrass Film Association which puts on the Tallgrass Film Festival which just celebrated it's 20th fest September 28-October 2. Melanie sent along a list of winners from the fest and added, "with our 20th film festival, Tallgrass had an exciting mix of winners from around the world and the effervescent Lloyd Kaufman as our "Ad Astra" award recipient. We are so honored to play a small role in these films journeys as they continue to expand their audiences!" Winners are listed below…
Audience Award Winning Documentary Feature $500 Immediate Family directed by Denny Tedesco Audience Award Winning Narrative Feature $500 award is Home Owners directed by Pablo Aragues Audience Award Winning Documentary Short $250 prize goes to Tapping into our Past: Tapping into Our Future by Jennifer Burton and Ursula Burton Audience Award-Winning Narrative Short $500 prize goes to Desi Standard Time Travel by Kashif Pasta
(October 1, 2022 – Wichita, KS) – The Tallgrass Film Festival announced this year's film awards during a special awards ceremony at the Orpheum Theater.  The Tallgrass Film Festival celebrated its 20th Anniversary and screened films from September 28-October 2.
"Before the 20th annual Tallgrass Film Festival awards, Grow Kansas Film launched its new initiative to get film incentives reinstated in Kansas," said Melanie Addington, Executive Director for the Tallgrass Film Festival. "We were thrilled to have Lonita Cook, representing Kansas Creative Arts Industries Commission, Steph Shannon, KC Film Commissioner, Max Thomas, owner of Lights On Kansas City, Melanie Addington of Tallgrass, Kirk Sharp of Gordon Parks Museum, and Laura Kirk from Kansas University in attendance for the awards."
Grow Kansas Film is a coalition of film professionals that came together this year to support the film industry through advocacy & education around film-friendly legislation in Kansas. They will join Tallgrass in advocating for the reinstatement of Kansas' statewide film incentive. This important economic development program will make Kansas competitive for film and television work resulting in millions of dollars spent in our state, jobs, and workforce development in an expanding field. Learn more at https://www.growkansasfilm.com/
Also, in attendance this year at the awards was Floyd Gruver, the father of founder Tim Gruver.  Tim Gruver unexpectedly passed away in 2005 after creating and inspiring the festival. Floyd Gruver helped present ceremonial plates to Lela Meadow Conner and Eric Moore, co-founders with his son, for their roles in keeping the festival going.
"We were honored to celebrate Tim Gruver, Lela Meadow Conner and Eric Moore this year at the festival," said Programming Director Andre Seward. "Tim would be proud to see the diverse and exciting talent from this year and how the festival has grown but remained stubbornly independent."
Tallgrass Programmer Awards:
Outstanding Courage in Filmmaking:
Winner: Red Line directed by Jake Bistrong
Outstanding Cinematography:
Winner: It is In Us All Director of Photography Piers McGrail
Outstanding Screenplay:
Winner: KIDDO directed by Paul Taylor
Outstanding Editing:
Winner: Desi Standard Time Travel directed by Kashif Pasta
Outstanding Animation:
Winner: Everybody Goes to the Hospital directed by Tiffany Kimmel
Outstanding Rising Star:
Winner: How to Date While Trans starring and directed by Nyala Moon
Outstanding Performance:
Winner: Tatiana Harman from The Girl at the Motor Hotel, directed by Garrett Detrixhe
Outstanding Supporting Performance:
Winner: Danielle Yen from Tank Fairy, directed by Erich Rettstadt
Outstanding Ensemble Cast:
Winner: Fuck Em Right Back directed by Harris Doran
Excellence in the Art of Filmmaking:
Winner: Klondike directed by Maryna Er Gorbach
Outstanding First Feature:
Winner: Anastacias directed by Thati Almeida
EDA awards
The EDA awards are a partnership with the Alliance of Women Film Journalists and highlight female talent behind the camera. Named in honor of AWFJ founder Jennifer Merin's mother, Eda Reiss Merin, a stage, film, and television actress whose career spanned more than 60 years and one of the founders of Aftra and led the movement to pair Sag & Aftra. 
 EDA Award for Best Female-Directed Short
Winner: UNBOUND directed by Sarah Moshman
Jury statement: The essential contributions brilliant women have made to the U.S. space program have been left to languish in the shadows for too long. The filmmakers, artists, and storytellers bringing those stories into the light deserve our appreciation. Kudos to director Sarah Moshman for introducing us to astronaut Anna Fisher, who in the 1980s became the first mother in space. Inspired by Dr. Fisher's true story, Moshman's short fiction film depicts the NASA mission specialist as an ambitious scientist who doesn't hesitate to accept her dream mission, even when it is offered to her 8 1/2 months into her pregnancy – and who steadfastly pursues her dream, even when others try to dissuade her with a hefty dose of mom guilt. Emmy-nominated performer Lauren Lapkus has proven she can quickly make an impression with her turns n Orange Is the New Black, The Big Bang Theory, Jurassic World" and more. She's quietly terrific in this short film that could easily be expanded into a full feature. From being referred to as a "lady astronaut" to being asked if her daughter would forgive her if she died on a space mission, Dr. Anna Fisher has more hurdles to leap over than training in zero gravity. The casual sexism of the 1980s is jolting but is a glimpse at how far we've come.
EDA Award for Best Female-Directed Feature
Winner: MAMA BEARS directed by Daresha Kyi
Jury statement:  An incredible and insightful documentary that doesn't condemn faith-based religions like Christianity with the LGBTQ community but instead embraces the duality of living a life of pride as someone who is queer and has faith-based beliefs. It was heartwarming, informative, and impactful in its message. The film is a beautifully crafted extension of the short doc Trans in America: Texas Strong that first introduced us to the striking young trans girl Kai Shappley.  She's even more compelling in Mama Bears, and her own personal battle for trans rights takes on powerful emotional dimensions as we share the stories of other gay children struggling to find acceptance with support from their parents. There are heart-wrenching moments and battles won and lost.  While Daresha Kyi's film doesn't suggest easy solutions, it never wavers from a positivity that things may change.  And that's worth a lot.
Murmurations award and Documentary Short Film Category
In collaboration with the Ulrich Museum of Art, our new film category is for Spanish contemporary cinema, Murmurations—a celebration of the enduring connection between Spain and Kansas exemplified by Miró's Personnages Oiseaux.
Best Murmurations Film, winning $250 sponsored by WSU Diversity and Inclusion.
Winner: Finlandia directed by Horacio Alcalá
Jury Statement: Finlandia honors the experiences of people who are often unseen and disrespected, recognizes human resilience and interconnectedness across potential barriers, and engages the viewer in its interrogation of identity, desire, and what it means to be true to oneself.
Special mention for the short documentary:
Restoring Neske'emane directed by Loren Waters
Jury Statement: Restoring Néške'emāne reflects on Native history in Oklahoma, documenting the ongoing process of reclaiming land from the Cheyenne-Arapaho Boarding School to create a space for collective healing and to sustain and inspire new generations.
Best Documentary Short, winning $500:
Winner: Video Visit directed by Malika Zouhali-Worrall
Jury Statement: Video Visit's portrayal of Brooklyn Public Library's efforts to connect Rikers Island inmates with their loved ones via free video calls reminds viewers of incarceration's toll on real people and natural communities and the need for compassion in challenging circumstances.
Female Filmmaker and Documentary Feature Jury
The Female Filmmaker and Documentary Jury included Faridah Gbadamosi, Victoria Gayer, and Mye Hoang. To qualify for the Winner of the Female Filmmaker Spotlight Award, the film must be a female identifying-directed feature without traditional, theatrical, domestic distribution at the time of the festival screening.  The winner received $5,000 sponsored by Fidelity Bank.
Winner: Our Father The Devil directed by Ellie Foumbi
Honorable mention from the jury for best documentary feature:
Winner: The Art of Rebellion, directed by Libby Spears.
Best Documentary Feature, winning $500 sponsored by Clay and Kate Bastian:
Winner: Pez Outlaw
Joel Fein Emerging Filmmaker category
Our Joel Fein Emerging Filmmaker Jury, our category for filmmakers 18 and under: Geib Lusenaka, Alyssa Pfeifer, Legacy Victorio-Coto.
Best Emerging Student Documentary Short Winning $500 WSU School of Digital Arts: Winner: Gone directed by Kyle Ward.
Honorable mention for best emerging narrative short:
Winner: Grizz directed by Cameron Staley and Shivnil Lal.
Best Emerging Student Narrative Short Winning $500 WSU School of Digital Arts:
Winner: Swept Away directed by Braden Webb.
Jury Statement: "We chose this because it had a clear story that was filled with humor and magical realism. It made us laugh while also appreciating the technical powers used to bell the story."  (I don't know what bell the story means."
Vortex & Kansas Competitions
Vortex is a category for all animation, experimental, or hybrid projects. Our Kansas & Vortex Jury: Sara and Charity Harmon, Alex Liu and Cheri Gaulke.
Honorable mention from the jury for Vortex:
Empire of My Melodius Mind directed by Jeannette Louie.
Best Vortex Short Winning $250 sponsored by Patterson Legal Group:
Winner: The Body is a House of Familiar Rooms, directed by Eloise Sherrid and Lauryn Welch.
A Body is a House of Familiar Rooms: An ethereal yet grounded mixture of techniques that breathes magic into real-life struggles, the film left us not only with a lasting impression of two artists in love but also just wondering how the hell did they make this.
Honorable mention for Best Kansas documentary short:
Love, Barbara, directed by Brydie O'Connor.
Best Kansas Filmmaker Documentary Short Winning $500 sponsored by City Arts: Winner: Searching for La Yarda directed by Marlo Angell and Lourdes Kalusha-Aguirre.
Jury Statement: Searching for La Yarda: A captivating reveal of an largely unknown part of Kansas's past, the film's use of oral tradition is a simple and effective example of the power of documentary film to move audiences to understand our history as a nation.
Honorable mention for Best Kansas narrative short:
The End of the Squirrel, directed by Michael Christensen.
Best Kansas Filmmaker Narrative Short Winning $500 sponsored by City Arts:
Winner: Vegan Apocalypse, co-writers and directors Patrick Poe & Lolo Loren.
Jury Statement: Vegan Apocalypse: Absurd in the best way possible, this surreal satire of our current culture uses every filmmaking tool at their disposal to craft a clear, compelling world. This comedic take is worth a rewatch, even if hits a little too close to the bone.
Best Kansas feature
Honorable mention: Once Was Lost: The 70 Year Search for Chaplain Emil Kapaun, co-directed by Travis Heying and Roy Wentzl.
Best Kansas Feature Winning $250 sponsored by Melanie Addington
Winner: It Started with a Horse, director Josh Dubois.
Jury statement: It Starts with a Horse: An unusual, surprising, striking look at a complex character — the film unfolds like a series of musical movements — with lyrical animated flashbacks that immerse you into a world of romance, danger, and small-town politics.
Narrative Short Competition
Narrative Shorts Jury: Diane Becker, Allyson Morgan, and James Kautz.
Honorable mentions from the jury:
For excellence in Animation: HomeBird directed by Eva Smyk.
For innovation in storytelling: Le Censeur Des Reves directed by Leo Berne.
Best Narrative Short Winning $500:
Winner: El Carrito directed by Zahida Pirani.
Gordon Parks Award for Black Excellence in Filmmaking Category
The jury for GORDON PARKS was made up of Tamara Mariam Dawit, Robert Daniels, Sean Armstrong, and Gordon's son David Parks.
Honorable mention: Our Father the Devil directed by Ellie Foumbi. 
Winner:  After Sherman directed by Jon Sesrie Goff.
Narrative Feature and Stubbornly Independent Competition 
The Stubbornly Independent and Narrative Feature Jury included Milan Chakraborty, Aaron Hillis, and Dan Mirvish. Dan Mirvish won the Stubbornly Independent Award last year with his film 18 ½. 
Best Narrative Feature Winning $500
Winner:  Quantum Cowboys, directed by Geoff Marslett.
Jury Statement: "Playfully, inventive, and casually cerebral, this wonderfully weird odyssey into the multiverse boldly blends live-action with several animation styles."
The Cotillion sponsors the Stubbornly Independent Winner award.
Winner: Attack/Decay Release directed by HP Mendoza.
Jury Statement: "A musical act of love transformed into a work of art into a new medium, this riveting DIY extravaganza is nothing if not stubbornly independent."
##
Tallgrass Film Association entertains, educates, and inspires audiences in the Wichita community and beyond by showcasing the best of independent films from around the world through an annual 5-day film festival, year-round special screenings, filmmaking competitions, and filmmaker labs. We strive to preserve the cultural tradition of film as a communal adventure. Movies bring us together: they entertain, spark conversation, build community and forge new relationships.
The festival is sponsored by Archer Hotels, Selig Polyscope Company, Panavision, Iheartmedia, Groover Labs, Greteman Group,  City of Wichita, National Endowment for the Arts, Kansas Creative Arts Industries Commission, Fidelity Bank, and Selig Polyscope and more. For more information on the Tallgrass Film Festival, please go to: https://tallgrassfilm.org/