SLAMDANCE PROGRAMS SOME UNSTOPPABLE HITS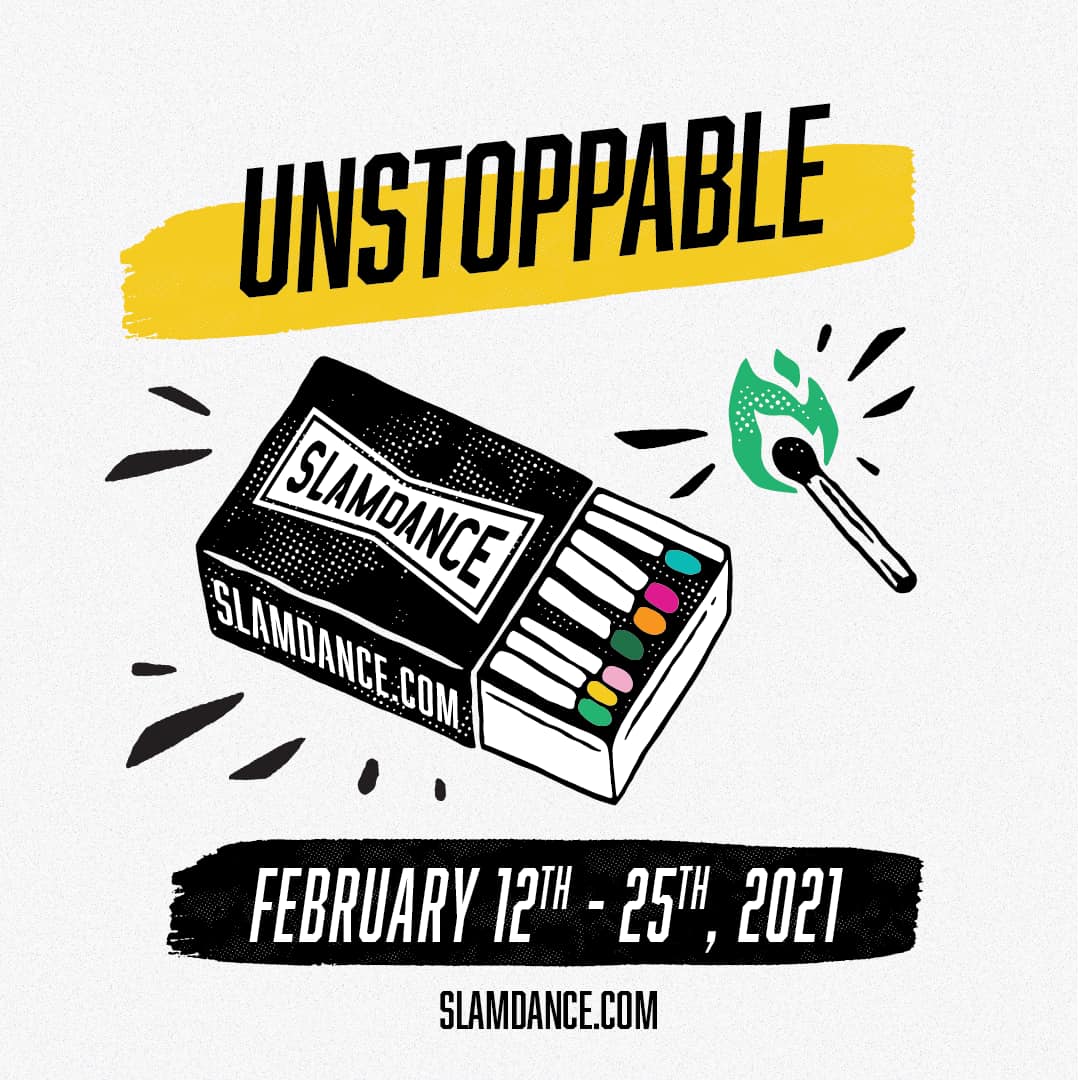 (The 2021 Slamdance Film Festival kicks off February 12 and runs through February 25, all online. Like what you see here on Hammer to Nail? Why not give just $1.00 per month via Patreon to help keep us going?)
If there is one thing about the "Unstoppable Block" that Slamdance has created it is merely: real. Representation without tokenism for the disability community while also telling great stories with people who just happen to also be disabled. Not being the plot point but being the point, the Unstoppable Block highlights the multi-diverse culture of disability. Slamdance kicks off this Friday, February 12 and runs through February 25, all virtually.
Most studio-based films that include disability use one of three central tropes about the culture: happy ending is dying or institutionalized, helpless yet still sexualized if the female, tool to help abled body person learn a life lesson. Rarely are people just disabled as part of their being with a real storyline, and rarely are they represented with any sort of truth to their disability or dare cast an actual disabled person. What we in the disability community dub "inspiration porn" has been Oscar bait for years.
But, with Unstoppable, we see a shift in the narrative. Whether at the club having fun or trying to get home, these shorts range from all experiences and performances by numerous disabled performers blending animation, documentary, music video, and narrative structures. The block, as a whole, speaks volumes for the plethora of great stories out there. With 22 films, there is something for everyone.
I spoke with some of the directors who did what appears obvious: cast more than one disabled person in their film, but it is a rare treat on screen.
Best Friend is a wholesome short that steers away from a focus on disability and is about two kids finding friendship. The film not only stars two disabled actors, but the director recently was diagnosed with ADHD.
"For seven years, while driven to represent others, I now have to explore my representation with a learning disability," Cory Reeder said via an email interview.
Reeder said that after working with Nic Novicki, actor and disabilities advocate, he learned more about media representation and knew that he would focus only on producing and directing with PWD (people with disabilities) representation.
"The more people worldwide are made aware of diversity, the more we realize just how much diversity there is," Reeder said. "One of my favorite actors to work with is Diana Elizabeth Jordan (who has Cerebral Palsy); she had won the best actor award in the film we made before Best Friend. I wanted to work with her again, so I cast her in a supporting role, which gave me creative freedom to shine a light on a new talented lead. Casting PWD is, but shouldn't be, new for many producers and directors. I like to challenge myself by working with all abilities, so when my friend's daughter Gitane (who has Down syndrome) expressed interest in acting, I cast her immediately. Though I'd yet to work with an actor who had that disability, I was excited to discover what direction would work best for her to craft a great performance."
Reeder pointed out in creating the story that the film isn't about a family with a disabled child or a black family relocation. It just is those things that allow the main story to be universal – finding a way to make your children happy.
"Following the success of this short, I've written the feature screenplay of Best Friend, where we see the friendship between Deidre and Alvie grow as they struggle to fit into the streetwear, a social media-obsessed culture of Los Angeles," Reeder said. "With Slamdance's exposure, I hope independent studios and executives see the power within all the Unstoppable films and give us, the filmmakers with skin in the game, a chance to tell these stories beyond festivals, into theaters, streaming services, and living rooms around the world."
Another stand out in the block is The Co-Op, a dark comedy about a grocery store robbery involving several patrons with
disabilities. With perhaps the best ending of all the block's shorts, The Co-Op was directed by Cameron S. Mitchell.
"The Co-Op is meant to mess with your notion of what "cinema" is and play with all the poignant examples in your mind that might pop up in the prototypical "robbery" scene. I wanted to take this very familiar movie trope that we know from cinema history and flip it on its head," Mitchell said. "Why don't we ever see any disabled people in these scenes?  Is it because action films are inherently linked to the energy/entropy of an able-bodied person, perhaps?  Do we not believe a disabled person could participate in a robbery as a perpetrator or bystander?"
For Mitchell, he began by looking at his own family for casting.
"Jasmine is played by my sister, Emma Mitchell.  My father, David Mitchell, plays David.  Ricky is played by my friend James Curran. And Barb is played by my friend Brittany Blythe.  I cast and wrote all of these roles with the firm belief in mind that "…people can give Oscar-winning performances of themselves if you simply do not tell them to act" (Gareth Edwards said some iteration of this in an interview in American Cinematographer regarding his film Monsters).  The Co-Op is essentially a raw test of this idea but applied to disabled people…and the desire to watch them kick ass!" Mitchell said.
For Mitchell, a film like this is essential to help shift our perception of the world.
"It's time we let real authentic disabled people into that world and prove that they are capable of being in every film, from a blockbuster to an indie, in every genre and concept," Mitchell said." The Co-Op is a litmus test for this in the case of the genre film. It purposefully blurs the line between dark comedy, sci-fi, horror, and drama to demonstrate how all of these genres can become so much further enriched when we enter the world of disability openly and knowingly rather than just letting it be a byproduct of the idea or the film itself."
Flipping the romantic genre on its head, Committed by Rachel Handler is a buddy comedy about a group of friends with disabilities. Her other film, How Much Am I Worth?, is a documentary exploring the health insurance system's failures in the United States.
"I made Committed because I was tired of seeing disability portrayed inauthentically as if it's only something to pity or to be inspired by," Handler said. "Our characters in Committed are all played by actors with disabilities, but they are anything but pitiable or inspirational. The characters are real, complex people going through huge life changes in a hilarious way."
For Handler, the documentary, How Much Am I Worth? was made after her bill for a surgery that allowed her to walk again.
"Fed up with medical bills and expensive prosthetic legs, I reached out to my friends with disabilities and documented our struggles within the U.S. healthcare and health insurance systems," Handler said. "The goal of this documentary was to spread awareness, and since it was received so warmly by audiences, we are expanding the film from 6 minutes to a full feature."
Other short highlights are: 
Santina Muha hosts two of the films, A$$ Level, which takes a comedic look at wheelchair access and VIP status and is a song in my head for the rest of my life. A more severe take occurs in her documentary Full Picture. Online meetings' pandemic culture online meetings have shifted ableism views and faces her internal ableism. Yes, even being disabled, we're raised in a culture of ableism. Facing that, Muha openly navigates the confusing issue many faces.
Endomic focuses on endometriosis, a painful disorder that involves ovaries, fallopian tubes, and the pelvis area. A snarky yet informative documentary about the issue, the film packs in a lot of information while also remaining engaging. The film is also one of the few about invisible disabilities in the block.
With such a simple logline, Falling Eggs packs a wallop about a teen boy throwing eggs onto people from his apartment window. Without spoiling the plot, the story has a twist that is unexpected and annoyingly rarely seen but is essential.
Single is a relatable, anti-romantic comedy that delivers an entertaining and insightful examination of human connection that also challenges preconceived notions of life with a disability. Perhaps one of the strongest films of the bunch, the short looks at our misconceptions of others and ourselves. While as someone disabled, we don't want to be pigeonholed, we find ourselves doing it to others.
One film Sia may want to check out is Unspoken, a self-portrait of Emma Zurcher-Long's autism. The film chronicles her teenage life as she explores her language outside of spoken standards.
In Verisimilitude, we meet a disabled actress fed up with all the disabled acting jobs going to able-bodied actors. While a very meta comedy about reality, this narrative short highlights phenomenal actress Ruth Madeley (Years and Years) in a role only she could or should play.
– Melanie Addington (@MelAddington)