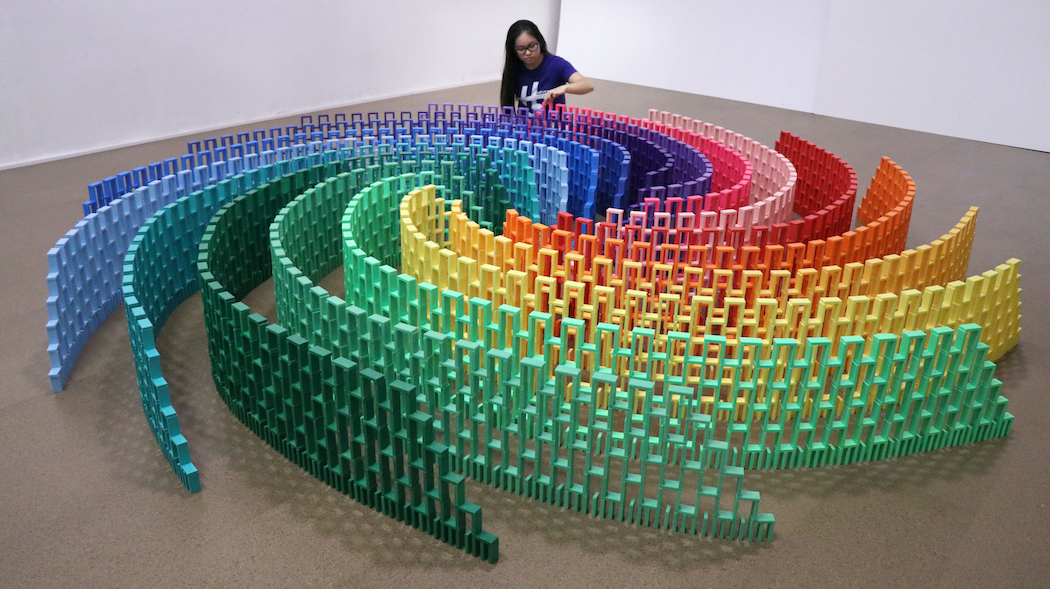 (The 2021 SXSW Film Festival kicks off March 16 and runs through the 20th, all online. Hammer to Nail has tons of coverage coming your way so stay tuned! Like what you see here on Hammer to Nail? Why not give just $1.00 per month via Patreon to help keep us going?)
Director Jeremy Workman has a cinematic nose for obsessive characters. In his 2018 documentary The World Before Your Feet, he followed subject Matt Green on his attempt to walk every stretch of New York City. Now he returns with a new film about a completely different kind of passion: dominoes. This time, his protagonist is one Lily Hevesh, whose YouTube channel, Hevesh5, has well over 3 million subscribers. Working both on her own and with a recurring team of collaborators, Lily travels the globe to make kinetic sculptures from the aforementioned blocks, many of which…nay, scratch that, all of which astound.
Workman takes us back to the beginning, courtesy of home movies, when Lily started out in her pre-teen years, though first he presents her as a newly minted college student. She doesn't stay in school for long, however, despite the synchronicity between her engineering courses at Rensselaer Polytechnic Institute and the precision planning of her careful, brilliantly artistic work with dominoes. Indeed, it is this intersection of science and art that so fascinates, whether Lily be on a paid gig for the Washington State Lottery or at home developing a Rube Goldberg device. It's all about the meticulous organization of thought into action.
Along the way, we meet many of those who have helped form her, including her adoptive parents (she was born in China), siblings, college roommates and friends, other domino artists (none of whom have anywhere near her following) and more. As a woman of color, she stands out in a white-male-dominated arena, a pioneer in all kinds of ways beyond her mind-boggling talent. She gives back, too. One of the early scenes in the film shows Lily at a Black student-awareness day, teaching the basic principles of domino construction to others. She's patient, generous and genuinely interested in spreading the good cheer. This behavioral paradigm is not an exception, as we see it repeated, throughout.
Accompanied by her father (a producer on the movie), Lily also makes the tours of toy expos, hoping to launch her own line of dominoes, which she succeeds in doing just as the coronavirus pandemic is about to hit. It's the logical next step if she truly means to make a living out of this, and she applies her trademark laser focus on the minutiae to ensure that her dominoes are the best of the best. Given her large fan base, it's almost a guarantee they will sell.
Beyond the joys of watching a young innovator at the top of her game, what Lily Topples the World also offers is a deep dive into the power of today's influencers, most of them found on YouTube and assorted other online venues. As Jason Eppink, Curator of Digital Media at New York's Museum of the Moving Image explains, we ignore the copious video output of and for Gen Z at our own peril. So don't. Watch and be amazed. You might just learn how to do it, yourself.
– Christopher Llewellyn Reed (@ChrisReedFilm)