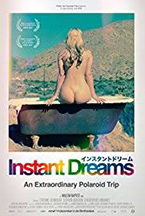 (The 24th Annual Slamdance Film Festival ran January 19-25 in Park City, UT. Hammer to Nail has you covered and guarantees more coverage than any other site. Watch us work it!)
On February 21, 1947, Edwin H. Land – scientist, inventor, and founder, 10 years earlier, of the Polaroid Corporation – introduced the first instant camera in New York. Within a year, they were on sale, and quickly caught on as a delightful way to capture snapshots and almost immediately see the results. From then until the dawning age of digital technology slowly robbed the company of its glamour (it filed for its first Chapter 11 bankruptcy in 2001), Polaroid existed as a staple of our then-modern world, showcasing the brilliance of chemistry and human innovation. When, in 2008, what remained of the company announced it would stop manufacturing its instant film stock, it was only a matter of time before Polaroid's moment in time receded into distant memory. Or was it?
In the new documentary Instant Dreams, Dutch director Willem Baptist – making his feature debut – presents three latter-day Polaroid aficionados, all working to keep the medium alive in their own way. First, there is Stephen Herchen, a chemist who used to work for Polaroid and is now part of the Impossible Project, which has been working since 2008 to keep the format alive by reinventing it from scratch. Then there is Christopher Bonanos, a writer for New York Magazine and author of Instant: The Story of Polaroid, who holds on to his old film and cameras, documenting the growth of his young son and using it as a conversation-starter party favor. Finally, there is Stefanie Schneider, a German photographer who works against the backdrop of the Southern California desert to create Polaroid and video art, the former requiring her slowly expiring, and diminishing, film stock (like Bernanos). We listen and watch avidly as they walk us through the reasons for their obsessive passion, and how it has transformed their lives.
The movie, itself, is gorgeously shot by Gregor Meerman (Supernova), whose lyrical cinematography serves the story well, evoking a dreamscape of its own. I especially like the opening images of what look like swirling fire, which later turn out to be the chemical formula on which Herchen and his team are hard at work. Meerman and Baptist return, time and again, in different variants, to an extreme close-up of the human eye, lights reflecting off the iris, flickering in vibrant colors. Its a beautiful visual metaphor for the magic of perception. The score, by Marc Lizier (Plaza Man), provides a suitably meditative accompaniment to the narrative, expressive without being intrusive.
I was a little troubled, at first, by Baptist's refusal to give us any specific information about his three protagonists, whether through title cards or lower-third text overlays. Before long, I had forgotten my annoyance, so wrapped up was I in the overall story. It's such a fresh approach to the subject: yes, he gives us our history, but in a roundabout way, explaining the importance of the product as he describes its origins. Instant Dreams offers lasting memories, to be savored long after the movie is over.
– Christopher Llewellyn Reed (@ChrisReedFilm)