I Am Big Bird: The Caroll Spinney Story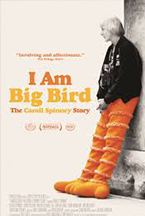 (I Am Big Bird: The Caroll Spinney Story is a documentary telling the story of the man inside the bird, Carroll Spinney. It's playing as part of the 2015 Tribeca Film Festival and following that will be  distributed by Tribeca Film in theaters and on demand May 2015)
People don't often think of puppeteering as an artform but it definitely is. It's like acting but perhaps even more difficult as one creates a character out of a furry, static form, transferring movement, emotion, narrative while trying to connect with an unseen audience. I Am Big Bird: The Carroll Spinney Story is a heartwarming look at how Caroll Spinney, the artist hidden away inside of Big Bird's feathery yellow carapace, exists in the world; the joy and solitude, the sadness and exuberance, the responsibility and love.
Unlike the recent documentary Being Elmo: A Puppeteer's Journey this film is not so much a story of one man but rather a glimpse into an aging, growing artistic life, and one that is completely accessible. Spinney is an artist but one whose work we are all unknowingly very familiar with, bringing a welcome closeness to the often isolated world of the loner dreamer. The film sweetly allows us to celebrate Spinney and the creative process in general, wonderfully revealing the craft, spirit and dedication hidden below the surface of Sesame Street.
I Am Big Bird is traditional in terms of nonfiction form combining talking heads (Frank Oz, Spinney's children, etc.), home movie footage, a few animated sequences, and some behind-the-scenes glimpses of the on set world of Sesame St. It beautifully blurs the line between Big Bird and Spinney exposing the unassuming complexity of the relationship person and puppet. It also focuses on the moments of chance that lay the foundation of his life, each road taken leading to the next with no regrets along his path. Spinney, and his wife, look back with a happiness and thankfulness for each experience with a purely infectious glee. It's a solid documentary full of interesting characters that takes an honest look at what it is like to live an inspired life.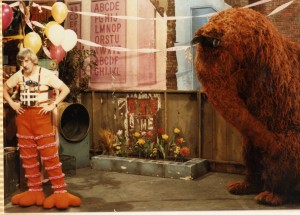 Big Bird is a giant kid exploring the universe at face value and, as this film keenly points out, Spinney-who at 80 is still climbing into the giant orange feet- is no different. Artists look at the world with an ongoing childlike wonder, they allow themselves to keep dreaming into adulthood. This film, full of freedom, innovation and imagination, was able to reconnect me to the joy of dreaming that Jim Henson and his fellow Muppeteers are always able to spark. It does not remind me of my childhood, it reminds me of the possibility that one can continue to live in a state of excitement about the world and, hopefully, feel the need to excite others as well. I Am Big Bird is a portrait of a very unlikely artist that encourages us all to want to find our own giant yellow bird of expression no matter the age.
– Donna K. (@TeamDonnaK)