2023 NYFF CURRENTS LINEUP: New Works From First-Time & Veteran Filmmakers To Make Their U.S. Premieres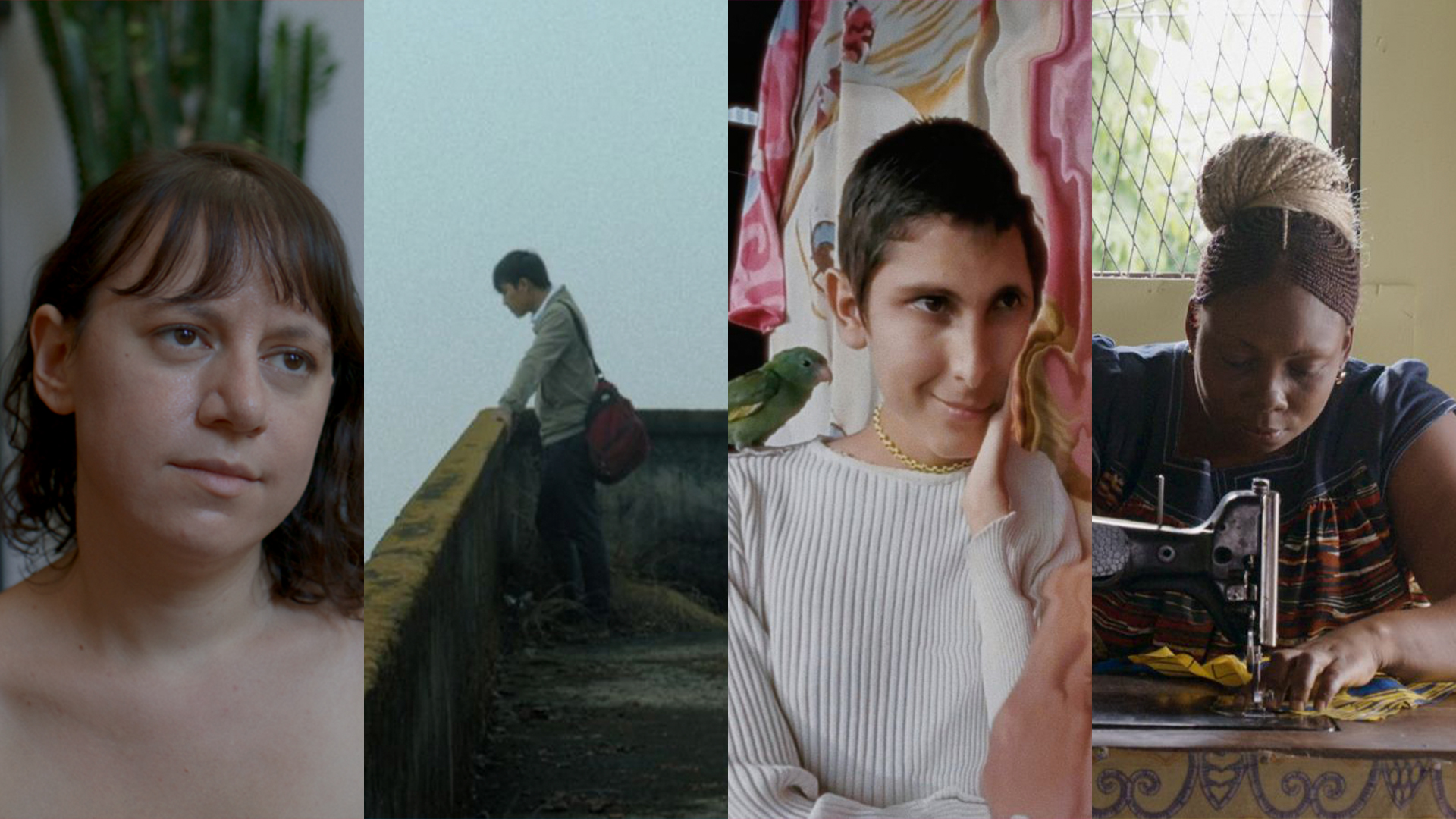 As we are getting closer to the month of September, the NYFF lineup is getting bigger and bigger. The festival has just announced this year's lineup for its Currents section, which includes 11 feature programs and 36 short films, representing 23 countries, and complements the Main Slate, tracing a more complete picture of contemporary cinema with an emphasis on new and innovative forms and voices.
"The filmmakers in this year's Currents lineup range from well-known veterans to prodigious newcomers, and the films encompass narrative, documentary, and experimental modes, sometimes recombined and redefined," said Dennis Lim, Artistic Director, New York Film Festival. "If there is something that unites this richly varied array of features, medium-length, and short films, it is an exploratory spirit and a sense of cinema as a pliable art form still capable of surprise."
The lineup includes Eduardo Williams' Opening Night selection The Human Surge 3, Thien An Pham's Cannes-winning feature debut Inside the Yellow Cocoon Shell, Joanna Arnow's BDSM comedy The Feeling That the Time for Doing Something Has Passed, and a special program featuring new short films from Jean-Luc Godard, Pedro Costa, and Wang Bing.
The New York Film Festival will be held from September 29 – October 15.
See the full Currents lineup below:
Currents Opening Night
The Human Surge 3
Eduardo Williams, 2023, Argentina/Portugal/Netherlands/Taiwan/Brazil/Hong Kong/Sri Lanka/Peru, 121m
Spanish, Tamil, Mandarin, and English with English subtitles
U.S. Premiere
Armed with a 360-degree camera, Argentinean director Eduardo Williams returns to the bold, time-and-continent-skipping world of his 2016 film The Human Surge (NYFF54) and constructs something even more immense, fearless, and breathtaking. As in that earlier film, groups of friends from different parts of the world interact in the downtime between work, drifting, and existing in constant motion along with the camera. Yet Williams here pushes things even further into a kind of hypnotic abstraction, filming in Taiwan, Sri Lanka, and Peru and achieving an unprecedented fluidity between spaces and feelings, natural splendor, and human sensuality. Working as always without a locked script, Williams highlights the beauty of language and the sensations of people traversing liminal states of being, moving toward a kind of otherworldly queer utopia.
ALLENSWORTH
James Benning, 2022, U.S., 65m
The town of Allensworth, California, was founded in 1908. Established, run, and entirely financed by African Americans, including Allen Allensworth, a former slave who became a high-ranking officer in the U.S. Army, the community was thriving at the turn of the 20th century and would be home to the state's first Black school district. Decades later, due to environmental factors and economic downturn, the town was all but abandoned, later to be reconstructed. In his new film, James Benning uses his structuralist approach to landscape to etch an evocative portrait of the town. In 12 static compositions of approximately five minutes, one for each month of the year, Benning trains the camera on different areas and aspects of Allensworth, mostly outdoor shots of restored houses and buildings set against desolate backdrops. With a judicious use of sound and occasional music, the haunting ALLENSWORTH marries the formal precision of so many of Benning's landmark works to a specific sociopolitical American history.
Preceded by:
Air Force Two
Kevin Jerome Everson, 2023, U.S., 5m
World Premiere
Kevin Jerome Everson's unique observational gaze collapses Hollywood histrionics and American carceral history into one frame, as a Moscow prison break scene from Andrew Marlowe's original screenplay for Air Force One—read in affectless voiceover on the film's soundtrack—is offset by handheld footage taken in the Ohio State Reformatory, where the scene was filmed.
Boyd v. Denton
Kevin Jerome Everson, 2023, U.S., 3m
World Premiere
Titled after the United States Federal Court decree that forced the closure of the infamously overcrowded Ohio State Reformatory, Everson's film is a radical transformation of the prison and popular filming location, at once abstracting its interiors into monochrome patterns and textures, and reanimating the ghostly traces of its real and fictive former inhabitants.
The Feeling That the Time for Doing Something Has Passed
Joanna Arnow, 2023, U.S., 88m
U.S. Premiere
In her unsparing, acerbically funny feature debut, Joanna Arnow stars as an emotionally detached young Brooklynite drifting through unremarkable days and nights. Neither her on-again-off-again BDSM relationship with a mildly disinterested older dom, nor her nondescript corporate job, appear to bring her any satisfaction, and her relationship with her unpleasable New Yorker parents only compounds the tiresome cycle of her routine. Arnow, who also wrote, directed, and edited this sharp and observant take on modern-day malaise, is known for her autobiographically tinged works of brutal honesty and deadpan self-deprecation. Here, she finds a core of poignant truth about the ways people search for those elusive, ever-shifting things like emotional happiness and sexual gratification, refusing to judge them while at the same time unafraid of presenting their flaws. A Magnolia Pictures release.
Preceded by:
Unhappy Hour
Ted Fendt, 2023, Germany, 10m
German with English subtitles
World Premiere
A chance encounter between two acquaintances leads to a friendly beer and warm commiseration about life's little struggles: lost keys, bad roommates, awkward exes, and annoying grant deadlines. A minuet of hesitant intimacies, Ted Fendt's Unhappy Hour casts a delicate but incisive gaze on the inconvenience of other people and the minor challenges of being in the world.
Inside the Yellow Cocoon Shell
Thien An Pham, 2023, Vietnam, 177m
Vietnamese with English subtitles
U.S. Premiere
Winner of the prestigious Camera d'Or for best first film at this year's Cannes Film Festival, the enthralling Inside the Yellow Cocoon Shell from Vietnamese filmmaker Thien An Pham is a reverie on faith, loss, and nature expressed with uncommon invention and depth. It's a simple tale told with visual complexity: after a car accident claims the life of his sister-in-law and leaves his 5-year-old nephew an orphan, a thirtysomething man named Thien (Le Phong Vu) leaves Saigon for a trip back to his rural hometown. During his meditative, wandering visit, Thien wrestles with his own agnosticism in the face of others' religious beliefs, summons memories of his long-disappeared brother, and reconnects with a former girlfriend who now lives as a nun at a Christian church and school. With its drifting camera, evocative use of natural light, and gratifying perambulatory nature, this is a film with the power to readjust one's perceptions of the world around us. A Kino Lorber release.
Last Things
Deborah Stratman, 2023, U.S./Portugal/France, 35mm, 50m
French and English with English subtitles
In the panoramic works of Deborah Stratman, the filmmaker collapses boundaries between the historical and the political, the modern and the primordial. An active decentering of the human or animal, her mesmeric new film is a geohistorical inquiry into life on earth from the perspective of rocks: those formations of crystal and mineral that existed before people—and will one day outlive us. Stratman has made an eerily exquisite film about our planet carved out of science and speculation, poetry, and geology, unfolding with remarkable images that range from microscopic forms to vast landscapes.
Preceded by:
Laberint Sequences
Blake Williams, 2023, U.S., 3D, 20m
U.S. Premiere
Blake Williams's stereoscopic portrait of Barcelona's Parc del Laberint d'Horta takes in the serenity of the garden's fountains, pavilions, hedgerows, and koi ponds, and navigates the winding pathways of its famed maze via disorienting pans and wobbling frames. Meanwhile, an enigmatic infrastructure lies below the park's placid neoclassical surface, heightening its tense collision of the natural and the artificial.
Mambar Pierrette
Rosine Mbakam, 2023, Cameroon/Belgium, 93m
French and Pidgin with English subtitles
In a captivating new film evoking her superb 2018 documentary Chez jolie coiffure (New York African Film Festival 2019), which followed the proprietor of a hair salon in the African Matonge district of Brussels, director Rosine Mbakam returns to her home country of Cameroon to follow an equally charismatic protagonist: the good-natured yet exhausted seamstress Mambar (played by the director's cousin, Pierrette Aboheu Njeuthat), struggling to make ends meet in the city of Douala. In trying to pay debts, raise children, and keep her business going, Mambar contends with continual mishaps and setbacks, each fortifying her against an uncompromising world. A drama of quotidian elegance fueled by the observational beauty of Mbakam's nonfiction work, Mambar Pierrette quietly sneaks up on the viewer in its powerfully subtle representation of the ways in which women exist under patriarchal oppression. An Icarus Films release.
The Night Visitors
Michael Gitlin, 2023, U.S., 72m
World Premiere
Film and video artist Michael Gitlin (The Earth Is Young) magnifies the surreal beauty and ecological significance of moths in his eye-opening and richly philosophical experimental documentary/essay film that explores a crucial element of our planet's biodiversity that many of us may never consider. Rather than taking a strictly entomological approach, Gitlin acknowledges the moth as marvel, both in terms of its aesthetic beauty—their velvety fur and bright colors captured in microscopic detail—and its placement within the firmament of organic life on earth. From there, Gitlin goes deeper into more ethereal matters of mortality, traversing the insects' nocturnal terrain to ruminate on the limits of knowledge and the transitory nature of all things, prehistoric to modern.
Preceded by:
When We Encounter the World
Leonardo Pirondi and Zazie Ray-Trapido, 2023, Portugal/U.S., 11m
North American Premiere
A self-regulating society of children is installed in an enclosed forest as a sociological experiment. Their only visions of the outside world come in the form of strange films from their benefactors, one of which is recreated here: a profusion of American engineering, landscape design, and urbanity, intended to restructure their young minds.
Nowhere Near
Miko Revereza, 2023, U.S./Philippines, 95m
Tagalog and English with English subtitles
U.S. Premiere
Both diaristic and delicately abstract, this long-gestating, ruminative work from Miko Revereza (No Data Plan, Art of the Real 2019) reflects the filmmaker's attempts to understand his and his family's experiences as undocumented Filipino immigrants in the U.S. As he untangles the threads of his personal history, the film weaves an ever-expanding tapestry, stretching from downtown Los Angeles, to the American Midwest, and back to his familial home of Pangasinan. Called a "psychogeographical journey" by its filmmaker, Nowhere Near presents a vast swath of experience, incorporating the bureaucratic realities of DACA, the nightmare of securing documents and work permits, the dystopian modernity of U.S. living, and the feeling of disenfranchisement from one's ancestral land. This captivating, collage-like film speaks with eloquence to the fragmentary nature of living between worlds.
A Prince
Pierre Creton, 2023, France, 82m
French with English subtitles
North American Premiere
In the alternately blissful and forbidding French countryside, an enveloping, cross-generational saga unfolds among a young gardening apprentice and the three men training him, all of whom become instrumental in his professional tutelage as well as his sexual coming-of-age. Under the austere eye of filmmaker and farmer Pierre Creton, shooting in the pastoral environs of his home village in Normandy, this narrative, partly inspired by memories of his own teenage years, becomes a striking, anti-realist drama that balances the lushly classical and the marvelously absurd, told almost entirely through overlapping voiceover narration. Moving away from the more explicit balancing of documentary and fiction in his previous work, Creton here creates something entirely new and strange—a singular vision of a quietly eroticized natural world. Winner of the prize for best French-language film in the Directors' Fortnight section of the 2023 Cannes Film Festival. A Strand Releasing release.
Jean-Luc Godard + Wang Bing + Pedro Costa
89m
Trailer of a Film That Will Never Exist: Phony Wars
Jean-Luc Godard, 2023, France/Belgium, 20m
French with English subtitles
At the time of his death in September 2022, Jean-Luc Godard had been in the midst of planning another feature, an adaptation of Belgian author Charles Plisnier's 1937 novel Faux Passports. Though the film was not fated to be, the intricate and beautiful "trailer" that Godard put together in preparation now stands as his final work, a complex collage of history, politics, and cinema constructed of paper and glue, paintings and photographs, sound and silence. A Kino Lorber release.
Man in Black
Wang Bing, 2023, France, 60m
Mandarin with English subtitles
North American Premiere
An 86-year-old man prowls the proscenium of a crumbling theater, his naked body stretches and bends, illuminated under glaring lights or hidden by shadow, always heaving with the weight of history. This is Wang Xilin, one of China's leading classical composers, who becomes the passionate narrator of his life, art, and political persecution against the dramatic backdrop of Paris's Théâtre des Bouffes du Nord. Whether emotionally relating the abuse suffered at the hands of the Communist Party during the Cultural Revolution of the 1960s, describing how he translated personal and historical pain into the furious abstraction of his symphonies, or simply displaying his miraculously persistent flesh, the musician is at once witness to history, grand storyteller, and physical evidence of his own torment. With director Wang Bing's tirelessly circling, endlessly compassionate camera and the striking use of Wang Xilin's glorious music, which buffets, buoys, or sometimes drowns out the composer's words, Man in Black is an overwhelming sensory experience that speaks to the power of creation amidst human deprivation. An Icarus Films release.
The Daughters of Fire (As Filhas do Fogo)
Pedro Costa, 2023, Portugal, 9m
Portuguese with English subtitles
U.S. Premiere
A triptych of images set within a widescreen frame, The Daughters of Fire is a musical of ecstasy and ache featuring singers Elizabeth Pinard, Alice Costa, and Karyna Gomes as women separated from one another following the eruption of the volcanic Fogo island in Cape Verde. This short film from Pedro Costa (Vitalina Varela, NYFF57), whose best-known work highlights the beauty of Lisbon's struggling immigrant communities, summons something entirely entrancing, pushing his art to rhapsodic new heights. A Cinema Guild release.
Mangosteen + We Don't Talk Like We Used To
76m
Mangosteen
Tulapop Saenjaroen, 2022, Thailand, 40m
Thai and German with English subtitles
North American Premiere
Lensed with the fuzzy-edged resolution and smeary vibrancy of early-2000s standard-definition video, Tulapop Saenjaroen's film blends family drama, process documentary, and narratological meditation through the story of a man named Earth, his sister Ink, and their family business, a mangosteen-processing factory. Disagreeing with Ink on the nature of the future, Earth embarks on a project of his own: to investigate the nature of fabulation and the transmutation of the material world into new stories and new images.
We Don't Talk Like We Used To
Joshua Gen Solondz, 2023, U.S./Hong Kong/Japan, 35mm, 36m
English and Japanese with no subtitles
U.S. Premiere
We Don't Talk Like We Used To continues Joshua Gen Solondz's loose series of addled diary films with a film that is part travelogue, part affective almanac, and part cinematic noise show. With stops in Hong Kong, New Hampshire, Japan, and Brooklyn, the film alloys obscured faces, oozing on-screen text, throbbing abstractions, solarized superimpositions, and the occasional dad joke into a vertiginous mosaic of encounters and eruptions that also reflects somberly on issues of aging and exile, love and artmaking, lust and wanderlust.
CURRENTS SHORTS & DESCRIPTIONS
Currents Program 1: Surface Tension
78m
Abattoir U.S.A.!
Aria Dean, 2023, U.S., 11m
North American Premiere
The interior of an empty slaughterhouse—rendered using 3D computer graphics tools—becomes the set for artist Aria Dean's investigation of death and industrialization. Blending historical and contemporary architectural programs with hyperrealistic and non-Euclidean spatial configurations, Abattoir, U.S.A.! explores this site as both material and metaphor, a locus for the intersection of the human, the animal, and the machine.
Mercurial Currents
Carolina Fusilier, 2023, Argentina/Mexico, 20m
Spanish with English subtitles
World Premiere
A ghostly bubble haunts the empty trading floor and conference rooms of La Bolsa, the Buenos Aires Stock Exchange building, as filmmaker Carolina Fusilier tries to locate a missing photograph of her father when he worked there during Argentina's 1990s financial crisis. This search melds autobiography and science fiction, as arcane computational mechanisms—humming, flashing, bleeping—track the liquid undulations of trade.
Sensitive Content
Narges Kalhor, 2023, Iran/Germany, 8m
Farsi with English and French subtitles
U.S. Premiere
Amid the ongoing struggle for "Women, Life, Freedom," the Iranian people use their cell-phone cameras to capture scenes of urgent protest and brutal retaliation by the regime. In the act of bearing witness, they risk the loss of their vision, as authorities are known to target the eyes of their victims. Narges Kalhor aggregates these images, which have been flagged as "sensitive content" on various social media channels, a form of censorship that sanitizes and erases violent events from the record. 
Dau:añcut (Moving Along Image)
Adam Piron, 2023, U.S./Canada, 15m
The likeness of a relative of the filmmaker surfaces as a tattoo on the arm of a Ukrainian soldier. A U.S. Army post in Oklahoma, built to fight Kiowa and Apache, is rededicated to aid in the fight against Putin's own Western expansion. In Dau:añcut (Moving Along Image), Adam Piron explores the contradictions of colonialism and anti-settler solidarity across time and geography and in the muddled spaces of TikTok, where representations of Indigenous peoples are caught up in the ongoing and increasingly rapid circulation of images.
Nameless Syndrome
Jeamin Cha, 2022, South Korea, 24m
Korean with English subtitles
North American Premiere
Young women are subjected to a series of medical procedures: diagnostic tests, rehabilitation exercises, and fittings for prosthetic devices, demonstrating the medical industrial complex's dehumanizing reliance on empirical evidence to validate people's subjective bodily experiences of pain. Accompanied by key critical texts on the phenomenology of illness—from Anne Boyer to Carlo Ginzburg—Jeamin Cha's deconstructed medical procedural problematizes the alienated choreography between patient, technician, and machine.
Currents Program 2: Stranger Than Paradise
71m
Live From the Clouds
Mackie Mallison, 2023, U.S., 16m
World Premiere
In his affectionate diasporic family narrative, Mackie Mallison immerses the viewer in the intimate memories and imagination of four women in his Japanese-American family. Collage-like CG meshes with oral history, and poetry accents 16mm footage of the local bingo hall and staged sequences in an Asian grocery store, where everyday anxieties of shopping, paying the bills, and flying are ruptured by dreams of financial freedom and homecoming.
Shrooms
Jorge Jácome, 2023, Portugal, 18m
Portuguese with English subtitles
Gently nodding to Bruce Conner's cinematic fungi hunt, Jorge Jácome's leisurely portrait film follows an amateur forager and breeder of carrier pigeons in his quotidian routines, searching the woodlands on Lisbon's outskirts for psilocybin mushrooms and rhapsodizing about their therapeutic properties. With its soundtrack of insect chatter, birdsong, cat purrs, and whirly tubes, Shrooms traces circuits of habit, attention, and care between the animal, fungal, and human worlds.
The Far and Near
Justin Jinsoo Kim, 2023, South Korea, U.S., 10m
No dialogue with Korean and English subtitles
U.S. Premiere
Exploring both the abstractions of astrophotography and the documentary possibilities of classical Korean landscape painting, The Far and Near is a cosmic voyage into seemingly empty space, in which Kim collages and distorts inkjet prints of images from NASA's Hubble Space Telescope into chimeric spacescapes that evoke the oneiric spaces of Ahn Gyeon's "Dream Journey to Peach Blossom Land," a painting commissioned to document the dreams of 15th-century ruler Prince Anpyeong.
Slow Shift
Shambhavi Kaul, 2023, India/U.S., 9m
U.S. Premiere
Amid the ruins of the 14th-century city of Hampi in southwestern India—fabled site of the ancient Monkey Kingdom—troops of langurs observe a world in flux. Intercutting observational footage with constructed sequences, filmmaker Shambhavi Kaul juxtaposes human, simian, and geologic timescales, marking a place where history, mythology, and nature conspire and collide.
Solo la Luna comprenderá (The Moon Will Contain Us)
Kim Torres, 2023, Costa Rica/U.S., 18m
Spanish and English Creole with English subtitles
U.S. Premiere
In the small coastal town of Manzanillo, Costa Rica, filmmaker Kim Torres enlists the local teens and adolescents to share their stories, lies, and fantasies on the cusp of a cataclysmic event. Playing amid ruins and wreckages, and voicing their boredom at the lack of change, Manzanillo's children engage in a collective fabulation, finding strategies for building a new world from the old.
Currents Program 3: Inside Out
69m
Larry
Takeshi Murata and Christopher Rutledge, 2023, U.S., 4m
Takeshi Murata and Christopher Rutledge continue their playful investigation of both the sharp-edged hyperrealism of commercial CGI and its oozing, anarchic breakdown in Larry, which propels its titular character—a droopy-eyed canine baller—through a series of increasingly bizarre and messy loops. Set to a soundtrack of maxed-out electronic rhythms, these vignettes form a ludic study in morphology and motion, as its pooch protagonist continually vaults, multiplies, gets buckets, and dissolves into digital goo.
Bold Eagle
Whammy Alcazaren, 2022, Philippines, 16m
Filipino with English subtitles
Whammy Alcazaren's ribald Bold Eagle composites personal and national histories with the onanistic imaginariness of the internet. In a dark Navotas City apartment cluttered with encyclopedias, family albums, and wrestling posters, a man and his feline friend look at gay porn and cat videos, ignore the doorbell, and embark on a fantastical Hawaiian vacation via an acid tab in the butthole. 
LOOPHOLE 
Jordan Strafer, 2023, U.S., 25m
World Premiere
Appropriating the aesthetics of 1990s legal thrillers and NC-17 potboilers, Jordan Strafer's film serves up a dark, parafictional take on the courtroom drama, in which semi-fictionalized proceedings surrounding an actual sexual assault case mutate into a Grand Guignol of Americanness and white privilege. With its mise-en-scène of beige interiors and desaturated fashions, LOOPHOLE braids the theatrical with the procedural amid a hazy atmosphere of systemic corruption, media voyeurism, and entrenched power.
False Wife
Jamie Crewe, 2022, U.K., 16m
North American Premiere
Automated speech and pulsing electronic music adjoin stroboscopic text and a swirling visual collage in Jamie Crewe's vertiginous take on the poppers training video. Typically pornographic, intended to complement recreational drug use and masturbation, the vernacular form is here tasked with delivering a mélange of intrusive thoughts derived from folk tales. The video breathlessly urges the viewer/user out of anxiety, through transformation, and finally, into annihilation.
Sundown
Steve Reinke, 2023, Austria/Canada/U.S., 8m
U.S. Premiere
In a stream-of-consciousness narration that is by turns wry, spiraling, and aphoristic, Steve Reinke meditates on grief, rocks, Gordon Lightfoot, a new tattoo, and the reason he left Canada. Amid this vortex of associations and ideas, a tentative ethos surfaces about art's functions, the collecting and assemblage of images, and the kind of mutation from which grace emerges.
Currents Program 4: Close Encounters
74m
Intersection
Richard Tuohy and Dianna Barrie, 2023, Australia, 16mm, 11m
Set to a rhythm that is at once convulsive and meditative, Richard Tuohy and Dianna Barrie's Intersection collides crosswalks and traffic flows in an Eisensteinian onslaught of jagged, rapid-fire edits. The result is a riotous city symphony that captures the fractured sensations of contemporary urban space and sets it against a dense chorus of breaths, ums, and interjections.
Mast-Del
Maryam Tafakory, 2023, Iran/U.K., 17m
No dialogue with English subtitles
In Mast-Del, an intimate conversation between two women summons memories and images—both original and appropriated from post-revolutionary Iranian cinema. Bathed in indigo and midnight blue and enmeshed in disorienting superimpositions and bleeding colors, these elusive glimpses cast a soft, violent gaze on oppression and desire, forbidden pleasure, and the specter of punishment.
Disappearances
James Edmonds, 2023, Germany, 4m
U.S. Premiere
James Edmonds' impressionistic diary film catalogs lyrical fragments, flashes of memory, and bursts of light and texture collected on a trip to the English countryside. A modest paean to fleeting sensation and the ephemerality of memory, Disappearances wistfully contends with the present on the precipice of its inevitable loss.
If You Don't Watch the Way You Move
Kevin Jerome Everson, 2023, U.S., 12m
North American Premiere
John Cage's renowned composition receives a compelling remix while, in a recording studio in Columbia, Mississippi, Derek "Dripp" Whitfield Jr. and Taymond "ChoSkii" Hughes of the group BmE lay down a new track. Interpolating the worlds of hip-hop and mid-century experimental music, Kevin Jerome Everson's If You Don't Watch the Way You Move both documents the labor process of the recording studio and subtly alludes to the filmmaker's own work of structural assemblage.
N'Importe Quoi (for Brunhild)
Luke Fowler, 2023, France/U.K., 16mm, 10m
French, German, English with no subtitles
World Premiere
In N'Importe Quoi (for Brunhild), a playful and richly textured ode to the German radio artist and composer Brunhild Meyer-Ferrari—widow of musique concrète pioneer Luc Ferrari—portraiture becomes collaboration, as filmmaker Luke Fowler delves into his subject's history and practice, and they explore together the collision of sound and image.
Spark from a Falling Star
Ross Meckfessel, 2023, U.S., 21m
World Premiere
A forbidding soundtrack of horns and distorted noise sets the scene for Ross Meckfessel's Spark from a Falling Star, where shots of grocery store parking lots and dimly lit suburban roads breed atmospheres of low-level menace. At the other extreme, smooth digital renderings promise a shiny, spectral future utopia of clean lines and mirrored grids.
Currents Program 5: Burden of Dreams
84m
Dildotectonica
Tomás Paula Marques, 2023, Portugal, 15m
Portuguese with English subtitles
In a modest workshop, a ceramicist constructs dildos intended to stimulate non-normative bodies and desires, drawing inspiration from forms other than the phallus. In a convent in northern Portugal, two 18th-century recolhidas (secular recluses) are accused of sodomy by the Inquisition. Beginning with practical concerns and veering decisively toward the speculative and the fabulist, Tomás Paula Marques depicts the fact and fantasy of queer pleasure.
and so it came about (A Tale of Consequential Dormancy)
Charlotte Pryce, 2023, U.S., 13m
The threshold of an underworld has been found at the edge of a field, and a bewitched child cannot be roused from her stupor. From modest materials—grass, leaves, a lock of hair, the body of a finch, stop-motion snakeskin, magic lantern slides—Charlotte Pryce assembles a potent folk horror tale. In demure voiceover, she relates a version of Persephone's abduction by Hades, a myth that provides an explanation for winter's temporary cessation of life.
Coral
Sonia Oleniak, 2023, U.S./Poland, 18m
With lyrics translated from an imaginary language, Sonia Oleniak's filmic song cycle follows a cohort of sleepless solitaries through the night of a lunar eclipse. Strange singing and luminous images make mythopoesis of their labors and losses. In a boardwalk café, they convene for respite from their surreal nocturnal rituals, shot through with birds, salt, and violin rosin.
Nocturne for a Forest
Catarina Vasconcelos, 2023, Portugal, 16m
Portuguese with English subtitles
North American Premiere
A still life is interrupted by Pope Gregory XV stuffing a plastic skull with carnations. Verdant landscapes are prowled by monks in ghillie suits. The raucous annual assembly of women's immortal souls debates the destruction of a suggestive painting, Josefa d'Obidos's "Holy Family," secreted away in a male-only Carmelite monastery in a mountaintop of Buçaco. With an irreverent wit, Catarina Vasconcelos stages a droll iconoclasm.
The Rays of a Storm
Julio Hernández Cordón, 2023, Mexico, 22m
Spanish with English subtitles
North American Premiere
In ceremonial costume, a group of chilangos negotiate with motorcyclists from a rival neighborhood, planning a reenactment of Victory Night, when Hernán Cortés and his army were driven out of Tenochtitlan. With jittery-smooth video and sparing use of an accredited historian, Julio Hernández Cordón explores the significance of the 500-year-old Tree of La Noche Triste, climbing the fence with his subject-collaborators to survey its charred remains.
Currents Program 6: Site Specific
87m
Projekt
Dane Komljen, 2023, Germany/Nigeria, 26m
Igbo, Yoruba, Pidgin, and English with English subtitles
North American Premiere
Forty-six years after its completion, the International Trade Fair Complex in Lagos, Nigeria, lies waterlogged and in disrepair, its modernist concrete pavilions flooded and overgrown with vegetation, and its shopping stalls and convention centers now serve as makeshift workshops, bike repair stalls, and playgrounds. Shooting in a soft-edged standard-definition video, Komljen observes the complex's grounds with equanimity and warmth, marking both its history as a former utopian project and its present-day vernacular uses.
The Fist
Ayo Akingbade, 2022, U.K./Nigeria, 24m
U.S. Premiere
Filmmaker Ayo Akingbade's lush 35mm-shot portrait of the Guinness factory in Ikeja, Nigeria—the first of Guinness's breweries built outside Ireland and the U.K.—is at once a closely observed process film about industrial production, an intimate glimpse into the sociality of assembly-line labor, and an incidental measure of globalization.
Ungentle
Huw Lemmey and Onyeka Igwe, 2022, U.K., 37m
North American Premiere
Like a clandestine encounter between the worlds of John le Carré and Alan Hollinghurst, Ungentle lingers in cruising spots, historic sites, and the enclaves of British espionage. With a droll, urbane narration read by Ben Whishaw, Huw Lemmey and Onyeka Igwe's collaborative film brings the covert fraternities of spies and homosexual men into an unlikely proximity, mapping an obscure and enigmatic landscape of loyalty, secrecy, and desire.