Tingle Monsters and the Horror of ASMR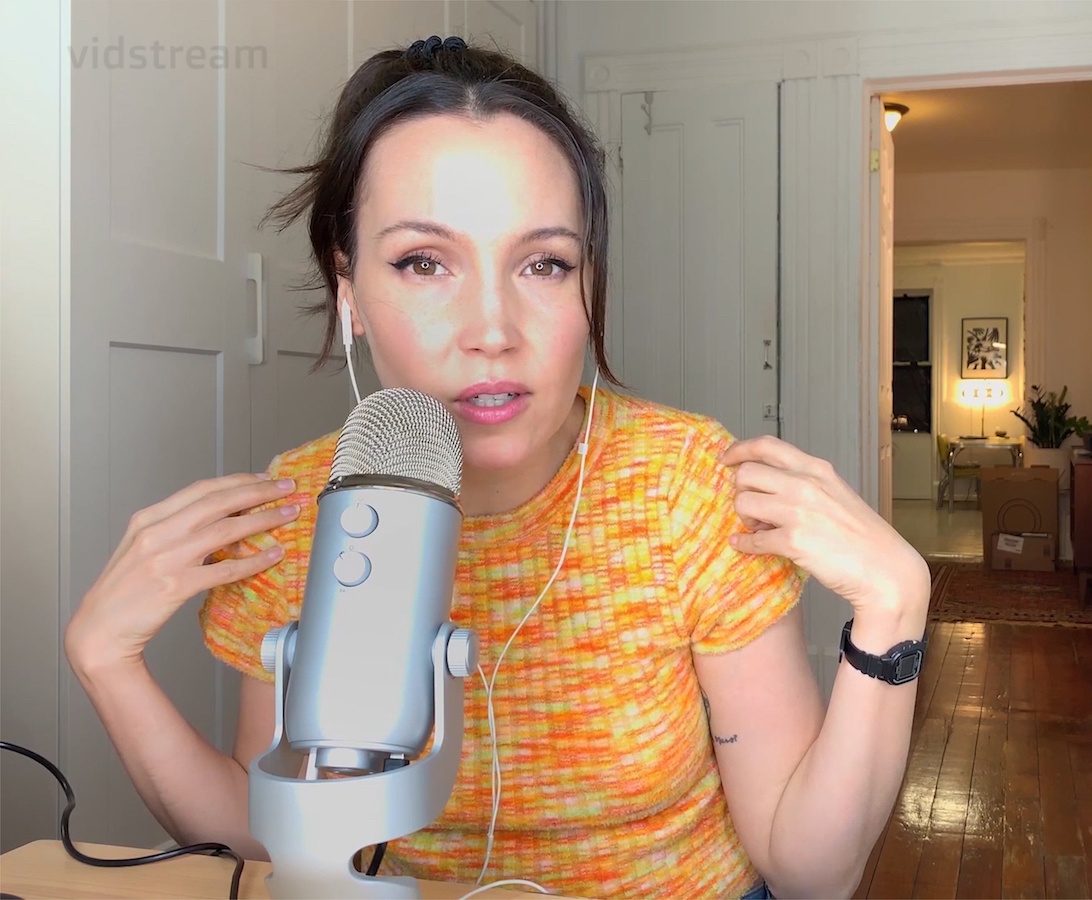 (After a successful film festival run, Alexandra Serio's Tingle Monsters is available on YouTube from Omeleto. Like what you see here on Hammer to Nail? Why not give just $1.00 per month via Patreon to help keep us going?)
ASMR or autonomous sensory meridian response is a neurological phenomena where some people experience a pleasant tingling that begins in their heads and moves throughout their bodies when they encounter certain stimulus such as whispering, wet sounds or tapping. The term was coined in 2010 by Jennifer Allen, who started a Facebook group dedicated to understanding how it works.
People can get 'tingles' from colorless behaviors like tapping fingers, stirring a cup of coffee, or crinkling tinfoil. Some people enjoy role-play videos in which the performer or 'ASMR-ologist' pay close personal attention or whisper, or even guide them through a sexual encounter. While ASMR itself is not overtly sexual, some people triggered by the technique find the heightened sense of connection to the performer often lead to the assumed though often unintended sexual relationship.
Whether the connection is sexual or not, the perceived relationship of performer with audience creates a whisper-thin barrier between the two, unlike the unobtainable nature for most celebrities, even YouTube celebrities.  Maria, aka "Gentle Whispering ASMR" on YouTube, on of the most popular ASMR-ologist gets marriage proposals and offers of dream dates as well as harassing comments for her Russian accent. "ASMR Darling," in now deleted videos, could barely contain fans who wished to rescue her from what they perceived as an abusive relationship with her boyfriend. Ilse, or "TheWaterwhispers," felt hounded by commenters after she opened up about her relationships, with fans telling her what to do, and becoming increasing belligerent when she didn't.
Into this backdrop arrives Tingle Monsters written, directed and starring Alexandra Serio, possibly the first ever ASMR Horror Film. The short, which premiered at genre fest icon Filmquest, captures in realtime, an ASMR-ologist whose livestream feed of a 'tingle' video takes a violent turn, first in the comments section and then on screen. Dee, the star of the vidstream in Serio's film, becomes a prime example of how violence against women usually starts with words.
I had a chance to catch up with Alexandra (I had the privilege of being in the audience for the world premiere) just a few weeks ago to discuss ASMR, her film, and misogyny in the time of 4chan.
"I find that YouTube has really replaced linear television as my kind of GoTo source for information," the writer/director says, "whether it's a 'how-to' or entertainment." At the time of production, she found 90% of her waking life revolved three screens, her computer, her television and her phone.  Her millennial viewing habits eventually led her to stumble on ASMR, which struck her as an incredible phenomenon. "It's a super majority of women that are ASM-artists and they really focus on alleviating digital maladies, which is like insomnia and generalized anxiety. So they really view themselves as healers. And I thought that that was really fertile ground to lay a narrative about how, how we treat women," Serio recalls, "here's these women are trying to help people with all of these digital maladies and they're not inoculated to harassment really."
Although the base medium of ASMR is not sexual, the style easily gives a false impression of a shared experience or even a sexual relationship. "There are very few people that we let within a foot of airspace, and these creators are oftentimes shooting themselves in a super close up," Serio explains, "So you can see pores, you can see lines on their face, you can see the dilation of pupils. I think the fact that they're so vulnerable and exposing themselves to the camera with the hope that the viewer feels privileged to be in that airspace leads to a misattribution of sexuality or intimacy."
If YouTube vloggers telling us about their day-to-day lives leads a viewer to crave even more access, they might end up on ASMR, where their favorite stars might whisper secrets into their ears. Unfortunately, new technology always seems to lead to new ways to make people uncomfortable. Serio describes a piece on regretful 8chan founder Fredrick Brennan, which captured online culture perfectly for her. "When people can hide behind anonymity," she explains, "that's kind of when empathy and all of these human traits are left at the doorway. At the threshold. Anonymity definitely increases the amount of hate speech and violence and kind generalized loss of humanity."
Meanwhile you have ASMR-tists giving their fans unprecedented entry to their lives and face. For Serio, YouTube stars are "the accessible movie stars of today." Many ASMR-tists share their email addresses with fans. "Some of them go as far as texting fans if they feel like they're having hard time or in danger of harming themselves," she says, "it really is a give and take relationship. And that goes back these people viewing themselves as in some capacity a healer or caretaker."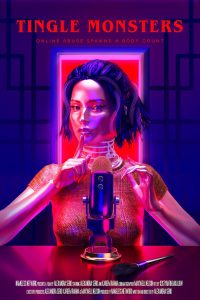 In Tingle Monsters , Dee quickly finds her comment feed hijacked by infiltrators. Serio believes that as a character, Dee would be used to a few hecklers, and even the flat out rude like someone saying "I've seen hotter girls at my Dairy Queen." Where it turns in the film, and for Dee is when the feed becomes hypersexualized. "Women get that for anything," says the writer/director, "we get it for eating a banana in public. When someone's super imposed what she was doing as being overtly sexual. And I don't think that she thought about those terms in those contexts. So it did take her by surprise."
Sadly, part of the process of developing technology seems to be discovering how it can be exploited for harassment. "Tingle Monsters deals very directly with misogyny," she says, "it just seems like as a nation, the worst element always finds ways to infiltrate safe spaces." Serio believes that the first step toward defeating this faction is starting a conversation to acknowledge the world that we live in. "Marginalized groups are always the first to be harassed and harangued to a point where it affects their real world treatment," she says "it's been this way since the beginning of the internet."
Unfortunately, during quarantine, it seems more likely than anything. We may be finding new ways to work, but we are also finding new ways to hurt, much like the zoom-bombing that occurred in the initial days of the pandemic.  "You have like a lot of bored viewers," says Serio, "that aggression has to go somewhere. I mean, it'll always be, it'll always be marginalized groups. That is always their first attack, antisemitism. Any person of color, anyone that is differently abled, anyone that has different gender presentation has had experience with this type of harassment because we are the, we're the first people that are picked off on the internet."
This is just one of the many reasons that, despite a great run on the festival circuit, Tingle Monsters was always meant for the small screen. The sound mix is directional and optimized for headphones. The comments fly by right in front of you, making it much easier to read than watch on the big screen, as well as hold up on repeat viewing. The monitor seems like the right place to watch the film, as it is where we experience streaming content like Facebook Live and other interactive programming.  "It's made for digital audience," she says, "it's really immersive. I think so much back to like linear television, you know, watching shows, like Friends, you can see errors. Like I remember seeing an episode of Friends where Monica's stand-in is actually in a shot. And you could get away with that cause it's broadcast once and then it's done, you know? [Tingle Monsters] does incentivize repeat viewing."
If you finish Tingle Monsters and have trouble sleeping, Alexandra Serio has some ASMR-tist recommendations for you. "I think the gateway creator is really Maria Gentle Whispering," she says, "I think if you wanted to get your feet wet with an ASMR-tist, she's a great place to start.  Personally, my favorite ASMR-tist, is Latte ASMR. The production value of her videos is incredible. She'll make her apartment like a piercing studio or a lash parlor. She really does her research and like the B-roll that she cuts into her videos. It's so incredible."
– Bears Rebecca Fonte (@BearsFonte)