A Conversation with Sophie Hyde (GOOD LUCK TO YOU, LEO GRANDE)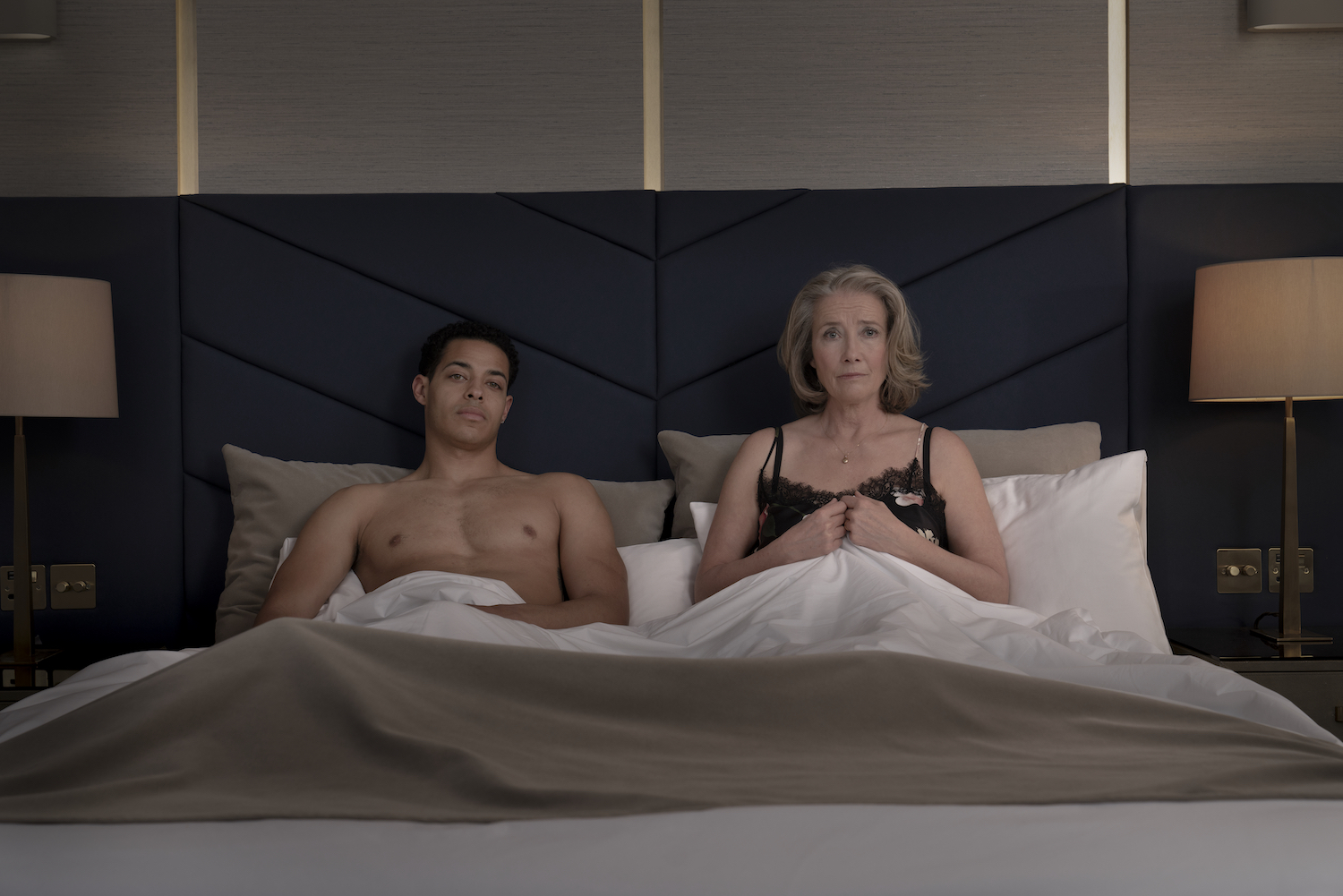 The film Good Luck to You, Leo Grande (which I reviewed out of the 2022 Sundance Film Festival) follows the fumbling misadventures of Nancy, a middle-aged widow who has never had an orgasm, as she works with a younger, male sex worker, the titular Leo, to solve that problem. Starring Emma Thompson (Late Night) and Daryl McCormack (Pixie) as our two main characters, the film is a sex-positive chamber piece that takes place over four separate encounters, during which Nancy and Leo work to achieve their goals (well, Nancy's) while also exploring the emotions that surface as they do so. It's a charming comedic movie with a hefty slice of drama added into the mix for that needed touch of gravitas to make everything resonate well beyond the conclusion. Working off a script by Katy Brand, Australian director Sophie Hyde (Animals) handles the material with skill and wit. Good Luck to You, Leo Grande comes out on Hulu June 17, and ahead of its release I had a chance to chat with Hyde via Zoom. What follows is a transcript of that conversation, edited for length and clarity. Seen the film? Join the conversation with HtN on our Letterboxd Page.
Hammer to Nail: How did Katy Brand's script first come to you? And what made you want to say yes to filming it?
Sophie Hyde: It was the middle of the period where Australia was locked away from the rest of the world. And so I was at home for some time and I got a message saying, "There's this film about a woman who wants to have good sex. She's never had good sex. And so she hires a sex worker and that person is going to be played by Emma Thompson." And I just was like, "Well, that is the perfect Emma Thompson role." I just felt like the concept was really good and Emma's really great, but something about the role together with her, it just felt so perfect and totally irresistible to me. And also the idea of it being mostly set in one room. I was really compelled by that. That seemed like an interesting thing, to strip away everything else and kind of focus on the actors.
HtN: So it seems like a lot of the elements were already in play by the time it came to you. What made the writer and the producers go to you, then? Why do you think they chose you?
SH: I don't know. That's a good question. Truthfully, the script was in a very early stage when it came to me with that concept and Nancy was a character that Emma had really responded to and seen a lot in, but Katy, the writer herself, would say that it was a very, very early, very short draft, a lot of comedy and very similar to the first act of the first meeting. So I guess they were coming to kind of work with somebody that was going to collaborate with them to expand it and to bring in some of the kind of gestural, physical movement-based stuff as well, which is something that I enjoy and have done a lot of on screen. And they had seen my previous film, a film called Animals, which is very different, because it's set all over Dublin, lots of drugs and sex and drinking but, again, about a very strong sort of friendship between two people and the kind of changing nature of that. So sort of intimacy at its core, I suppose.
HtN: Did you suggest any changes to the story after you signed on or make any tweaks to the screenplay?
SH: For sure. I did. In fact I had a conversation with them before I even signed on about wanting it to go further than it did and sort of expanding it. And they were all really up for that. They wanted to do that. So I suggested the fourth meeting—there were only three meetings originally—and I really wanted to bring them back again. And then Katy wrote some really funny scenes with the waitress, Becky. And I wanted a sex scene, and probably the dance scene. There were no sex scenes in the film. Also I think I was really interested in pushing further into the kind of vocational part of Leo's character and him being really good at that. And the orgasm, there was no orgasm, and kind of centering it on the idea of the body. Now, when I say I brought all these things in, that was the conversation between us that brought all these things in. Katy was up for all these sorts of ideas.
HtN: Fair enough. But it sounds like we have you to thank, however, for some of the happier-ending aspects, because if it had ended after the third meeting, that would be a very different movie.
SH: Yes.
HtN: You said you wanted a sex scene and you wanted an orgasm. I just finished watching a documentary at the Tribeca Film Festival called Body Parts about, among other things, filming nudity and intimate scenes in movies. How did you handle this in your film? And did you have an intimacy coordinator, which has now become necessary in so many films?
SH: I love the intimacy-coordinator change that's happened in our industry and I just think it's so brilliant because people have been so abused. I love that actors are like, "This is what I want to do. This is my limit." And directors are like, "This is where I want to go." And then we kind of try and find a place and have another person there that can help with that.
But in this film, we didn't actually have one. We did speak to one and had a lot of great conversations with her, but we felt that the three of us together could be that frank with each other and could set our limitations around this. And I'm a big believer in kind of ongoing consent. So I work in methods that are akin to intimacy coordinators, I suppose, which is an ongoing process of checking in and making sure that someone's still okay. Not just asking once when they want to please you as a director or as an Oscar-winning actress or whatever, do you know? So, for me that was just about being really frank with each other, talking about what we wanted to do, setting up a kind of purpose for the film. And once we found that purpose, it wasn't hard for them to take their clothes off. It became much easier.
And it was also about giving them an out. It was like, "If you wake up on a morning and you don't want to do something you don't need to, we'll change it. If you watch it in the edit suite and you're uncomfortable with it, I have enough material to not put it in. I don't need it to be there even I think it's better to have it there." And I was always really clear creatively with what I thought was best, but I would've removed anything that they wanted me to because I needed them to be in control and also have the freedom to do the best performance. And I think that's how you get it. 
HtN: Speaking of the set, the actual physical set, what cinematic challenges did you face, filming in what is supposed to be a single location? How did you, your production designer, and your cinematographer work to make it not be visually static?
SH: Well, I just had a fantastic cinematographer, Bryan [Mason], who's also the editor, and Miren [Marañón], the production designer, and you're right, the three of us just worked really closely to kind of map out the space and what it would look like. And I sent them more challenges because I was like, "Neutral color palette," which is really hard to film. And then I was like, "Massive window and I want it to be daylight on them and I want the light to be in almost every shot." So you noticed a lot of the film shoots into the window, which is really tricky, and they also put a lot of lights around the space, as well.
And so it was just like, "Let's use this part of the space for this bit." And we start really sort of static and we are watching in a much more kind of composed traditional way in the early stages. And as they free up, the camera kind of starts to move around them a lot more. And then by the third meeting we are handheld and they're very intimate and that turns into conflict. And handheld works really well for both of those things. And so it was a kind of cinematic progression and we had a fantastic composer. But also our secret weapon was our sound designer who built this whole world and sort of took it away and brought it back in.
Basically I think those people, that creative team, were working really delicately with stuff that was very thankless in some ways, since they're not noticeable, their skills in it, but I feel like they just worked incredibly well to help do that. And then of course you have the beautiful thing of there's a lot of dialogue, but then you get to do nonverbal stuff and suddenly the landscapes of their bodies become really present on screen. And bodies and faces, they can be just as gorgeous as a big sweeping vista.
HtN: So what about Daryl McCormack? You said Emma Thompson was on board when you were approached, but when did Daryl McCormack become a part of this?
SH: He came in quite late and it was an amazing process to be able to look at all these great young British actors, and actors from all over the world, actually. And we knew that we needed somebody who would bring something, but we also knew that we could shift and change the role a little bit as he came in. And when we met Daryl there were these layers to him that felt really interesting to us, his physicality, his kind of gentleness, and his sort of movement quality, and his accent and he's mixed race and Irish at the same time.
And all of that brought another dynamic into the room and he seemed very good … but he was quite new.So it felt a bit of a risk, since to go up against Emma Thompson is pretty intense for anybody in a two-hander, but once Emma had met him and felt that the chemistry was right, not just sexually, but in terms of how they would work together, we started working and I just felt really grateful to have him. I feel like he expanded the role out a little bit and he just sort of … He's got some qualities that are very similar to Leo, this sort of generosity of how he meets people and that really helped us. And also he just worked really, really hard. And so did Emma to learn it all and get it ready to shoot that quickly.
HtN: Well, I had never seen him before, but I now want to see him more. So, I really like how the film is both sex positive and sex-worker positive. Are these some ideas that have always been important to you? Or was this a new thing that you were just taking on for this movie? 
SH: Sex positivity has always been important to me. I wish that we were more frank about sex. I wish we recognized how valuable it can be in our lives. And then I've always been intrigued and interested in people who can kind of create intimacy. And as a director, I think professional intimacy is what I trade in, as well. So there's a familiarity I relate to in that kind of character. And I guess the work that I then did working with sex workers and listening to them expanded that idea and made it more interesting to me. I was very aware of the unique skill of walking into a room and seeing another person who's weird and has insecurities and is being all of the weird human things that people are and still offering them a kind of service and trying to work out what it is that they need. I think, "Wow, that seems like it would take a lot of training." And yet there are all these people who seem to be very good at it in the world. I feel like we've seen so few versions of it on screen.
HtN: I want to thank you so much, Sophie, for talking to me and for making the film. Good luck with its release!
SH: Thank you so much!
– Christopher Llewellyn Reed (@ChrisReedFilm)
2022 Sundance Film Festival; Sophie Hyde; Emma Thompson; Daryl McCormack; Good Luck to You, Leo Grande movie