GOOD LUCK TO YOU, LEO GRANDE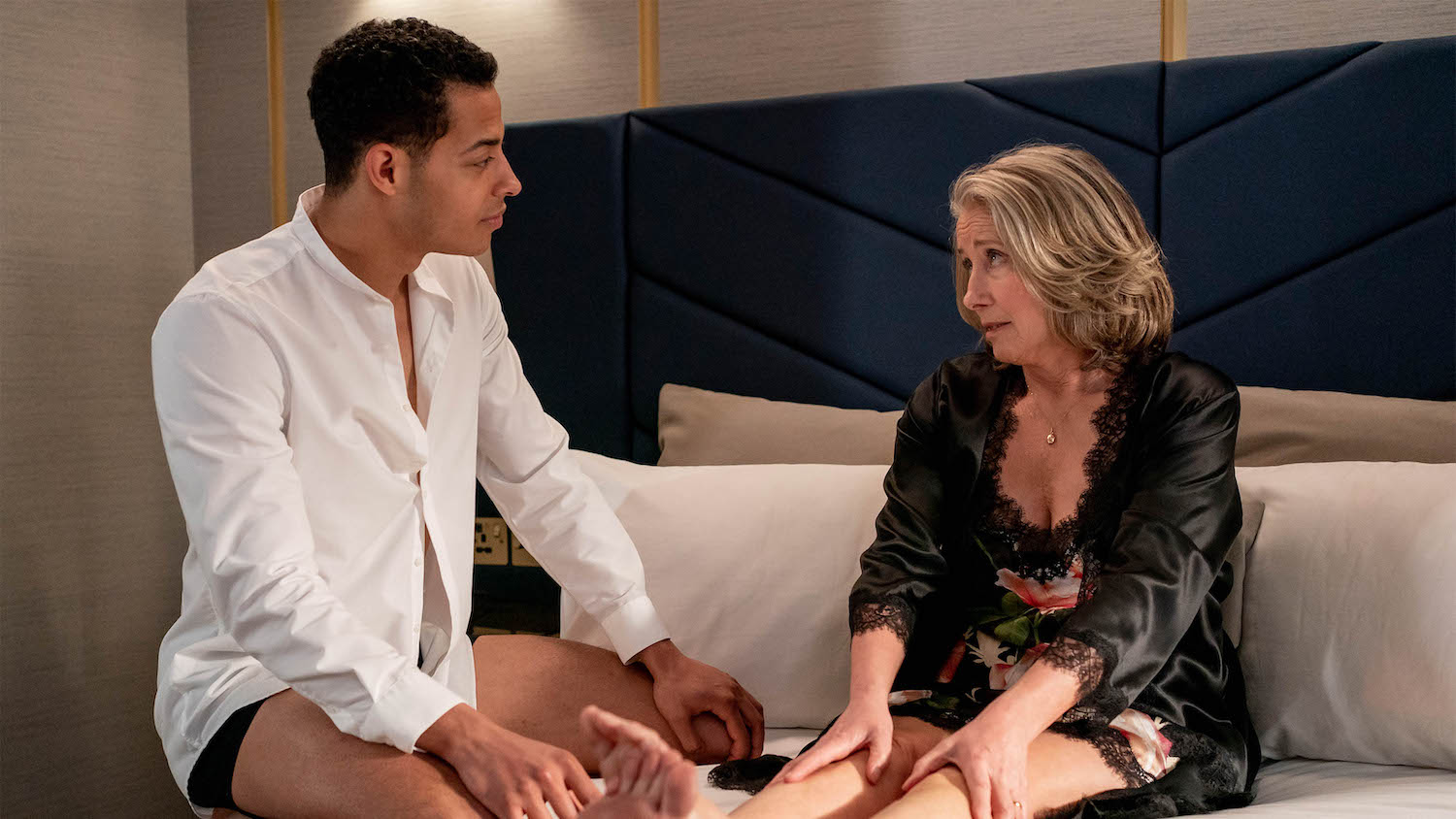 (The 2022 Sundance Film Festival runs January 20-30 all virtually.Check out Chris Reed's movie review of Good Luck to You, Leo Grande. Like what you see here on Hammer to Nail? Why not pay just $1.00 per month via Patreon to help keep us going?)
Though Good Luck to You, Leo Grande feels very much like a stage play, set as it is almost entirely in a single hotel room, the close-ups and differing angles on its two principals' expressive faces offer enough engrossing visual elements to keep us cinematically entertained. Beyond that divertissement, there is dramedy at the center— sometimes heavy, sometimes light as a feather—centering on the protagonists' sexual and emotional pas de deux. And though the dialogue, often the case in chamber pieces, can veer towards the excessively expositional, the truths spoken break through the limitations of space. In addition, the film further distinguishes itself with a profoundly sex-positive, and sex-work-positive, narrative that gives stars Emma Thompson (Cruella) and Daryl McCormack (Pixie) a chance to bump, grind and, of course, shine.
Director Sophie Hyde (Animals), working from a script by Katy Brand, first introduces her characters solo, Thompson's Nancy (not her real name) arriving in the aforementioned location while McCormack's Leo (not his real name) loiters in a café. At the appointed time, he makes his way to the hotel, where a very anxious Nancy awaits. A relatively recent widow, she has hired him for the evening to help her explore what she has never had: good sex. Or rather, any kind of sex beyond wham-bam-thank-you-ma'am missionary. And let's not even talk about an orgasm, something she has never experienced, nor expects to. Before life passes her by, she wants a sexual experience, or experiences, to remember, and not from among the widowed and single men of her own age. No, she wants a young body. Enter Leo.
Confident without being cocky, and very sweet, he appears an expert at setting clients at ease, nothing able to faze him. And he genuinely likes people. He is also very handsome and well-built, exactly what Nancy was hoping for, though it's a little too much for her, at first, and she balks. He calms her down, then she balks again. Over the course of their conversation, we learn a little bit about each, then a little more. Part of the great charm of the movie is the way Brand's screenplay and Hyde's mise-en-scène keep us on our toes (even when the exchanges are a little too on the nose), defying expectations of what will happen next. Just as we think we know what's coming, they switch it up.
There are four encounters in total, as Nancy attempts to expand her repertoire while Leo does his best to please (while maintaining boundaries). Their relationship changes over time, even though Leo, a consummate professional, is more guarded in what he reveals about himself than is Nancy. Or so he thinks. Eventually, as in all good plot-driven stories, conflict between the characters reaches a boiling point, leading to an ultimately satisfying, if somewhat pat, final resolution.
Both Thompson and McCormack deliver exceptional turns, baring body and soul, as needed. Fearless, they make the awkward moments work, and the exceptional moments work even better. Given the number of movies made about men hiring sex workers, it's nice to see this kind of exploration, too, made both without judgement and with a good deal of humor. So lie back, relax (or whatever you prefer), and let Leo work his magic. It's a bargain.
– Christopher Llewellyn Reed (@ChrisReedFilm)
2022 Sundance Film Festival; Sophie Hyde; Good Luck to You, Leo Grande movie review