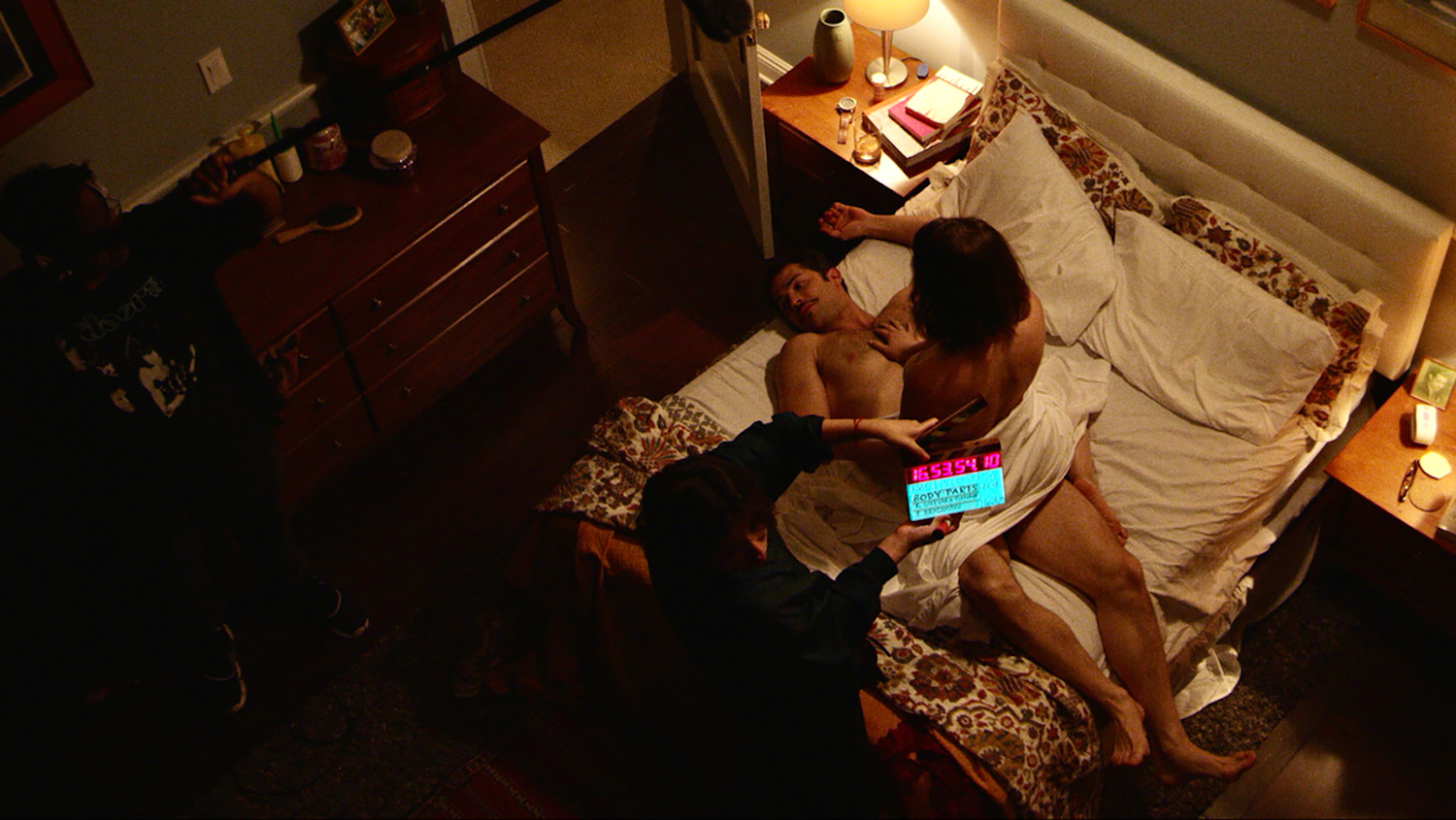 (The 2022 Tribeca Film Festival runs June 9-26 both online and in-person. Check out Chris Reed's movie review for Body Parts. Seen it? Join the conversation with HtN on our Letterboxd Page.)
In the aftermath of both the #TimesUp and #MeToo movements, Hollywood studios (and, to a lesser degree, their indie counterparts) have been forced to confront the horrendous legacy of sexual harassment and assault of their all-too-recent past (and ongoing present). Though much work remains to be done—not only in the arena of gender discrimination but that of race, sexual orientation and beyond—there is at least an understanding, more publicly discussed than before, of the nature of the problem. Still, the male gaze and male prerogative are so dominant that they won't go quietly, so perhaps a mirror will help them recognize themselves. Enter the new documentary Body Parts, from Kristy Guevara-Flanagan (Wonder Women! The Untold Story of American Superheroines). The powerful reflection it shines back on the industry should make all abusers shudder.
But first, do you know what a "merkin" is? I confess I did not, though the term is hardly new. It's a wig made to cover the pubic area, typically worn by women. So, lascivious fool, next time you think you know what you see, think again. And learn some respect, why don't you! In any case, that word is one of the gentler facts we learn about in the movie. Much of what else we see and hear is far more disturbing.
Still, thanks to a vibrant cast of actors and other film professionals, the information is presented in an extremely compelling way, no matter how horrifying. On the acting side, we hear from the likes of Rosanna Arquette, Alexandra Billings, Jane Fonda, Gloria Hendry, Michelle Krusiec, Emily Meade, Rose McGowan, Sarah Scott, Sally Tither-Kaplan, and DeWanda Wise, among others, representing solid diversity across multiple demographics, including that of generations. Directors and writers such as Karyn Kusama, Angela Robinson, Stacy Rukeyser, David Simon, Joey Soloway, and Jessica Yu join in with their thoughts, too, with additional input from critics and historians, including Stephane Dunn, Mick LaSalle, and Linda Williams. In short, there are a lot of voices here, all valuable to the conversation.
Beyond the easily identifiable outrages are the many microaggressions and behaviors that once seemed tolerable (to the larger culture) or just part of paying dues (to those who suffered through them). And Body Parts further examines how the onscreen treatment of women, especially as it concerns nudity and sex, affects how other women feel about themselves and how men feel about (and treat) women. Media is a powerful teaching tool and not all the lessons learned are positive.
In addition to my discovery of the merkin, I found similarly fascinating the intimacy-coordinator classes and the history of how they came to be. I did not know that it was Emily Meade, on David Simon's HBO series The Deuce, who first asked for someone to be hired to help guide actors and directors in that show's many sex scenes. The producers listened, and now there are more and more such positions on set. Hurray for that!
Unfortunately, that is just one of many steps we need to take as a society to solve the pervasive issues here outlined. We have come far from when a young Rosanna Arquette could be casually asked by director Blake Edwards, filming his 1981 S.O.B., to take off her shirt for a new take and then fume while she checked about the propriety of that with her agent. Or have we? Time will tell, but thanks to a documentary like Body Parts, it's all out in the open. Knowledge is power. Vive la révolution!
[In the interest of full disclosure, I know Helen Hood Scheer, the film's producer.]
– Christopher Llewellyn Reed (@ChrisReedFilm)
2022 Tribeca Film Festival; Kristy Guevara-Flanagan; Body Parts documentary movie review