TRIBECA '15: SUSANNA LOCASCIO'S WRAP-UP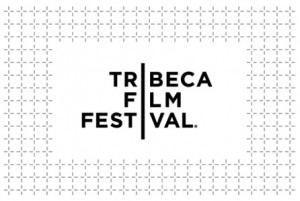 It seems the center of gravity of the Tribeca Film Festival has shifted again. I think I harp on the geography because it's such a rangy festival. It spans neighborhoods, and also a variety of films and experiences, from free community screenings to highly guarded VIP galas. It seems a little unclear how the different programs fit together but there's definitely a lot being offered, and my strategy is to play to the festival's strengths. The panels are always a good bet, and the ones I attended, a Producers Panel and James Schamus interviewing Cary Fukunaga, didn't disappoint. I was also excited about Storyscapes, a curated program of immersive projects selected by Tribeca programmers in tandem with the Tribeca Film Institute. I'm a big fan of TFI, and the work and investment they put into innovative projects year-round is impressive. But I'm sad to say this Storyscapes program was a disaster. I wanted to experience it not at the private press preview but with an actual audience (silly me!), which meant I didn't get to experience it at all. After making an online reservation ahead of time I still had to wait on a long line, and once we got inside we were shut out of one exhibit completely due to time restrictions, two others were inaccessible because the internet was down, and a fourth was inaudible over the buzz of the crowd. Guess what was working? The elaborate and excessively staffed cocktail bars provided by the booze sponsor.
Speaking of money, one hundred dollars for a partial-view mezzanine ticket to an anniversary screening of Goodfellas?! The choice of the uptown Beacon Theatre as a venue baffled me until I realized the Madison Square Garden Company now owns both "properties," the theatre and a large stake in Tribeca Enterprises. No matter – I'll go see Goodfellas at the Film Forum in June for thirteen dollars, thank you very much. But I'm kvetching. Part of the charm of Tribeca is diving into the diverse programming and discovering my favorites, and each time I'm surprised and impressed by a handful of great films. This year documentaries were strong as usual, from intimate stakes between family members to the global stakes of a nation fighting for its future. And there were beautiful fringe discoveries, including an experimental art film and an exciting sci-fi debut feature. I found a lot to enjoy at the 2015 Tribeca Film Festival, and here are some of my highlights.
The Wolfpack (Crystal Moselle, 84m) — Director Crystal Moselle discovered the Angulo brothers after a chance encounter on the streets of New York's lower east side. It's easy to see why – the striking brood of boys have long dark hair, intense gazes, and dress like Tarantino gangsters. Which turns out to be not far from the mark. The Angulos are devotees of some unspecified religion (and the personal ideology of the strict, sexist father), which in practice meant the parents raised their seven children in isolation in a small apartment in Manhattan. The children were homeschooled and forbidden from going outside (the boys recall years where they only left their apartment once), and to cope they turn inward, letting their imaginations fill in for reality. They grow up in New York but are not of it, until teenage rebellion pushes some of the sons to challenge their bullying father.
When Moselle catches up with the Angulo boys they have already broken free, so she builds the earlier narrative out of archival home videos. Lucky for her the brothers are obsessed with movies and capture much of their "life" inside on tape, including elaborate, costumed reenactments of iconic scenes from their favorite films. Tarantino figures heavily, as does Batman, and their shelves are lined with classics like Casablanca and Blue Velvet. We experience the texture and charm of their everyday life, filming reenactments, making pasta for dinner, even celebrating a bizarre indoor Halloween complete with foliage and burning candles. My favorite sequence is a trip to Coney Island that ends with the boys wilding out to Baltimora's 80s song "Tarzan Boy." But I didn't realize how claustrophobic and distressed I was feeling until the boys start venturing out and claiming their own lives. I do wish Moselle had probed deeper. The boys recount their emotions and experiences from somewhat of a distance, even when talking about one son's brief stay in a mental hospital. Moselle doesn't push them, leaving many questions about their difficult upbringing unanswered. Perhaps they'll answer those questions in their own films someday.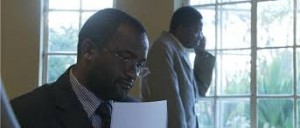 Democrats (Camilla Nielsson, 100m) — I was floored by Camilla Nielsson's Democrats. Filmed over the course of three years, the documentary details Zimbabwe's fight to transition to a constitutional democracy. Under the authoritarian rule of "Comrade" Robert Mugabe for decades, a contentious 2008 election forces Mugabe and his ZANU-PF party to face the challenge posed by opposition leader Morgan Tsvangirai and his Movement for Democratic Change (MDC). Nielsson's film follows negotiations between the two parties to write a new constitution with the involvement of the Zimbabwean people.
Nielsson efficiently sets the stage with a crisp montage and clear presentation of facts, then focuses her story on the constitutional committee led by ZANU-PF representative Paul Mangwana and MDC opposition negotiator Douglas Mwonzora. Her greatest skill is her power of observation (Nielsson's background is in anthropology as well as documentary filmmaking), and I was extremely impressed by her ability to be so fully present and dedicated to the story without inserting herself into the film. Though subjects often address the camera directly, Nielsson gives agency back to the world she's documenting, a generosity of spirit that I rarely see in films with similar subjects. Nielsson has quite a hero in Mwonzora, an eloquent and principled attorney forced into increasingly difficult and dangerous negotiations by the devious Mangwana. It reminded me a little of The Act of Killing in the way ZANU-PF members wield semantics to their advantage and hide their capacity for violence behind charming smiles and dark sunglasses. Democrats is a riveting first-hand experience of the tensions of diplomacy and a powerful statement on the audacity of hope. As an American I found Nielsson's film disturbingly resonant.
Ma (Celia Rowlson-Hall) — I've already written at length about Ma, Celia Rowlson-Hall's experimental take on the Virgin Mary's story. Ma was a work-in-progress screening held at the dome at MoMA PS1 in Queens, which is a far-flung Tribeca event to be sure. But it was a festival highlight for me, and I hope they continue to program such events in the future. A silent film that is anything but quiet, Rowlson-Hall weaves the deserts, motels, roads, and casinos of the Southwest into her allegory. The rich world is filled with intensity, the striking imagery matched by an evocative musical score. Rowlson-Hall plays the lead of Ma herself, and surrounds herself with expressive actors, including a wonderful Andrew Pastides as her partner Daniel (Amy Seimetz, Kentucker Audley, and Peter Vack also play supporting roles). But nothing can top Rowlson-Hall's unique performance that flows from choreography to catharsis and back. Rolwson-Hall had a lengthy conversation with artist Shirin Neshat following the screening, and hearing the filmmaker and her team of collaborators talk about the production added layers to the experience.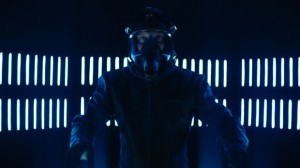 Jackrabbit (Carleton Ranney, 101m) — I'm told Austin, Texas is the fastest growing city in America, full of California transplants driving up real estate prices and causing traffic jams. Which makes it all the more impressive that modern Austin is unrecogonizable in Carleton Ranney's time-bending science fiction film Jackrabbit. After a catastrophe called The Reset, people are marooned in a strangely fixed world, the city empty and lonely, the atmosphere corrupted. This isolation extends to technology – Ranney's version of the future is dirty and ragged, held together by duct tape, snarls of cables, and MS-DOS. When their friend commits suicide and leaves cryptic clues behind, a hacker and a corporate computer prodigy team up to figure out what went wrong. Jackrabbit is a bold debut feature in many ways, but Ranney's strongest move – after casting Ian Christopher Noel as the enigmatic hacker, and the film's fantastic production design – is not underestimating his audience, letting the plot loop and bypass causality. The jittery score by Will Berman of MGMT also perfectly complements the story.
We Live This (James Burns, 10m) — "It's showtime, ladies and gentlemen!" This catchphrase cues an acrobatic subway train performance any New Yorker and pretty much anyone who's ever visited the city will recognize. James Burns' empathetic documentary short is about a group of boys from the projects who dance on the trains. Their grace and style is on display, though Burns is just as interested in who they are when they're not performing, or as one boy puts it, "begging for money without words." Like a Humans Of New York post in motion, the stylized film has a dreamy tone and rhythm, accentuated by the lighting and slow-motion cinematography.
Stop (Reinaldo Marcus Green, 9m) — I know Stop was already recognized by HTN, but it's worth calling attention to Reinaldo Marcus Green's film again. In a tense nine minutes Stop does so many things well by keeping it simple. No histrionics, no flashy camera shit, just human drama, told with elegance and anger. Too many filmmakers strain the boundaries of short films by cramming in everything they can. Green coolly allows this to be a story about what doesn't happen, about the narrow misses in life, and it's all the more haunting because of that.
— Susanna Locascio