Amazon Studios Fights for Voting Rights with new Stacey Abrams Doc & Impact Campaign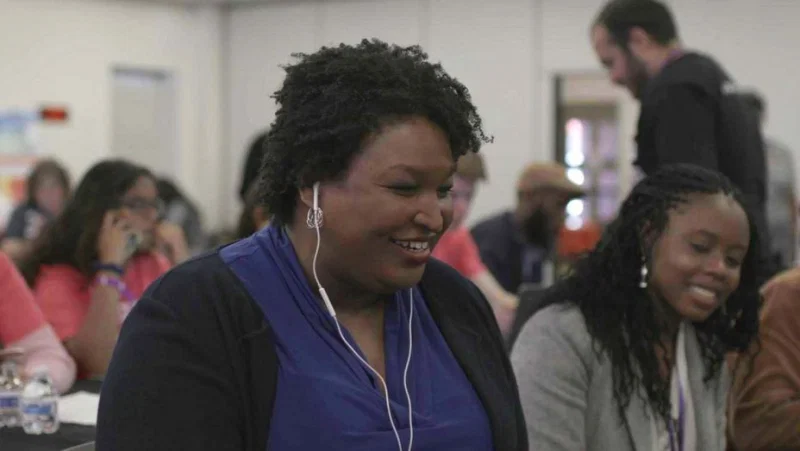 Amazon Studios announced this past Sunday that their upcoming documentary All In: The Fight For Democracy will be opening in select theaters on September 9th ahead of its release on Prime Video September 18th. The announcement was made just 100 days before the 2020 Presidential Election on November 3rd. Directed by Oscar nominee Liz Garbus (What Happened, Miss Simone?) and Lisa Cortés, (All In) examines the issue of voter suppression in the United States ahead of this year's election from the perspective of Stacey Abrams, the first black woman to become the gubernatorial nominee for a major party in the United States and founder of the voter suppression advocacy group, Fair Fight Action.
Abrams serves as a producer alongside Garbus, Cortés, and Oscar-winner Dan Cogan (who is married to Garbus). The documentary will examine the laws and barriers to voting that most people don't realize exist, and that could potentially threaten their rights as U.S. citizens. Abrams lost the 2018 Georgia gubernatorial election to Brian Kemp by 50,000 votes, after it was revealed Kemp purged 560,000 names of the voter rolls.
A joint statement by Garbus and Cortés said, "With 100 days left until one of the most important elections in American history, we are thrilled to officially announce All In: The Fight for Democracy, which will tell a powerful and harrowing story of the fight for the right to vote as well as arm citizens with the tools they need to protect this right. The film will be accompanied by an ambitious and visionary action plan to reach voters and educate them across the nation."
In a statement of her own, Abrams said, "Today, we are 100 days out from Election Day –  a pivotal moment in our mission to protect our democracy — and we need to come together as a country and make sure every voice and vote is counted. "The title All In: The Fight for Democracy speaks to the importance and necessity that every American has the right to have their voice be heard and their vote counted. We know that if our votes were not important, so many folks wouldn't be working so hard to take our right to vote away."
Ahead of National Voter Registration Day on September 22nd, in coordination with the All In: The Fight For Democracy film release, the filmmakers and Amazon Studios will launch #ALLINFORVOTING, a social-based impact campaign along with nonprofits, grassroots organizations, corporations, artists, and activists to release digital content to combat misinformation about the voting process. It will also launch targeted campaign programming to educate and register first-time voters, and train citizens on how to recognize and report voter suppression.
All In won't be the first documentary to cover voter suppression ahead of the Presidential Election. Last year, the documentary Rigged: The Voter Suppression Playbook, now streaming on Amazon, was shown in free screenings across the U.S. to educate people on the titular issue. Narrated by Jeffrey Wright, the documentary explores voter suppression through the nine factors that contribute to it, among them are gerrymandering and voter purging. Earlier this spring, Magnolia and Participant Media released their documentary Slay The Dragon, which highlights the grassroots campaign to ban partisan gerrymandering in Michigan. It will also be streaming on Hulu August 6th. Magnolia is also set to release The Fight this Friday, July 31st, that follows four ACLU lawyers, one of whom (Dale Ho) successfully challenges the inclusion of a citizenship question on the Census.
As we get closer to the U.S. Presidential Election, there is no better time to watch these documentaries. Each of them reveals firsthand the loopholes and barriers that interfere with a citizen's right to vote, which may be a big issue this November if the voting populace is not properly informed. All In, Rigged, and Slay The Dragon are vital to fully understand the difference voting can make, and why the right to do so is necessary to protect.
– M.J. O'Toole