LOVE WILL TEAR US APART by Noah Buschel
Gray Madder died the other night. There will be no big funeral parade. Some of his union buddies will have some drinks. Some of his punk rock bandmates will mess around on their guitars and reminisce. Gray was in the film industry. Gray worked art department. Gray did some acting. Gray was the picture car coordinator on The Place Beyond the Pines. He lived a life in movies, but he was no Dame Judi Dench. He was something else.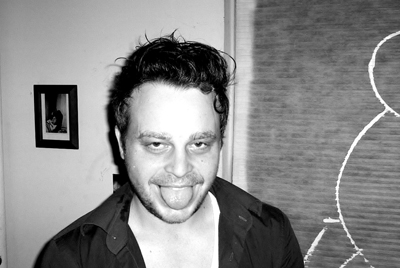 I met him at the casting director Lori Eastside's place on the Bowery about ten years ago. Gray was a struggling actor. He sure looked like an actor—like an actor from the '50s Stella Adler universe. He was gruff, low to the ground, tough—but with big flirtatious, almost feminine eyes and a loving rascal grin. He was raised in Alaska and Texas, fresh to New York, with big dreams. Mike Pitt, already a movie star, was hanging around Lori's too, and everyone would tell Gray how much he looked like Mike and reminded them of Mike. It seemed like Gray was in the right place. And still in his mid-twenties, at the right time. His name really was Gray Madder.
He trained in acting with Maggie Flanigan, the Meisner technique. He took the craft of acting very seriously. He loved Klaus Kinski, Brando, and Lon Chaney. Towards the end of Gray's life he talked to me the most about Lon Chaney. About the loneliness Chaney could convey without words. That meant a lot to him. New York can be a scarily lonely place. Especially if you're a struggling actor with no family near, living in the Bronx, in an abandoned castle.
But I don't want to paint him as a derelict prince, although as I write this I can feel him smiling over my shoulder and nudging me to romanticize him. Oh Gray, let me be, let me be. He was/is so easy to romanticize. He had a knack for showing up on his motorcycle (his father was a Hell's Angel) and making just enough noise to piss off whatever discreet street it was. Gray was a brilliant provocateur. He was so perceptive and intelligent—he could see the big hypocrisy of a situation and cut right through it with a tiny gesture.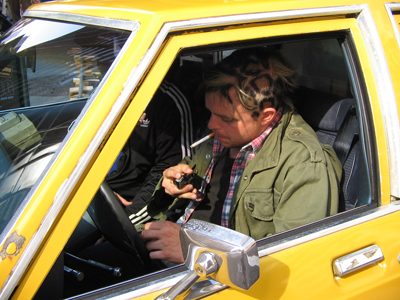 One summer night we were down in the East Village and Mike Pitt's band had just played a show. Mike Pitt came out of the club with his ripped up t-shirt. Pitt seemed carefully disheveled, a young film star as vagabond. Meanwhile Gray, who also has a band playing on that street, who is also an actor—but by no means has made any money at all and really is living like a vagabond—he crosses the street to Mike Pitt and leans over to Pitt, and ever so delicately rips one of the holes in Mike's T-shirt just a little bit wider. Then Gray smiled a big Cheshire smile, and said, "Perfect!"
Fuck, am I romanticizing you now? I am, aren't I? But it's all true. Should I balance it? Should I talk about the bitterness of an actor who goes in for audition after audition after audition and never quite gets that break? Should I talk about the indignity you felt? The anger and depression and isolation of wanting to be part of a world that you see through. No one saw through the ridiculousness of the film industry more than Gray Madder. And no one wanted to be in it more. He had a lot he wanted to say as an actor, as an artist. He had a lot of anger to get off his chest, and a lot of wisdom and compassion too.
His misadventures in the New York film world read like a who's who of who's hot. A short film he was gonna star in, called Mr. Softee, was set to be directed by a just outta college Lena Dunham—but when she showed up and saw Gray standing there with a camera, a Mister Softee truck, and no crew—she pretended to get sick and bolted. And who could blame her? (Well, Gray could.)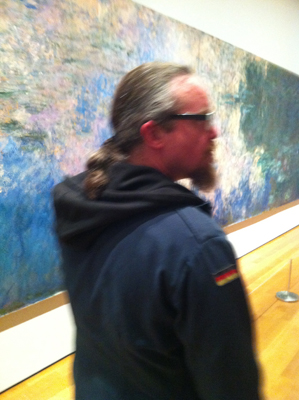 Somehow eventually Gray moved from the Bronx to Brooklyn, Red Hook. And instead of auditioning and getting turned down again by the casting director Avy Kaufman or some other casting director who 'liked his look and energy' but could never quite find the right role—Gray decided to be practical and make some money. He joined the union and took long-hour film crew work. It was a good job for him in the sense that he never needed much sleep and could work around the clock. And the money was good, and the time off between gigs was good. He would go skydiving, or go to Paris, or take long trips on his Harley listening to Joy Division's "Love Will Tear Us Apart." He painted limited edition skateboards for Bustin Boards and was a fine longboarder himself. He remixed his band's last album. The band was called Lower 48. He adopted a beaten dog—Maya. Sometimes Gray's tenderness and sweetness stopped me in my tracks.
His heroes, if he had any, were often obscure. Guys like Dick Lucas, the vocalist for the Subhumans and later, Citizen Fish. Punk rock was his thing and if you mentioned Joe Strummer or The Clash he would you set you straight about where it was really at. Bands I'd never heard of. He coulda written a book on Punk Rock without looking anything up. That's how knowledgeable he was on it.
Gray's band Lower 48 was excellent when they could get it together to play. If you wanna hear jingly jangly careening jubilant unsettling stuff—find Lower 48's "Escamoso." Or even better maybe—perhaps their masterpiece—"Hypnotized." If Alex from A Clockwork Orange was a punk singer, he might've sounded a lot like Gray Madder.
Anyways, he died the other night in his apartment on Pioneer Street, at 36 years old. Details are still coming in, but it wasn't a suicide or even an accidental overdose. He'd just been pushing himself so hard for so long, and I guess he was a little bit tired. I think of all the times I saw him ride off into the night at 3am in the rain on his motorcycle. I guess I kinda thought he was invincible. Maybe he did too.
Gray alienated a lot of people. He rubbed a lot of people the wrong way. His love relationships generally ended badly. He had falling outs with a good portion of his friends. He liked to drink, he liked to smoke, he liked to cause trouble—and push and push and push. He could be extremely needy and defensive and on edge. Sometimes it was like being with a pot of barely contained boiling water.
But… but… but! Let me say this to the four people still reading this piece. And let me say it to Gray and to myself and to whoever: He was extremely curious about this universe, this mind, whatever this is. He was very, very curious. And being with him helped me be curious. He was the most fun and adventurous person I ever met. He wanted to wake up. He didn't like false comforts or false anything. He didn't have time!!!!!
Okay, Gray?
— Noah Buschel