WILLIAM LUSTIG PRESENTS…
2010 Edition
(William Lustig Presents takes place from August 12-20, 2010, at Anthology Film Archives. Unfortunately, many of these titles are unavailable on home video, which is why it's so important that you check them out if you're in the New York City area. Go here for the schedule and film descriptions.)
Last year, one of the most fun weeks to be a card-carrying member of NYC's repertory film scene took place during the second week of August at Anthology Film Archives, where William Lustig, cult filmmaker (Maniac, Maniac Cop), underground label head (Blue Underground), and grindhouse expert, dug into the vaults to present a series of lost B-movie gems from that wondrous anything goes decade of the 1970s. My own personal revelation was Peter Hyams's Busting, though I also enjoyed, to varying degrees, Richard Compton's Welcome Home, Soldier Boys, Richard Rush's Freebie and the Bean, and Jacques Deray's The Outside Man. I can't remember now why I had to miss the program's main event, John Flynn's Rolling Thunder, but I did. Either way, it was a great week. But what was even greater was receiving a press release last month that confirmed Lustig was returning this year with a second installment.
This year's batch is another promising, virtually-impossible-to-track-down collection. There are ten films in all, many of which celebrate the work of actors Jan-Michael Vincent and Jean-Paul Belmondo (J-hyphen Movie Stars!) during this period. Here are some thoughts on the films that I was lucky enough to pre-screen at Anthology a few weeks ago.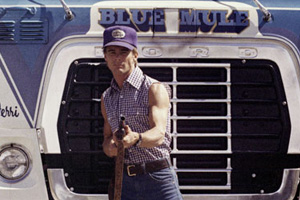 White Line Fever (Jonathan Kaplan, 1975) — Four years before Over the Edge, Kaplan directed this action drama starring Vincent as Carrol Jo Hummer, a soldier who returns home only to face a new war when he realizes how corrupt the trucking industry has become. While there are certainly no groundbreaking story-lines here, Vincent is his usual charismatic self and the '70s atmospherics—including Slim Pickens, Martin Kove, and, yes, by God, many camera zooms—serves up a tasty enough dish.
Defiance (John Flynn, 1980) — This Vincent vehicle is impossible to take seriously, as it crosses into I'm Gonna Git You Sucka self-parody terrain. Vincent plays a charming ship-worker who's forced to set up anchor in New York City until a new job presents itself, but while biding his time he gets caught up in the crossfire of his local neighborhood's gang. If you ever wondered what would have happened if Prince had been cast in The Warriors, then this is the movie for you! Defiance is best left for those true fans of this era/genre, but it has its moments if you're watching with the appropriate goggles.
Machine Gun McCain (Giuliano Montaldo, 1969) — Overdubbing aside, this is one very tough little crime movie (think Ocean's Eleven meets Husbands). Recently released prisoner John Cassavetes—he being Mr. McCain, if you couldn't figure that out—tries to pull off a big score on the casino that crime boss Peter Falk is now controlling. Though Cassavetes finds a partner-in-crime in the beautiful Britt Ekland (the scene in which he woos her is hilariously machismo), he also reunites with real-life partner Gena Rowlands in the third act to make things more Cassavetesian than they already were. Definitely worth checking out.
The Town That Dreaded Sundown (Charles B. Pierce, 1977) — If David Fincher wasn't directly inspired by the opening scene in this movie for his Zodiac opening, I would be very surprised. Pierce's film recounts the true story of the "Texarcana Moonlight Murders" that plagued Texas in 1946. While The Town That Dreaded Sundown looks incredible and features some genuinely arresting moments, it also suffers from the problem of tossing too much slapstick comedy into the mix (ala the original Last House on the Left). Still, this nearly 25-year-old film rightfully belongs in the horror movie canon. If you're a aficionado of that genre, don't miss it.
What makes the William Lustig Presents series so enticing is that even if a movie doesn't blow you away—or even worse, it's an outright dud—it's unequivocally more fun to watch older duds like some of these than to suffer through the crappy modern ones that continue to constipate multiplexes every Friday.
— Michael Tully