Filmmaker Reflections – The 2000s: Vol. 5
(If you haven't already, please be sure to check out Filmmaker Reflections – The 2000s: Vol. 1 for a series explanation and to read the first batch of reflections.)
Filmmaker Reflections – The 2000s: Vol. 5
The state of American independent filmmaking has become like the cereal aisle at Whole Foods… a lot of Flax and Fiber and not much of anything fun or potentially hazardous. It's important to be important. But there's a lot of responsible folks who still like a little bit of sugar in their bowls. Finding the oasis that is Funky Forest: The First Contact in a desert of critically acclaimed health food products is enough inspiration to last another decade.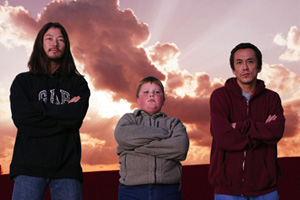 I had the pleasure of seeing this at the now-defunct Imagin-Asian theater in New York, which had the EXACT same feel and smell as the now-defunct Drexel North theater in Columbus, Ohio where I built my independent film education growing up (both are now CVS drug stores). Twelve people were in attendance for the show on a Saturday evening. Time Out New York had given it a 1-star review, calling it "a disastrously misguided string of recurring sketch comedy, vaudeville slapstick, phallocentric body-horror grotesqueries, schoolgirl fetishes, dance breaks and flights of astro-fantasy" and the film's 3+ hour running time was also a blessed strike against it for most folks. All aspects of an epic disaster were in place, but Lord Almighty did the stars (or star, in Time Out's case) align—Funky Forest was everything I wanted it to be, everything I couldn't expect it to be and everything I needed it to be to make me want to stand up and cheer its beautiful self on. This was a true theatrical experience, where we as an audience didn't know if we were on a sinking ship, if the 20-second intermission thrown up on the screen was a joke or not and wondering (hoping) that someone in the theater would lose it and storm out angrily, pushing the remaining audience closer together as the film seemingly slipped completely off its axis and fell into total absurdity. This was no dried strawberry in a sea of dry oats… this was an all out Count Chocula/Fruity Pebble/Lucky Charm feast that our moms would NOT approve of.
This is great, risky comedy that infuriates and confuses film critics and can just as easily turn an audience away in disgust as it can excite and inspire them. To me, it's the kind of dirty, unexpected, wonderful sweetness I'm looking for in this increasingly organically-minded world of film. — Todd Rohal (The Guatemalan Handshake)
****************************************************************************************************************************************************************
I watched Abbas Kiarostami's The Wind Will Carry Us in 2002 while visiting my sister in Sydney, Australia, the very month I was accepted to the University of Utah's MFA program for film. It was my first Kiarostami film, so pardon me if this sounds odd: I immediately accepted Godard's hyperbole that cinema begins with Griffith and ends with Kiarostami; after all, is it possible to continue working after watching cinema's greatest film about death? But I had paid the tuition costs, film school beckoned, and I took inspiration from the drifting bone in the film by meandering through other works of cinema for inspiration. The decade to follow provided wonderful discoveries: Eugene Green's Le Pont Des Arts and Hou Hsiao Hsien's Café Lumiere—both offered life after Kiarostami's image of death. Films by Philippe Garrel and Claire Denis—I actively avoid them now, for fear of being too greatly influenced. And in my view, there is only one masterpiece of the past ten years, and it's Pedro Costa's Colossal Youth. In the meantime, I filmed my first two features, Munyurangabo and Lucky Life, though the latter won't premiere this year. Will it ever premiere, and will the audience like it? For answers, I turn to the first film I saw after filming Lucky Life in 2008: Arnaud Desplechin's A Christmas Tale; what better way to conclude the lively journey that began with the death of cinema than with a coin toss and a mischievous grin? — Lee Isaac Chung (Munyurangabo)
****************************************************************************************************************************************************************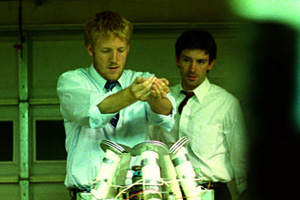 Picking just one film is a lot harder than making a top ten list as it turns out, but after a lot of thinking I ultimately came back to my initial gut reaction: Shane Carruth's Primer. I first saw it in the spring of 2005, more than a year after it had premiered at Sundance. I'd just graduated from college and was living in LA at the time. My friend Todd Strauss-Schulson had a pretty beat up looking dubbed VHS copy lying around his room that he let me borrow.
Almost every other film that that's meant something to me this decade reaffirmed things about the movies that I already knew to be true to varying degrees. Primer, however, was this completely strange new feeling that I hadn't felt before and am fairly certain I haven't since, the one that's the most difficult to forget, that stills rolls around in my head despite only having seen it once more than four years ago. — Brendan McFadden (Quiet City, Dance Party USA)
****************************************************************************************************************************************************************
There are many films I could write about, but I chose Wild Tigers I Have Known because I haven't really seen it get much attention. The film for me came after a long run of disappointments over the formalist ambitions in American films I was seeing.
Cam Archer's film felt most genuine when it deviated from the standard character inquests that the established film community pushes; most genuine when it instead moved towards inventing its own language and narrative engine (to borrow a phrase from this site's curator).
It's a film about finding your way when you are an outsider, and doing so with faith and curiosity if not confidence. Unlike most films on this subject, it thankfully chooses to remain an outsider in terms of its delivery; in its devices, style, assembly, form, and tone. It embraces individuality in an individualistic way, with that same faith, curiosity and confidence. Archer lays down a strong signal of intent, one that resonates perhaps even more so than the story he chooses to tell. Film can still be a medium for rigorous self-expression, and Wild Tigers fully embraces that idea.
Walking out of the IFC Center, I too felt some glimmer of happiness could be gained more by pursuing my own urges rather than by adhering to guidelines I didn't get excited about trying to follow. — Brent Chesanek (Brethren Arise)
****************************************************************************************************************************************************************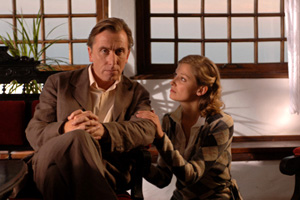 —best film moment in the last ten years, watching L'enfance nue for the first time last week. i am filming in a little mountain town in the Balkens and Ira Sachs was nice enough to mail me 5 Maurice Pialat films which i have been enjoying. i love a movie that is amazing and has light stands and boom in the shot.
other highlights of the last ten years:
-when Ramin [Bahrani] called me up after the first rough cut of Man Push Cart and said, "it doesn't suck, it might actually be good".
-watching the two guys who run the True/False film festival get a 10-minute standing ovation before a packed screening of Man on Wire.
-seeing The Class in the theater months after its opening. who knew a movie could stay in the theater that long.
-watching Youth Without Youth twice in one weekend. best film no one saw.
–Synecdoche, New York. best film with a build in nap time. — Michael Simmonds (Goodbye Solo, Big Fan, Chop Shop)
****************************************************************************************************************************************************************
ALSO READ:
Filmmaker Reflections – The 2000s: Vol. 1
Filmmaker Reflections – The 2000s: Vol. 2
Filmmaker Reflections – The 2000s: Vol. 3
Filmmaker Reflections – The 2000s: Vol. 4