Pick of the Week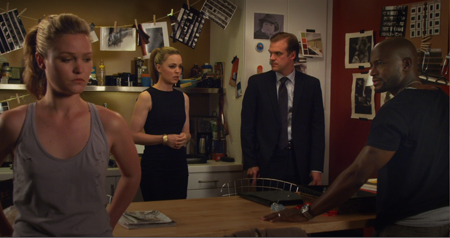 Between Us (Monterey Video) — Based on the play by Joe Hortua (who is credited here as co-screenwriter), Dan Mirvish directs this deft, incisive drama about a reunion between couples who used to be close friends but whose lives have taken very different paths. Featuring a solid ensemble of Julia Stiles, Taye Diggs, Melissa George, and David Harbour, Between Us is smartly adapted for the screen and deals with real adult issues. (Full Disclosure: HTN contributor Mike S. Ryan is a credited producer on this project, but we're not going to blame the movie for that.) Available on DVD
.
Recommended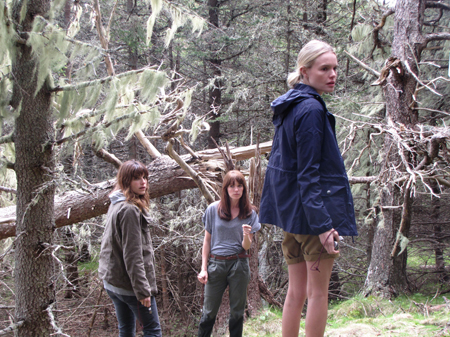 Black Rock (Lionsgate) — Working from a script by her hubby Mark Duplass, Katie Aselton puts a thick-soled boot to the mellow groove she established with The Freebie in favor of pure genre kicks this time around. Yet that's not entirely accurate, and it's why Black Rock is more than just a fun b-movie. Yes, the premise is pretty off the wall and firmly lodged in Movie Land, but the relationships are portrayed with enough sensitivity that they bring more earthly grounding to the proceedings than other films of this ilk. Available on DVD
, Blu-ray
, and at Amazon Instant
.
New/Old to DVD/Blu-ray
The Devil's Backbone (Criterion) — Available on Blu-ray
.
The Fog: Collector's Edition (Shout! Factory) — Available on DVD
and Blu-ray
.
Have Not Seen Yet But Really/Kinda/Sorta/Maybe Wanna
Night Across The Street (Cinema Guild) — The final film from master Raul Ruiz. Available on DVD
.
Old Dog (Icarus Films) — Sorry, this isn't a Tibetan remake of the Travolta/Williams jammer. Available on DVD.