Pick of the Week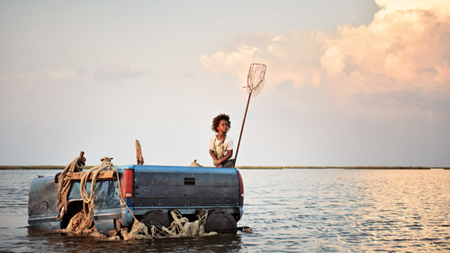 Beasts of the Southern Wild (20th Century Fox) — Benh Zeitlin and the Court 13 collective's breakout debut feature is a truly strange organism. It is the type of film that can, and will, likely be read in countless different ways: liberals will respond to its noble transcendence of racial dynamics; Tea Partiers will praise its rejection of the United States government sticking their greasy hands into our private lives; regular filmgoers will appreciate its narrative swell; and cinephiles will admire its bracingly seamless fusion of the fantastical and magical and mythical with an authentic, homegrown docu-reality. As for independent filmmakers like myself, who know just how hard it is to even conceive of making a motion picture like this, let alone realizing it in such an assured, exhilarating way, to experience it and bask in its bombastic, life-affirming glow is to be filled with a satisfaction and pleasure that knows no earthly bounds. Beasts of the Southern Wild is spirituality on celluloid. Read my full HTN review. Available on DVD
, Blu-ray
, and at Amazon Instant
.
Recommended
Family Portrait in Black and White (Passion River) — Based on its thumbnail description, Family Portrait in Black and White sounds like a zany docu-riff on "The Old Woman Who Lived In A Shoe": in the Ukraine, the aging Olga Nenya has become the foster parent of seventeen children, most of whom are mixed race/black orphans. Cue 85 minutes of wacky antics! But while moments of sweetness and charm abound here, the deeper reality is far, far different. Julia Ivanova takes no time in letting us know from the beginning that in the Ukraine, not everyone thinks Olga's set-up is so loving and sweet. Not only do the outright racist skinheads—of which there appear to be a shocking number in this country—think that true Ukrainian people are, and should always be, purely white-bred, and not only do the ignorant drunken neighbors feel this way, but it appears that even the most regular Ukrainian citizens share this hard-to-fathom belief. As in, how in the hell are you supposed to tell a kid who was born and raised in the Ukraine and has never lived anywhere else that he isn't actually Ukrainian? Read my full HTN review. Available on DVD
and at Amazon Instant
.
Alps (Kino Lorber) — Giorgos Lanthimos' Dogtooth, one of the most divisive films of recent years, is also perhaps one of the most misunderstood. A quick review of critical reactions to that movie offer a reminder of the insistence of surfaces; words like "absurd", "bizarre", "perverse" and "shocking" are abundant touchstones, all of them seemingly missing the point entirely. If Dogtooth is anything, it is a literalization of familial role playing, of the hierarchies and power at play in our foundational social unit; the film is no more absurd or perverse in exposing our faith in the family than our general adherence to that faith itself. But where Dogtooth drafted its formal boundaries around an isolated family compound, Lanthimos' new film Alps redraws the lines, circumscribing the social response to death and loss as another game of self-denial and role-playing. Read Tom Hall's full HTN review. Available on DVD.
Ai Weiwei: Never Sorry (MPI Home Video) — Available on DVD
and Blu-ray
.
Eastbound & Down: The Complete Third Season (HBO) — Available on DVD
and Blu-ray
.
Pablo Larrain Double-Feature (Kino Lorber) — Contains the excellent one-two punch of Tony Manero (HTN review) and Post Mortem (HTN review). Available on DVD
.
V/H/S (Magnolia) — I admit to being skeptical of this anthology film for just about every reason imaginable—namely, that anthology films are incredibly tricky ventures—and while it does run a tad long (granted, I saw it at midnight at Sundance) and doesn't always hit its mark, V/H/S still manages to pack quite a wallop. Its anthology set-up allows it to play like a cinematic mix tape, preying on our modern-day short attention spans and allowing things to keep tumbling forward before we can ever get too comfortable. Available on DVD
and Blu-ray
.
New/Old To DVD/Blu-ray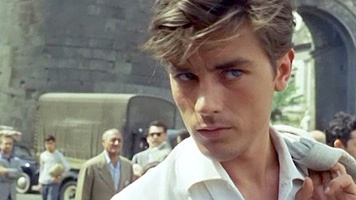 Purple Noon (Criterion) — A sexy, sun-kissed noir thriller and a mesmerizing study of surfaces, René Clément's 1960 adaptation of Patricia Highsmith's The Talented Mr. Ripley makes for a fascinating comparison with Anthony Minghella's 1999 interpretation of the same novel. (Spoilers follow.) The lead actors' takes on Tom Ripley capture different aspects of the character: Alain Delon is icy, gorgeous, and cheerfully unredeemable; Matt Damon emphasizes the pained, fumbling neurotic who fears intimacy and exposure. While Clément had no choice but to downplay the homosexual undercurrents in the Highsmith, Minghella was free to foreground them four decades later. However, in at least one key respect, the earlier film was more daring. Although Highsmith criticized the way Clément changed her ending, saying "it was a terrible concession to so-called public morality that the criminal had to be caught," Purple Noon nevertheless leaves viewers with the unsettling feeling, familiar to devotees of the novel, that Ripley's desires have become ours—we cheer him on to murder, we exult with him as he enjoys his taste of the good life. Minghella's version is more faithful to the ending of the book (Ripley gets away with it), but far more sentimental in spirit (he will forever be tormented by what he's done). Criterion's new digital restoration is accompanied by archival interviews with Delon and Highsmith, a fine critical appreciation by Geoffrey O'Brien, and more. Available on DVD
and Blu-ray
. (Nelson Kim)
Brazil (Criterion) — Now available on Blu-ray
.
Decasia (Icarus Films) — Bill Morrison's sterling experimental tone poem is now available on Blu-ray
for the very first time.
Have Not Seen Yet But Really/Kinda/Sorta/Maybe Wanna
Inspired: The Voices Against Prop 8 (Garden Thieves Pictures) — Available on DVD
.