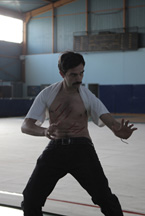 (Alps is now available on DVD
through Kino Lorber. After world premiering at the 68th Venice International Film Festival, where Yorgos Lanthimos and Efthimis Filippou won a Best Screenplay award, Alps made its North American premiere at the 2011 Toronto International Film Festival: go here for screening details.)
Giorgos Lanthimos' Dogtooth, one of the most divisive films of recent years, is also perhaps one of the most misunderstood. A quick review of critical reactions to that movie offer a reminder of the insistence of surfaces; words like "absurd", "bizarre", "perverse" and "shocking" are abundant touchstones, all of them seemingly missing the point entirely. If Dogtooth is anything, it is a literalization of familial role playing, of the hierarchies and power at play in our foundational social unit; the film is no more absurd or perverse in exposing our faith in the family than our general adherence to that faith itself. But where Dogtooth drafted its formal boundaries around an isolated family compound, Lanthimos' new film Alps redraws the lines, circumscribing the social response to death and loss as another game of self-denial and role-playing.
The Alps is the name of a group of four individuals—a paramedic, nurse, gymnastics coach and gymnast—who operate an underground business; when there is a death in a family, members of the Alps are contracted to play the role of the deceased, allowing the bereaved a chance to re-experience their memories by re-creating their interactions with their lost loved ones. Of course, as with Dogtooth, the role-playing is not staged for realistic effect, but rather for the emotional impact these interactions have on the Alps members themselves. After (hilariously) establishing its very specific rules of engagement, the film narrows its focus to the experience of the nurse (played brilliantly by Dogtooth star Aggeliki Papoulia), whose own identity becomes dependent upon her need to re-create the lives of dead women for her clients. When she secretly moonlights with a family to play the role of their deceased, tennis-loving daughter, she violates the strict code of the Alps, jeopardizing her ability to fulfill her own needs and risking a dramatic response from her boss, the paramedic who calls himself Mont Blanc (the tallest of the Alpine mountains, naturally).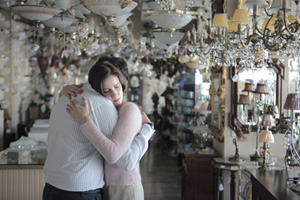 Lanthimos' narrative agenda is clear enough: the roles we play in the world end up defining us, and each is as real (or false) as any other, throwing us into a deep conflict with our true, seemingly unknowable selves. Lanthimos does a brilliant job of creating a dramatic structure to once again literalize that conflict, but here also, the performances of his actors and the visceral emotional turmoil of his characters establish the reality of Alps' situations in a way that does so much more than make an intellectual point about "identity"; rather, they create a heightened reality where the rules of engagement feel as true, brutal and arbitrary as those of our own lives.
Lanthimos' visual strategy compounds this heightening by positioning the audience with Papoulia, following her in her role-playing situations with a very shallow depth of field that isolates her in the frame, obscuring her clients in bokeh and leaving us to survey the mounting toll of her work on her deteriorating psyche. As the film pulls us in deeper with the nurse's experiences, our understanding of the boundaries between her "real" and "performative" life are obscured further, culminating in a final, brutal rejection that Lanthimos immediately counters with the exuberance of the gymnast who, in the film's final scene, gets to fulfill her greatest wish. Alps may not win many converts to Lanthimos' unique vision, but for me, that vision remains a vital and necessary contribution to cinematic storytelling.
— Tom Hall