From Thriller to Comedy: A Double Shot of Brice in "Creep" & "The Overnight"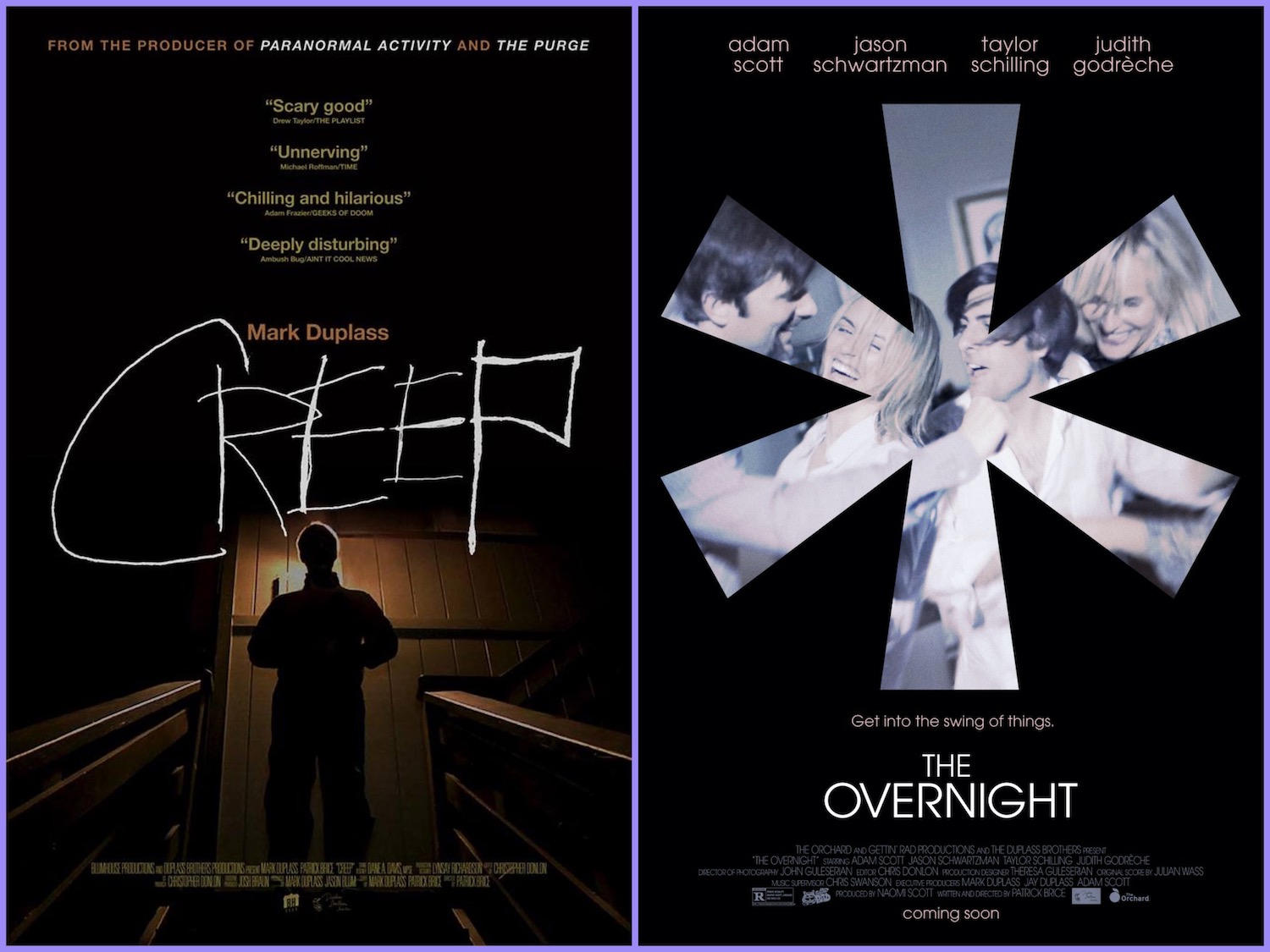 Over the past year, in rapid succession, filmmaker Patrick Brice has released two short features, neither alike, each delightful in its own unique way. The first – his debut – was Creep (released in 2015 but shown the year before at film festivals) in which Brice starred alongside Mark Duplass (Safety Not Guaranteed), who also shared writing and producing duties. They were, in fact, the only two actors in the film, as it was a found-footage thriller in which one or the other was almost always behind the camera, filming themselves, their partner, or the both of them in a two-shot. The other film was The Overnight, a raunchy sex farce with many more actors; and not just anyone, but known quantities like Adam Scott (Parks and Recreation), Taylor Schilling (Orange Is the New Black), Jason Schwartzman (7 Chinese Brothers) and the French actress Judith Godrèche (Potiche). Duplass was back, but only as an Executive Producer. By comparison, it was quite a slick affair, and such a departure from Brice's initial offering that it makes me look forward to whatever he will try next, as he seems so wonderfully versatile.
Let's start with Creep. Ever since The Blair Witch Project, in 1999, the world has seen a fair number of found-footage films, not all of them very good. And how could they be? It's a gimmick – that what you're watching is compiled from video footage of an ostensibly real series of events – and gimmicks only get you so far. You have to, you know, also have an idea. Fortunately, Brice has one.
At first, however, I confess that I was concerned. Brice plays Aaron, a seemingly novice videographer contracted by Josef (Duplass) to film him for the day. The reason he gives – a sad one – seems odd, given Josef's subsequent behavior, but Aaron convinces himself to go along with the proceedings, though soon he has second thoughts as a hike through the woods takes a few meandering turns. It all seems ominous, as these kinds of films do – where would the story go, otherwise? – and therefore not particularly fresh or new. But soft! What light from yonder window breaks? The bright novelty of originality!
That's right: just when you think you know what kind of a story you're watching, Brice and Duplass switch it up, and then keep you guessing until the creepy end, which does, indeed, justifiably earn the film its title. Duplass acts against his own natural likeability, while Brice makes a perfect innocent, making theirs a most engaging partnership. Perhaps the only reason not to watch Creep is if you've overdosed on too many of the lesser kin of its genre. Even then, however, I would recommend you give this wonderful twist on a tired model the chance it deserves.
Which brings us to The Overnight, a most startling sophomore effort, given Brice's freshman outing. This is a movie about two couples spending a crazy, sexually charged evening together, where Brice demonstrates real skills as a director, both of actors and of camera. As much as I liked Creep, the aesthetic demands of the found-footage film are not exactly rigorous, and to therefore see how smoothly he handles a shoot with higher-level requirements is a pleasant surprise.
Alex (Scott) and Emily (Schilling) are thirty-something parents of a young boy, newly arrived in Los Angeles from Seattle. She's the bread-winner; he's the stay-at-home dad, worried about how he's going to make new friends and create a life for himself. One day, at the park, they meet Kurt (Schwartzman), who surprises them with a sudden invitation to dinner that very evening. He seems nice enough, his boy gets along with theirs, so why not?
That evening, the young couple and child arrive as planned, meet Kurt's lovely French wife, Charlotte (Godrèche), all goes well, and it appears as if their worries about adjusting to life in L.A. may fade into irrelevance. Until, that is, Kurt and Charlotte suggest they put the kids to bed, and hang out, just as adults. That's when both the night – and the movie – truly come alive.
What I particularly love about the film is the succinct way in which Brice has written the early scenes to convey a world of information about the two couples without wasting screen time on exposition. That and the perfectly relaxed and joyous performances from all 4 leads make us feel as if we're watching people who have, indeed, been married for a long time. It's a marvel. And it's hilarious.
This brilliant take on the boredom that can threaten any long-term relationship explores a plethora of vital human issues without ever losing sight of the fact that it is, in fact, a raunchy NSFW comedy (no plot spoilers, but the night does get wild). By the time it reaches its all-too-soon end (it's not even 80 minutes long), you will feel as if you've not only learned much about Alex, Emily, Kurt and Charlotte, but maybe even about yourself. This ever-charming film is a must see, and ranks among my favorites of 2015. Go, Brice, go! Let's see what you've got next, please!
– Christopher Llewellyn Reed (@ChrisReedFilm)