NEPTUNE
Another Planet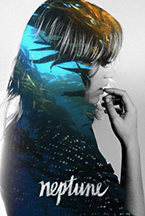 (The 2016 Slamdance Film Festival is in full swing and we have boots on the ground as well as eyes on screener links for the whole festival! Stay tuned to hammer to Nail as reviews start rolling in…)
A 14-year-old orphan, Hannah Newcombe (Jane Ackermann) has resided with Reverend Jerry Cook (Tony Reilly) on a secluded island off the coast of Maine for a majority of her life. Hannah is a quiet and respectful girl, dutifully completing her daily chores in between schoolwork and aiding Jerry during mass as his altar server. Jerry hopes that Hannah will one day be ordained, convincing her that she should focus on getting accepted into Holy Name Episcopal High School for Girls. To add to the allure of the school, Hannah's only connection to the mainland is a promotional VHS tape from the school (the film is set in the 1980s, pre-Internet and smartphones).
Hannah's life takes a dramatic turn when one of her classmates, Michael (Liam Swift), disappears. The fact that she makes eye contact with Michael from afar, mere seconds before he supposedly dives from a cliff, haunts Hannah. As a result, Hannah suffers from recurring nightmares about Michael, which she takes as a sign that she should help Michael's father (William McDonough) on his lobster boat.
Hannah's Christian upbringing taught her about having empathy for others, but she quickly learns that Jerry does not always practice what he preaches. Hannah is trying to abide by the stern religious convictions that she learned from Jerry, but her actions only prove to make him angry. The contradictions between Jerry's virtuous sermons and the condescending self-righteousness of his actions is understandably confusing for Hannah. The insularity of Jerry's church grows increasingly claustrophobic, and as Hannah spends more time away from the church grounds, she grows more independent. Hannah's priorities may begin to shift and her attitude may begin to change, but she is still the sweet and caring child that Jerry raised.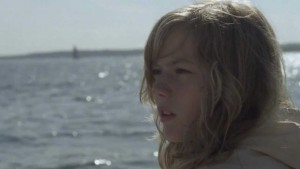 A contemplative and viscerally complex coming of age film, Derek Kimball's Neptune looks deeply at a girl's existential turmoil as she begins to question the father figure she unconditionally loved and respected for so long. Shot in the British neo-realist style with hauntingly surrealistic undercurrents, Neptune adroitly captures the coastal aesthetic of Maine with painterly poeticism, echoing Hannah's childlike perspective of her environment. As Hannah's mental state matures, so does her vision of the world around her; the transcendent beauty mutates into something much more sinister.
Neptune speaks to the ever-increasing quality of programming at Slamdance, specifically the festival's knack for discovering new talent over high profile names who will ensure attendance. Case in point, the success of Neptune rests solely upon the shoulders of Jane Ackermann's acting debut. Fourteen-years-old at the time of filming, in a performance that is profound beyond her years, Ackermann portrays Hannah with a perfect blend of naiveté, curiosity and apprehension. This is a quintessential breakout role that will hopefully not get relegated to an under the radar VOD release.
— Don Simpson (@thatdonsimpson)
Leave a Reply