THE *HAMMER TO NAIL AWARDS SHOW* IS BORN
[EDITOR'S NOTE: BASED ON THE HELPFUL, ONGOING FEEDBACK YOU ARE PROVIDING, DEAR READERS, THIS POST WILL BE UPDATED TO HOPEFULLY MAKE THINGS CLEARER/MORE SPECIFIC/ETC.]
***WHY THIS HAS TO BE***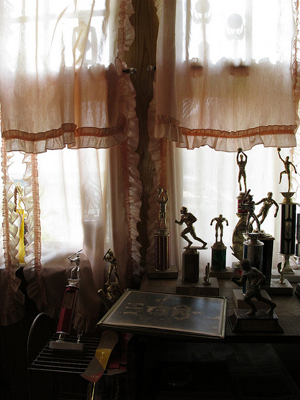 When it comes to movies—when it comes to anything, really, but especially in the case of something so delightfully subjective as cinema—the concept of "awards" are nice in theory, but in actuality… not so much. I personally tuned out awards season chatter years ago. Obviously, the Oscars have always been and will continue to be a spectacle where the most mediocre cream floats to the top. That's just how the big time rolls. But over the course of the past many years, the two most important awards shows that self-proclaim their allegiance to independent films—the Spirits and Gothams—haven't actually backed up those claims. This is not to take anything away from Film Independent and IFP, who provide hugely valuable assistance and deeply vital resources to struggling independent filmmakers on a daily basis. Yet when it comes to their annual awards galas, it's inevitable—and frankly, understandable—how they too have been forced to succumb to higher-up pressures that have resulted in their events feeling more like some sort of mini-Oscars than anything else. Based on the fired up reactions online in the hours and days after this year's Spirits, the realization that the 21-million-dollar-budgeted Silver Linings Playbook strutted out of the tent with what seemed like the entire trophy case felt like an official final straw.
As I said, this isn't anything new. I've been having this conversation with folks for several years. It is, in fact, the reason that we here at HTN chose from the very beginning—back in January of 2008—to concentrate our own annual year-end awards on American Fiction Features that were produced for one-million-dollars-or-less. Clearly, this isn't an exact science, and putting any sort of cap on creativity and expression raises new sets of frustrating, complicated questions. But the fact remains that if we don't put any sort of cap on our own pool of eligible films, our year-end results will be interchangeable with the indieWIRE Critics Poll or Film Comment's Best Films list, and at that point, we'd be serving no real purpose. Without setting an admittedly questionable parameter such as this, these smaller films would get bumped off the list. They just would.
Originally, we decided that we would deliver an annual "Hammer to Nail Awards" post on our website and leave it at that, a lovely little time capsule that folks could refer to in the coming months and years. But after this year's Spirits, we've decided that isn't good enough anymore. Truly independent low-budget American Fiction Cinema needs an annual event akin to the Cinema Eye Honors, which has become a major force in the documentary world after only six years. At the Hammer To Nail Awards, the big boys will officially not be invited to the table.
The details of the awards show itself have yet to be worked out, and while we do plan to find some way to acknowledge and celebrate those films that cost more than one million dollars to make yet which remain personal, ambitious achievements (i.e., The Master, The Tree of Life, The Future, Meek's Cutoff, etc.), when it comes to our Top Films Of The Year list, we have decided to stick with our original fiscal guideline in order to ensure that our annual year-end lists will look different from all the others.
***WE NEED YOUR HELP***
To get this party started, like, yesterday, we need to compile an up-to-the-minute official list of eligible films that will be updated throughout the year. As our intentions are noble here at HTN, we trust that those who submit titles, be it producers or directors or friends or fans, will be telling the truth to the very best of their ability (of course, we will do our very best to fact check these submissions as well). And though we as filmmakers understand the desire to not advertise one's budget for all sorts of reasons, in this case, we feel like it would be doing a disservice to our community to not stand up proudly and admit that your excellent film was made at the fraction of the cost of a studio production.
Lastly, this post will be updated as new, helpful things are figured out marching forward—who is voting, how, etc.—but for now, please contact us at clink@hammertonail.com if you don't see a movie on this list that is eligible. And please spread the word about this post so that as many people can see it as possible. Thanks very much!!!
***HTN AWARDSABLE FILMS FOR THE YEAR 2013***
RULES OF ELIGIBILITY:
1) Budget = 1-Million-Dollars-Or-Less (This cost involves not just shooting the film, but getting it to a fully finished, all-rights-cleared state for legal distribution.)
2) Said film has or will receive some sort of official public release in the current calendar year, be it theatrical, VOD, or DVD. (Example: Amy Seimetz's Sun Don't Shine premiered in 2012, though it was not eligible for last year's list. As it is being released theatrically and on VOD this April, it becomes a 2013-eligible title.)
***IN-PROGRESS FILM LIST (ALPHABETICAL)***
Abigail Harm (Lee Isaac Chung, 8/30)
About Sunny (Bryan Wizemann, 3/19)
Almost in Love (Sam Neave, 2/15)
American Milkshake (Mariko Munro and David Andalman, 9/6)
Blue Caprice (Alexandre Moors, 9/13)
Breakfast With Curtis (Laura Colella, 12/4)
The Canyons (Paul Schrader, 8/2)
Caroline and Jackie (Adam Christian Clark, 5/3)
Computer Chess (Andrew Bujalski, fall)
The Confabulators (Luke Jarvis and Sean Dunn, 4/22) *Watch It Now For Free*
Crazy and Thief (Cory McAbee, 3/15)
Dead Man's Burden (Jared Moshe, 5/3)
Drinking Buddies (Joe Swanberg, 7/25)
The End of Love (Mark Webber, 1/21)
Eden (Megan Griffiths, 3/20)
Escape From Tomorrow (Randy Moore, 10/11)
Exit Elena (Nathan Silver, 7/12)
Frames (Brandon Colvin, 2/12) *Watch It Now For Free*
Frances Ha (Noah Baumbach, 5/17)
Fresh Starts 4 Stale People (Robert Malone and Zach Weintraub, 5/22) *Watch It Now For Free*
Fruitvale Station (Ryan Coogler, 7/26)
Gimme The Loot (Adam Leon, 5/22)
Go For Sisters (John Sayles, 11/7)
The Happy House (D.W. Young, 5/3)
I Am Not A Hipster (Destin Daniel Cretton, 1/10)
I Used To Be Darker (Matt Porterfield, 9/27)
KID-THING (Zellner Bros., 8/7)
Kiss of the Damned (Xan Cassavetes, 2/28)
The Men of Dodge City (Nandan Rao, 3/19) *Watch It Now For Free*
Mother of George (Andrew Dosunmu, 9/18)
Museum Hours (Jem Cohen, 6/28)
Nancy, Please (Andrew Semans, 4/5)
Newlyweeds (Shaka King, 9/18)
Nor'easter (Andrew Brotzman, 7/19)
An Oversimplification of Her Beauty (Terence Nance, 4/26)
Pavilion (Tim Sutton, 3/1)
Pilgrim Song (Martha Stephens, 5/10)
Prince Avalanche (David Gordon Green, 8/9)
The Rambler (Calvin Lee Reeder, 6/7)
Red Flag (Alex Karpovsky, 2/22)
Rubberneck (Alex Karpovsky, 2/22)
Saturday Morning Mystery (Spencer Parsons, 8/9)
See Girl Run (Nate Meyer, 4/26)
Short Term 12 (Destin Daniel Cretton, 8/23)
Simon Killer (Antonio Campos, 4/5)
Small Pond (Josh Slates, 3/12)
Somebody Up There Likes Me (Bob Byington, 3/8)
Sparrows Dance (Noah Buschel, 8/23)
Sun Don't Shine (Amy Seimetz, 4/26)
Supporting Characters (Daniel Schechter, 1/25)
A Teacher (Hannah Fidell, 9/6)
This Is Martin Bonner (Chad Hartigan, 8/2)
Tiger Tail In Blue (Frank V. Ross, 1/26)
to.get.her (Erica Dunton, 1/15)
Toad Road (Jason Banker, 10/18)
Touchy Feely (Lynn Shelton, 9/6)
The Unspeakable Act (Dan Sallitt, 2/28)
Upstream Color (Shane Carruth, 4/5)
Welcome to Nowhere (Bullet Hole Road) (William Cusick, 9/17)
Welcome to Pine Hill (Keith Miller, 3/1)
White Reindeer (Zach Clark, 12/6)
Wuss (Clay Liford, 4/2)
Zero Charisma (Katie Graham and Andrew Matthews, 10/11)
[P.S. FOR ANYONE WHO WANTS TO HELP PARTICIPATE/SPONSOR/ANYTHING THIS AWARDS SHOW, PLEASE CONTACT US AT CLINK@HAMMERTONAIL.COM]
5 Responses to "THE *HAMMER TO NAIL AWARDS SHOW* IS BORN"
Leave a Reply