Back in May of 2010 (has it already been almost a whole year?), we posted our first monthly Video On Demand report. The inspiration for this was the frustratingly amorphous situation that is the VOD universe. When it came to tracking down what was newly available on VOD and which outlet had which films available and where you could watch what, it seemed as if pretty much everyone—cable providers, distributors—had the same tossed-off, snickering response, "Yeah, they're on there somewhere. Good luck tracking them down."
Even conceiving of how to make this monthly report become an effective way to help connect readers with good films was a challenge. Should it be a curated list of the very best titles for the taking from A-Z? Should it be as comprehensive an index as possible? Should it be broken down by cable provider? Should it be organized by distributor? In order to not blow a brain gasket, I settled on presenting titles by distributor just so I could get the ball rolling.
Eleven months later, it pains me to say that for all of the progress made and the realization that Video On Demand doesn't appear to be going anywhere, I'm as confused as I was when I began. I actually believe that until the cable providers and distributors figure some things out on their end, it's not worth my time to compile this monthly report. In the same way that distributors are cryptic and vague and guarded about VOD numbers themselves, there's a murky veil hanging over the entirety of this VOD business that makes it hard to see things clearly. Moving forward, we might very well just continue to do what we've always done at Hammer to Nail: focus on the films themselves. If we like a movie, we'll write a review of it, and at the top of that review, we'll try to let you know how and where you can track it down as directly as possible. Of course, this is a constantly changing situation, but for now, that's where things stand.
If you haven't already, be sure to bookmark OnDemand Weekly as well as Filmmaker Magazine's New VOD Calendar, as these are both rising to the VOD challenge very well.
VIDEO ON DEMAND — APRIL 2011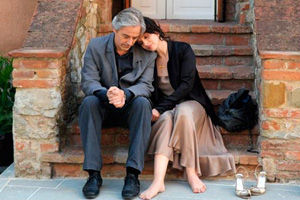 Certified Copy (Sundance Selects) — Watching Abbas Kiarostami's beguiling romantic comedy reminded me of how I felt after emerging from Alain Resnais's Wild Grass—i.e., I'm not sure if I had just witnessed the work of an assured master or a senile, out-of-touch grandpa. What Kiarastomi is doing here is quite daring, as he toys with viewer expectations in countless ways. But this was one of those experiences in which I found myself grappling with questions that I'm not sure Kiarostami meant for me to be grappling with. For example, were the mid/late-film outbursts of opera star William Shimell so bad that the performance of this non-actor was extremely cringe-worthy, or was his character actually faking being angry, at which point his performance becomes quite impressive? Also, was Juliette Binoche's character meant to come off as borderline schizophrenic, or charmingly French? Or was this all part of Kiarostami's mischievous grand plan? There are some incredible one-takes here, and the film definitely had my brain's gears grinding, but I have to confess to feeling skull-f**ked into confusion by it. (Michael Tully) (Available starting March 23)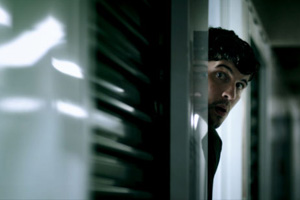 Cold Weather (Sundance Selects) — Reuniting with Quiet City's Cris Lankeneau, Aaron Katz and his team (Brendan McFadden, Ben Stambler) return to the Pacific Northwest environs of Katz's debut feature, Dance Party USA, to tell the story of a brother-sister reunion (Lankenau and Trieste Kelly-Dunn) that begins as a subtle character study but unexpectedly morphs into a full-on detective thriller. Working once again with cinematographer Andrew Reed, who maximizes the potential of the Red camera here, Katz uses a muted color palette, a slow-moving camera, and his own sharp editing to create a rising air of tension that boils over into the second half's action-packed sequences. Cold Weather is a deft, original addition to the noir genre and is another impressive creative statement by the uber-talented Katz. (MT) (Available now)
Fat, Sick and Nearly Dead (Gravitas Ventures) — A folksy version of "Land Down Under" is the lead in to Jay Cross, an Australian ("in case ya couldn't work that out from the accent," mate) on a two-month mission. Namely a juice diet and splitting his time between New York and Americana  to prove—well, extreme dieting can work in extremes. Cross makes no bones about being 41 and suffering from partying like only  an implied investment banker could. It's hard not to be sucked into his dogma since if it can work for him, why not me? This is our jump-off to Phil, a morbidly obese trucker that Joe befriends and encourages his own "juicenlightenment." Anyone other than Cross as our narrator and it'd feel like a massive bore about how we're not Jack Lalanne. If anything, Joe's sense of humor shines through during Halloween dressing up as Elvis with his gut clearly shining through. Still it's hard to shake some things—the film's weird anti-medication stance and complete submission to holistic remedies. Still, moderation is the message and one that we routinely ignore until it's too late. (John Lichman) (available: Netflix, Amazon, Charter, AT&T, Rogers, Verizon, Insight, Cogeco, Mediacom, suddenlink)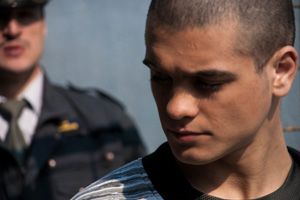 If I Want To Whistle, I Whistle (Film Movement) — The latest offering from Romania is writer/director Florin Serban's juvenile prison drama If I Want To Whistle, I Whistle. The story, adapted from Andreea Valean's play set in a youth detention center, follows teenage inmate Silviu (George Pistereanu) as he struggles with family conflict during the last days of his prison sentence. While Serban's film takes some visual cues from Romanian dramas of recent years, it is distinguished by sharp and swift pacing and fluid camerawork. And if it at times feels more bound by style than plot, it is nonetheless anchored by the commanding performance of newcomer Pistereanu and remains a strong addition to the growing body of Romanian cinema. Read the rest of Susanna Locascio's HTN review. (available: Comcast, Time Warner, Cox, Bresnan, RCN, Brighthouse, etc.)
Illegal (Film Movement) — Illegal opens with a seemingly sweet moment between a mother and a child, but as it plays out something doesn't feel right. Maybe it's the spy-like hand-held shots or the ominous music, but as we soon find out, the beautiful relationship between Zina, a Russian born illegal immigrant, and her son Ivan will soon face its biggest challenge. When Zina is selected during a random police screening, she is placed in a family detention center full of immigrants. While there, she fights like hell to keep her identity private and save her son from deportation. One scene that stands out is when 14-year-old Ivan takes the bus to the detention center to try and help. Zina, knowing he is coming, waits at a window all day, hoping he will look up once he gets off the bus. He does and through body language she is able to stop him from going inside. There is little humor in Illegal and the intensity is overwhelming at times, but so is the situation. This is an emotional look into the inhumane ways in which illegal immigrants are treated, and the bond between a mother and her child that can conquer fear. (Lauren Kinsler) (available: Comcast, Time Warner, Cox, Bresnan, RCN, Brighthouse, etc.)
Ip Man 2 (Gravitas Ventures) — The second of a planned quadrilogy (the fourth to be directed by Wong Kar-Wai) examining the life of Brother Ip (Donnie Yen), Wing Chun master and trainer of Bruce Lee. Set after the initial intro, which focused on the Japanese invasion of China, we're now into the British colonization of Hong Kong—and where Ip has moved his family in hopes of opening a school. But that'd just be lazy, so why not throw in a corrupted martial arts organization (fronted by Sammo Hung in all his bulky glory) and the overtly cocky Brits that believe boxing superior to kung fu? No matter, because Ip takes on all comers in this throwback to wireless fight choreography, directed by Hung, natch. (JL) (available: Netflix, Amazon, Charter, AT&T, Rogers, Verizon, Insight, Cogeco, Mediacom, suddenlink)
Raja (Film Movement) — Raja is a 19-year-old orphan who lives in an impoverished apartment in modern day Marrakesh. Working as a prostitute and giving most of her money to her unemployed boyfriend has taken too much from her. When she joins her best friend and a group of girls to work in a rich Westerner's garden, Raja finds herself the target of the bored, wealthy, and flirtatious Fred's affection. The wealth, power and class disparities cause obvious manipulation and exploitation, however what is most exciting about this movie is how those overarching issues seem to be pushed to the side by the emotional honesty and small connections between characters. The conversations between Raja and Fred, with the help of linguistic misunderstandings, create complicated and comedic journeys through the characters minds. Raja is a total gem of a movie. (LK) (available: Comcast, Time Warner, Cox, Bresnan, RCN, Brighthouse, etc.)
Visioneers (Gravitas Ventures) — In brief, Visioneers is one of the most fascinating festival film case studies since Helen. George Washington Winsterhammerman (Zach Galifianakis pre-Hangover and circa Fiona Apple/Kanye West appearances) is a level-three Visioneer at the Jeffers Corporation, a totalitarian omni-corporation that would make Big Brother proud. Amidst dreams of being the first 2/3rds of his namesake, George is struggling with the fact that he's unhappy, dreaming and people are exploding around the world for no reason. Corporate culture is painstakingly recreated here, complete with the realizations one expects when it comes to shaking of The Man. We get the perfect amount of Brazil and sly wit from the deadpan comedian who makes his live show at the Purple Onion a must-watch. Really, we need more of this Galifianakis in our daily life. (JL) (also available: Hulu, Netflix)
The Wind Journeys (Film Movement) — Part travelogue, part concert, part narrative, The Wind Journeys will take you on its journey if you have the patience. When Ignacio Martinez, a famous troubadour, loses his wife, he decides to return his cursed accordion to its original owner. Determined to learn the accordion, Fermin, a stubborn young boy, convinces Ignacio to let him join on the trip through the Caribbean provinces of Colombia. Despite begging from Fermin and strangers they meet along the way, Ignacio repeatedly refuses to play. When food becomes scarce, they follow a tip to an accordion contest, and Fermin pushes Ignacio to finally perform. It's an explosive scene that closely resembles a rap battle, as disses are sung in Spanish over audience cheers. Ultimately, Ignacio prevails and we learn that his accordion is not exactly what it seems. The incredible shots of rural Chile linger, as do beautiful musical performances with interspersed urgencies of a cross-country trip that would make anyone want to hop the next flight to join them on their journey. (LK) (available: Verizon, Charter)
WILDCARD OF THE MONTH
Glenn, The Flying Robot (Gravitas Ventures) — Rarely does one equate a flying robotic helper with a homicidal kil—oh, no, wait. That's every sci-fi film. Ok, so Glenn, The Flying Robot isn't treading much new ground here outside of some gaudy CGI and the greatest anti-climatic battle between two flying robots (literally the same in every way save for a color swap). After a special appearance by Gérard Depardieu (complete with overdubbing from another voice) as "Man Reading Script in front of Green Screen" to note how robots are a part of our lives, we meet Henry (Dominic Gould), a pianist who comes to confront his rival Jack (Billy "I Was a Hobbit, But…" Boyd), but instead happens upon Glenn, the Flying Robot-cum-woman(?) servant. After briefly chatting, Glenn tazes him like a motherf**ker and we cue our first flashback: Henry is a depressed drunk with a flying robot who can't play the piano well anymore since he has a brace on his left hand. Glenn, showing signs of curiosity about his drunkard master, picks up a Glenn Gould tune.  "Now yer Glenn. Leek Glenn Gould. The greetest pee-anist e'er," Boyd slurs/says. Upon hearing this, the lifeless yellow eyes of the robot turn blue with hope—mainly the hope it will eventually tazer the sh*t out of somebody after playing the piano. Cue second flashback: Henry and Jack are dueling pianists and after some truly great Tommy Wiseau line-readings ("I'm pregnant." Pause. "No, it's not true. It's not true!") we find out Jack destroys Henry's career… by slamming a door on his hand. Unlike the real world, where this would crush your hand and cause months of rehabilitation to occur, Henry cannot recover and drinks a ton of whiskey. Then he gets a flying robot. Oh and Glenn adopts using Jack (and Henry's!) girlfriend's voice to soothe Henry… and it straps a bomb to its chest that can only be turned off if Jack plays a Glenn Gould song. If anything, this film sets pianist/flying robot relations back a few years mainly due to egregious use of flashback, egregious use of Glenn Gould public domain music and not enough use of a sleepy Gérard Depardieu who wakes up in the post-credits when he discovers a robot is trying to replace him. Moral of this film: if we show robots how to perform the arts, they're going to f**king kill us and come for Gérard Depardieu. (JL)
NEW TO NETFLIX INSTANT THE FIRST WEEK OF APRIL
The Accused
Around A Small Mountain
Before Sunrise
Before Sunset
Chop Shop
Come Undone
The Conversation
Dead Alive
The Discreet Charm of the Bourgeoisie
I'm Gonna Git You Sucka
The Graduate
High Lonesome: The Story of Bluegrass Music
Kicking And Screaming
Mr. Death: The Rise And Fall of Fred A. Leuchter Jr.
My Beautiful Laundrette
No Direction Home: Bob Dylan
One False Move
Pinky
Ponette
Praying With Lior
Teen Wolf
Toy Story 3
That Obscure Object of Desire
The Trials of Henry Kissinger
A Woman Is A Woman