IF I WANT TO WHISTLE, I WHISTLE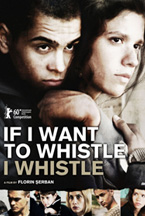 (If I Want to Whistle, I Whistle was picked up for distribution by Film Movement and is now available on DVD. It opens theatrically at the Film Forum on Wednesday, January 5, 2011. Visit the film's official website to learn more.)
The latest offering from Romania is writer/director Florin Serban's juvenile prison drama If I Want To Whistle, I Whistle. The story, adapted from Andreea Valean's play set in a youth detention center, follows teenage inmate Silviu (George Pistereanu) as he struggles with family conflict during the last days of his prison sentence. While Serban's film takes some visual cues from Romanian dramas of recent years, it is distinguished by sharp and swift pacing and fluid camerawork. And if it at times feels more bound by style than plot, it is nonetheless anchored by the commanding performance of newcomer Pistereanu and remains a strong addition to the growing body of Romanian cinema.
If I Want To Whistle, I Whistle introduces us to Silviu and follows him through his routines in the juvenile prison. He is nearing the end of his term and days away from release when he receives an unexpected visit from his younger brother (Marian Bratu). In a mumbling exchange the brother reveals that their mother (Clara Voda) has returned with the intention of taking her youngest son with her to Italy. This news unravels Silviu, and though so close to his goal he begins, at great risk, to challenge his imprisonment. He uses what limited means are at his disposal—a contraband cell phone, desperate pleas to the warden—to communicate with and keep his brother close. A second visit, this time with his mother as well, seems to push him over the edge. Her cold, inscrutable gaze and clipped words don't tell us much about their past, but Silviu's angry raving reveals a history of abandonment and grief. Silviu's inability to control or protect his brother drives him to a violent confrontation with the prison authorities when he takes a pretty social worker Ana (Ada Condeescu) hostage.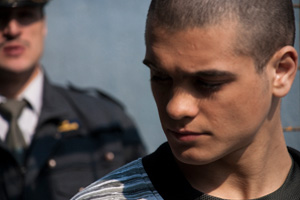 On the down side, the film is inelegantly shackled to a thin plot, and becomes quite melodramatic in the third act. We know too little about Silviu's past and his relationship with his mother to comprehend his fatalistic explosion into violence. However, this is strongly countered by earlier sequences that capture the rhythms of Silviu's detained life—washing at the cold steel troughs, playing soccer in the yard, laboring in the orchard—that are unique to this milieu. Director Serban culled his cast of boys from real prisons in Romania and spent months with the non-actors, enabling him to get close enough to capture their kinetic, adolescent energy. These are not victims—the boys have clear eyes and strong bodies, and respond to their names during roll call with loud, confident assent. There is a nasty, brutish streak that can quickly turn playful fighting into violence, but for the most part the inmates seem more innocent than one would expect.
In this gang lead actor George Pistereanu is an anomaly, discovered by Serban in a high school acting class. If you find him compelling, as I did, you won't mind the story's weaker points. Pistereanu does well even when forced to amp up the drama in the climactic final act, but he is far better in subtler scenes, in particular an early, flirtatious encounter with Ana, where he projects an animalistic desire that both frightens and attracts her. While his release still seems possible, Silviu allows himself to fantasize about taking Ana out for coffee, but when his prospects darken what he had hoped he could earn he takes by force instead. The chemistry between Silviu and Ana lends his fantasy some legitimacy, even if his execution of it is self-destructive.
The lighting and camerawork are noticeably elegant, even in the rough, grey concrete of the prison world, and I wasn't surprised to learn the film was shot by cinematographer Marius Panduru, whose credits include other celebrated films like 12:08 East of Bucharest and Police, Adjective. The lighting is beautiful, both naturally motivated and painterly at the same time. This is a dark world, but light still plays over the lean bodies and faces of the boys. The handheld camera is fluid and the frame nicely follows the action. At times the camera seems to stalk Silviu, perhaps showing the back of his head too often, though this technique effectively communicates the sense of fate bearing down upon him. The aesthetics of Romanian filmmakers in the post-Ceausescu era are political, and heavily informed by their past; even in a fictional world their characters are at the mercy of foreboding forces (the State, an institution) that can't be escaped. As such, Silviu's jailbreak, though spirited, is doomed from the start.
— Susanna Locascio