NEPTUNE FROST Trailer: Rebellious Afrofuturist Musical Explores Identity & Technology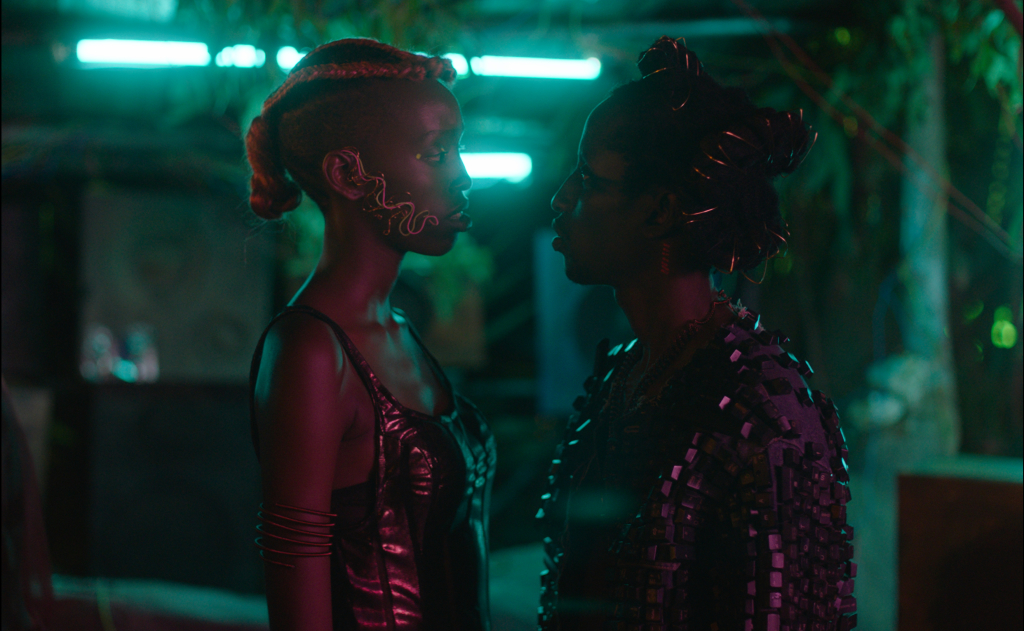 One of the most visually stimulating films on the festival circuit last year was Neptune Frost. Multi-disciplinary artist Saul Williams and his partner, Rwandan-born artist Anisia Uzeyman, co-directed the Afrofuturist musical that premiered at last year's Cannes Directors' Fortnight, as well as screening at the New York Film Festival and Toronto International Film Festival. The African-set film puts technology front and center as it highlights a hacker uprising against an authoritarian system. Kino Lorber has set it for a June 3 theatrical release.
Here's an official synopsis:
The film takes place in the hilltops of Burundi, where a group of escaped coltan miners form an anti-colonialist computer hacker collective. From their camp in an otherworldly e-waste dump, they attempt a takeover of the authoritarian regime exploiting the region's natural resources – and its people. When an intersex runaway and an escaped coltan miner find each other through cosmic forces, their connection sparks glitches within the greater divine circuitry. Set between states of being – past and present, dream and waking life, colonized and free, male and female, memory and prescience – Neptune Frost is an invigorating and empowering direct download to the cerebral cortex and a call to reclaim technology for progressive political ends.
In this review from the NYFF, HtN wrote "With the use of astonishing, mind-bending visuals, a zestful cast of young performers, eye-popping costumes, and a genderqueer romance at its center, it is an electrifying opera that packs a poetic punch… Husband and wife duo Williams and Uzeyman's work of rebellion shows what could happen when a group of oppressed, marginalized humans are brought together and try to change society with their newfound sense of freedom. Neptune Frost is a work of art that persuades you to not overanalyze and just feel the love and anger from within."
Check out the eye-popping trailer below: