Let's All Go to the Wisconsin Film Festival…
The 17th Annual Wisconsin Film Festival kicks off today (April 9) and runs through April 16. It also features a pretty stellar program of indie films, animation and classic films brought to the big screen. I thought I'd go over some highlights based on films both myself and other Hammer to Nail writers have seen and imagine what a great time I'd be having if I were at the festival. If you're anywhere near the greater Wisconsin area, you have the next eight days to get on down to the film fest.
The first bit of programming that jumped out at me was the premiere of my friend Frank V. Ross' Bloomin Mud Shuffle. I'm frankly a bit surprised other film festivals had yet to pounce on the latest offering from one of our best under the radar independent filmmakers. Ross could definitely be lumped into the Mumblecore genre but to me, his films have always been much more working class dramas than "young people" struggles, if that makes sense. While his cinematic colleagues seem to be into the more talky aspects of "what does it all mean?!?" Ross usually turns his camera on people working pretty bland 9-5 jobs, struggling to make ends meet and trying to live a somewhat decent or vibrant life while facing the inevitable doldrums of being a grown-up.
Bloomin Mud Shuffle takes a peek at this lifestyle as we follow alcoholic house painter Lonnie (James Ransone) who does a nice job portraying an eternal fuck-up who sometimes tries to do right by his friends and family but is constantly pulled back down due to his own insolent drunkenness. The film is by far Ross's best looking one to date with lovely framing and lighting and the observational eye of cinematographer Mike Gibisse who also shot Ross' last effort, the criminally underseen Tiger Tail in Blue. It also features a really great cast of Ross regulars like Allison Latta, Joe Swanberg and Rebecca Spence but also blends in some pretty big names like Natasha Lyonne and Alex Karpovsky. It's a good film but I'd be flat out lying if I didn't say the absence of Ross stalwart Tony Baker wasn't noticed. Again, James Ransone does a fantastic job as loveable loser Lonnie but anyone who's followed Ross's work over the years will have a hard time not imagining Baker in the role.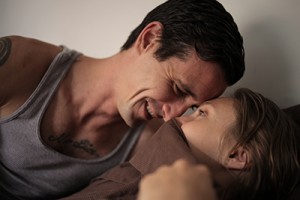 Other highlights of the film fest include Hammer to Nail staff picks such as Gaby Baby Doll, Girlhood, Uncle Kent 2, Western, Tired Moonlight  and Russian Woodpecker. But that's not all! There's also Sundance hits Me and Earl and the Dying Girl, Manglehorn, The End of the Tour and Kurt Cobain: Montage of Heck. Again, this looks like a truly wonderful film festival lineup and experience. If I were anywhere close to Wisconsin, I would take a day or three to hit up this festival and encourage you to do the same.
– Don R. Lewis (@ThatDonLewis)