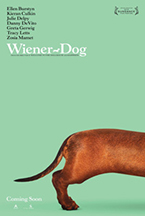 (The 2016 Sundance Film Festival is in full swing and we have boots on the ground as well as eyes on screener links for the whole festival! Stay tuned to Hammer to Nail as reviews start rolling in…)
Todd Solondz's latest film, Wiener-Dog, is a four part tale with only one consistent character, a cute wiener-dog. Said animal connects the story of a dysfunctional family (Julie Delpy, Tracy Letts and Keaton Nigel Cooke) trying to cope with the aftermath of sickness, a veterinary technician (Greta Gerwig) seeking more out of her life, a film school professor (Danny DeVito) who has seen better days, and an elderly artist (Ellen Burstyn) in the last days of her life, dealing with a granddaughter (Zosia Mamet) that takes more than she gives.
You'll laugh (or quietly chuckle), cringe, and maybe even drop a cutesy "awwwwww" or three (the audience for the film's premiere at the 2016 Sundance Film Festival had more that twenty dog-related "awwwwww" moments before I stopped counting). The film is paced well, full of strong performances, and sprinkled with odd charm.
For fans of Todd Solondz, you'll be happy to know that this still feels very much like his voice. There's the dark comedy, the cynicism. At almost any moment, you can think, "I wonder what Solondz would do next; I bet he'd do this…" and you'd likely be correct. And yet, you'll still be surprised here and there. The inclusion of the wiener-dog often serves to soften the harder edges, but even that is a set-up all its own.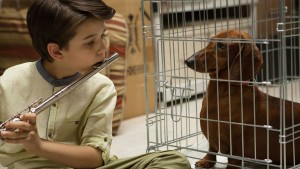 For sensitive dog owners who are unfamiliar with Todd Solondz, this may not be the film for you. Not because the film is cute dog torture porn, but because for certain people any sort of unsettling plight for a canine is too much to handle, and this film will upset you, one way or another. I'm a pretty sensitive dog owner myself, but I think the film earns its moments, and everything speaks to something else thematically.
Which is a strength of the film. Not only is it extremely accessible an experience for a non-Solondz fan, it's also arguably a deep one. Sometimes things on the surface are what they present themselves to be, but it's hard not to read deeper into the film given enough time. I'd have to give examples to flesh that thought out, but this review isn't the place for that discussion (as major plot points will be unavoidable).
While Wiener-Dog may feel somewhat predictable based on what I've said above, it doesn't mean it isn't a quality experience. The more I've thought about the film since watching it, the better it gets, and the more I want to watch it again.
– Mark Bell (@8MarkBell8)